Trade deficit grows to NZ$1.4 bln in year to November 2012 vs a surplus of NZ288 mln in year to Nov-11, despite strong exports to China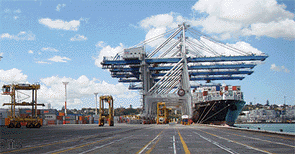 The value of exports fell $94 million - down 2.4% - to $3.8 billion in November 2012, compared with November 2011, data released by Statistics New Zealand showed.
This was despite a 60% increase in exports to China.
Exports to the USA rose 25% in November y-on-y.
Decreases for other countries resulted in total exports falling, compared with November 2011.
The value of imported goods has been flat at $4.5 billion for the month. Without one-off capital imports in November 2011, merchandise imports would have risen 5.9% and this would have been the largest increase since July 2012.
The trade balance for the November 2012 month was a trade deficit of $700 million, which was in line with market expectations according to ASB economists. The exchange rate showed no reaction at all to the news.
November month trade balances are typically deficits, and the current month deficit is equivalent to 18% of exports and that compares with an average deficit of 13% of exports over the previous five November months.
Seasonally adjusted exports increased 8.9% in November 2012, compared with October 2012. Milk powder, butter, and cheese led this increase. Seasonally adjusted imports rose 11% in November 2012.
The trend for exports appears to have been declining in recent months, and is 7.3% lower than its highest-ever peak of November 2011.
The trend for imports has shown little change in recent months, and is 4.8% lower than its record high of September 2008, Statistics NZ said.
Jane Turner, an economist at ASB made these comments on the data:
The monthly trade balance slipped into deficit for much of the second-half of 2012.  The gradual pace of domestic recovery has resulted in a slight pick-up in imports.

Meanwhile, export receipts have declined as export commodity prices (particularly dairy prices) declined over the first half of 2012 from elevated levels.  In addition, slowing demand from Australia and the US also appears to have impacted manufactured exports.

Looking ahead, we expect to see some improvement in export conditions over 2013 – with an improvement in meat and dairy prices (as a result of the US drought) and a recovery in demand from Australia and the US.

Nonetheless, conditions for exporters are likely to remain challenging, with the recovery in global demand likely to be only modest and the elevated NZD continuing as a headwind.