Mighty River Power IPO managers make rare move of speaking on the record prior to float; say few investors have pulled out after Labour/Greens policy shock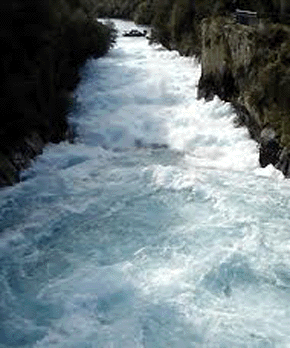 By Gareth Vaughan
In a rare move, the joint lead managers of the Mighty River Power float are proactively approaching journalists to talk on the record about the initial public offering's prospects.
This comes after the Labour and Green parties lobbed a hand grenade into the Government's programme of selling up to 49% of three state owned electricity generators and retailers by saying they would effectively dismantle New Zealand's electricity markets if they win next year's election and create a new Pharmac-style agency called NZ Power to act as a single buyer of wholesale electricity. In their announcement last week Labour and the Greens said a key aim was to cut the average household power bill by up to NZ$330 a year.
This led to a supplementary disclosure statement from Mighty River Power, which said the Labour-Greens plan could have a material adverse effect on both the value and market price of its shares. However, the indicative price range for Mighty River Power shares of NZ$2.35 to NZ$2.80 has been left unchanged, although there is discretion for the shares to be priced above or below the range.
Prior to the Labour-Greens announcement, Minister of State-Owned Enterprises Tony Ryall said about 440,000 New Zealanders had pre-registered their interest in buying Mighty River Power shares. And an international road show conducted by the float's joint lead managers has been sounding out demand from institutional investors in Australia, Asia, the United States and London. Key questions since the Labour-Greens announcement have been what impact it might have on demand for Mighty River Power shares and what impact it will have on the price of the shares, and therefore how much money the Government raises.
Andrew Barclay, a director at Goldman Sachs New Zealand which is co-lead manager of the float alongside Macquarie Capital NZ, and Credit Suisse Australia/First NZ Capital, told interest.co.nz interest remained strong in Mighty River Power shares.
"Post announcement of the policy, all parts of the market have responded well," Barclay said. "I think they recognise the opportunity presented by the circumstances."
In terms of the level of investor withdrawal, this was running at "low single digits" in terms of both the percentage of investors and dollar value.
"Concern has moderated post the announcement of the policy significantly and all investor classes are now looking at this more rationally. People have a more rational view of how the (Labour-Green) policy might implement," Barclay added.
The offer opened on April 15 and is due to close on May 3. Final pricing's due on May 8, with Mighty River Power expected to list on the sharemarket on May 10.