Government seeking 'All-of-Government banking services solution', will tender for a range of banking services
By Gareth Vaughan
The Government has issued a discussion document on its banking needs, suggesting it'll open its key banking contract, which has been held by Westpac since 1989, to a competitive tender process with a core transactional services contract on offer plus a series of sub-contracts.
This development comes after the Government said in 2010 it was considering making changes to its master banking arrangement with Westpac.
The discussion document has been issued by the Ministry of Business, Innovation and Employment (MBIE) and Treasury. They say they want to engage with the banking industry on the potential for establishing an "All-of-Government (AoG) banking services solution." Objectives include testing the market for core banking transaction services for the first time since 1989.
They're seeking feed back from banks on the scope of banking services provided to government, time scales for any AoG tendering process, and the benefits of establishing AoG banking service arrangements.
"The current core transactional banking services for government have been in place for over 20 years, over which time there has been considerable evolution in banking services, payment methods and settlement systems," the discussion document says.
"The primary contract governing the Crown's banking arrangements is the 2004 Domestic Transaction Banking Services Master Agreement with Westpac Banking Corporation (the Master Contract). The Master Contract exclusively covers the core transactional banking services associated with the operation of government departments' bank accounts for the purpose of processing domestic receipt and payment transactions."
"The requirements for government banking have changed considerably over time and the scope of the Master Contract is no longer sufficient to meet the current and future banking needs of government. Tendering for core transactional banking services under an AoG banking services solution would provide the opportunity to establish common shared, innovative and integrated banking service delivery models for government."
MBIE and Treasury suggest this would provide access to economies of scale, better value for money, process efficiencies, and better interaction for financial payments between government, business and taxpayers and ratepayers.
"In establishing an AoG banking services solution, government would be seeking to maximise opportunities to realise benefits from: 1) the innovation and flexibility of local and overseas banking service providers; 2) standardising and streamlining agency and public interactions through payables and receivables; and 3) unlocking value currently trapped in disparate, inefficient and manual processes."
Pre-conditions include a credit rating of at least A-
The paper sets out pre-conditions including that potential AoG transactional banking service providers must directly participate in the settlement systems used to exchange inter-bank payments from customer transactions, which are operated by Payments New Zealand Limited.
Payments NZ is owned by ANZ, ASB, BNZ, Westpac, Kiwibank, TSB Bank, HSBC, and Citibank.
Potential providers must also have a minimum long-term credit rating of at least A-, or equivalent, from a registered credit rating agency.
The government agencies that would be eligible to participate under any AoG banking services arrangement include:
• Public Service departments
• State Service agencies
• State Sector agencies
• Approximately 2,500 schools
• The wider Public Sector including regional, district and city councils.
A panel of providers
The paper says the Government's preferred option would be ring fencing core transactional banking services currently under the Master Contract as their own AoG given the Crown's cash management requirements, the specific banking requirements of a number of Public Service and non-Public Service departments and other complexities.
"Furthermore, we are of the view that all such departments should have the same provider for these banking services. In tendering the remainder of the sub-categories of banking services under an AoG solution, we envisage the establishment of a panel of providers for each sub-category. This would enable government to access and realise the benefits of innovation and flexibility from a range of local and global banking service providers."
"A panel arrangement, if viable, would also give government agencies optimal choice in respect of quality of service, value, price and capability, all on standardised terms. Alternatively, another viable option is to structure some sub-categories of banking services by clusters or sectors. For example, tertiary sector, councils, schools etc."
The paper lists core transactional banking services as; bank clearance procedures, direct debits/direct credits, cheque cashing facilities and desktop banking. It lists banking service sub-categories as; merchant services, purchasing cards, transactional management systems, over-the-counter services, trust accounts, schools package, international banking, working capital and a Ministry of Social
Development Stored Value Payment Card.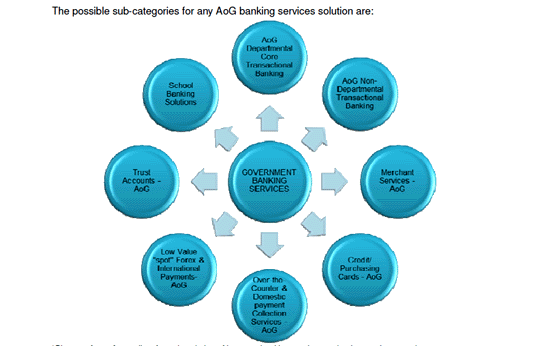 "Alternatively, another viable option is to structure some sub-categories of banking services by clusters or sectors. For example, tertiary sector, councils, schools etc."
MBIE and Treasury note that the discussion paper is not a request for proposal, which they plan to issue at a later date. They say the length of any AoG contract for core transactional banking services would be at least five years. The contract term for all other sub-categories would also be for a minimum of five years, potentially including two extension periods of two years, to encourage ongoing competitive tension.
Ultimately they're aiming to award an AoG banking services contract in May or June 2014. Responses to the discussion document are sought by 10am, on July 4.