Productivity Commission, OECD blame tyranny of distance from big markets and suppliers, plus low investment in innovation for lagging NZ productivity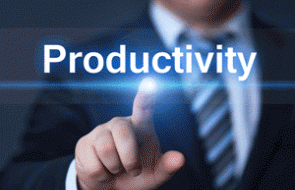 The following is taken from the New Zealand Productivity Commission working paper entitled An International Perspective on the New Zealand Productivity Paradox. The paper is authored by Alain de Serres, Naomitsu Yashiro and Hervé Boulhol of the Organisation for Economic Cooperation and Development. The full paper can be viewed here.
Abstract
New Zealand lags behind advanced OECD countries in productivity and per capita income levels, in spite of what can be characterised as growth-friendly structural policy settings. Using an augmented-Solow growth framework, this paper explores the "productivity paradox", and identifies the main determinants of New Zealand's economic under-performance. We find a sizeable contribution from New Zealand's gap in knowledge-based capital (also referred to as intangible assets) and from its disadvantage in economic geography captured by an indicator of access to markets and suppliers.
For instance, New Zealand's low R&D intensity vis-à-vis advanced OECD countries can explain up to one-third of the productivity gap. The room for catch-up also extends to other types of intangible assets such as information and communication technology (ICT) and managerial practices. Furthermore, unfavourable access to large markets and suppliers of intermediate goods limits New Zealand's trade intensity, especially its integration with global value chains where intensive transfer of advanced technologies often occurs.
Overall, the empirical estimates provided in the paper suggest that remote access to markets and suppliers and low investment in innovation (as measured by R&D intensity) could together account for between 17 to 22 percentage points of the 27 percent productivity gap vis-à-vis the average of 20 OECD countries.
Introduction 1.1
The nature and magnitude of the productivity paradox Over the past two decades, New Zealand has seen its income gap vis-à-vis the most advanced economies hovering around 30%, with no clear sign of narrowing (Figure 1). The absence of catching up in overall living standards can be viewed as disappointing considering that over the same period, the country has further improved its relative labour market performance, with rates of employment and hours worked (relative to working-age population) exceeding the average of leading economies by a margin of 10%. The flip side of the coin has been a slow but steady widening of the gap in labour productivity. And this has resulted not so much from strong growth elsewhere, but from relatively weak productivity growth in New Zealand.
In fact, looking at the decade of the 2000s, New Zealand has had one of the lowest growth rates in GDP per hour worked among OECD countries, despite trailing the OECD average at the start of the decade by around 15%, and the United States by nearly 40% (Figure 2). Closing 10% of the latter gap over the span of a decade would require annual productivity growth to exceed the US rate by at least half a percentage point on average. Instead, productivity growth has been on average almost one percentage point weaker. Considering that lagging countries have in principle greater scope for growing faster than most advanced economies, this performance is indeed puzzling.
Evidently, convergence is highly conditional on a host of factors, not least of which are policies and institutions, which have a strong influence on investment in different and complementary types of capital. Assessing the contribution of these factors to productivity can help to shed some light on the significance of the puzzle. At first glance though, past reforms of product and labour markets in New Zealand would suggest that the country is in a rather favourable position in terms of broad policy settings that are supportive to private investment, job creation, employment and productivity growth.

Indeed, putting together the results from various empirical analyses that assessed the impact of policies in different areas (taxation, product and labour market regulation, innovation and education) on employment, investment, productivity and hence GDP per capita, one OECD study has provided rough estimates of the extent to which differences in living standards across countries can be attributed to differences in broad policy settings (Barnes et al., 2011). The highly stylised nature of the exercise notwithstanding, the results do provide a good illustration of the puzzle. Given its generally favourable policy settings, GDP per capita in New Zealand should be 20% above OECD average rather than 20% or so below, making the country a clear outlier in this respect (Figure 3).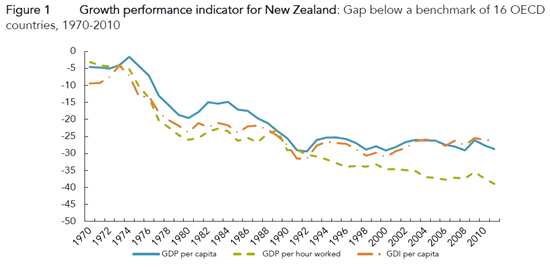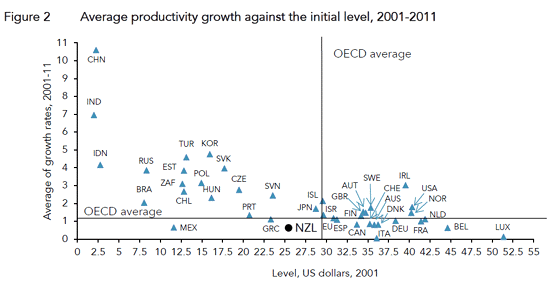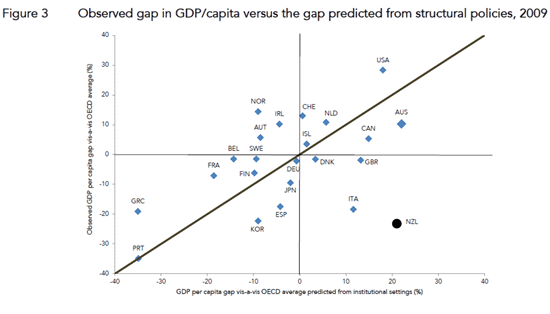 1.2 Roadmap
Following a top-down strategy, the rest of the paper explores possible explanations for the apparent productivity paradox. Using a simple augmented-Solow framework, the next section first provides an assessment of the extent to which both the level and time evolution of the gap in GDP per capita and productivity vis-à-vis advanced OECD countries can be accounted for by investment in physical and human capital.
Section 3 considers the contribution of an important factor missing from the Solow framework, namely investment in knowledge-based capital. After exposing how the defining characteristics of knowledge-based assets create both opportunities and challenges for growth, the section assesses the role of R&D and information and communication technology (ICT) investment as well as resource reallocation both within and across firms as potential explanations for the paradox.
Using different measures of international trade intensity, section 4 examines the impact of geographic distance and global interconnectedness on the productivity gap. Conclusions follow.
5 Concluding remarks
Following a steep decline in productivity and living standards throughout the 1970s and early 1980s relative to other advanced countries, New Zealand engaged in a broad-ranging and ambitious programme of structural reforms. The set of reforms were successful in stemming the relative economic decline, but has failed to put the country on a clear convergence path. In fact, the gap in labour productivity has continued to widen somewhat relative to most advanced OECD countries throughout the 1990s and, to a lesser extent, during the 2000s.
Policy settings in New Zealand remain, for the most part, considered as broadly conducive to good economic performance, at least relative to the policy environment observed in other advanced OECD countries, even if the slowdown in the pace of reforms has led to some convergence in areas such as product and labour market regulation. Taking a top-down approach, the paper has explored potential explanations for this apparent puzzle between the perceived quality of the policy settings, on the one hand and the absence of catching up in productivity and living standards, on the other.
While there is little evidence that the productivity gap and absence of catching up could be explained by weak investment in physical and human capital, the same cannot be said regarding knowledge-based capital where New Zealand appears to be lagging as indicated by the large gap in R&D intensity. Indeed, the empirical analysis conducted in the paper suggests that between 3 to 11 percentage points of the 27 percentage points productivity gap vis-à-vis the average of 20 OECD countries could be accounted for by weak R&D investment.
However, although New Zealand can do better in R&D intensity, it is not clear that innovation-specific policies can do much to narrow the gap, especially given the sectoral composition of the economy. While R&D tends to be concentrated in manufacturing, the bigger payoff might be from boosting innovation in the much larger services sector.
In this regard, there are indications that New Zealand could improve its performance in ICT investment, which is one of the key drivers of innovation in services. In order to maximise the return on ICT investment, it is important that firms adapt business practices to better exploit the new technology. While direct and comparable data on organisational capital are unavailable, recent survey-based information points to a sizeable margin for improvement on average in managerial practices.
It shows that somehow poorly-managed firms are able to survive to a greater extent than in higher-productivity countries such as the United States. Insufficient competition in the domestic market could be an explanation. While product market regulation is considered overall as conducive to firm entry and competition, there is room for improvement in specific sectors. Also, pressures from the financial system on managers may not be very strong compared to those being exerted in a market-based system such as in the United States.
In addition, incentives to invest in KBC are influenced by the perceived ability of firms to ramp up production sufficiently rapidly to fully reap the potential of increasing returns to scale of the production of ideas. This in turns depends on the ease with which capital and labour resources can be reallocated across firms. The ability to draw capital following innovation has been shown to be influenced by access to early-stage venture capital as well as by regulation of professional services, two areas where New Zealand's standing lags that of other countries.
Access to a large market is also crucial in realising returns on specialisation and investment in new ideas. In this regard, New Zealand is twice penalised by physical distance to vast external markets as well as by limited scope for internal agglomeration. Estimates provided in the paper suggest that more limited access to market and suppliers could explain as much as 15 percentage points of New Zealand's productivity gap (Figure 18 below).
Furthermore, the results also suggest that the returns on human capital may be hampered by the small and dispersed population, which limit the scope to benefit from agglomeration externalities. The remote access to major external markets is reflected in the low trade intensity of New Zealand considering its small size. Insofar as one of the benefits from international trade is to heighten pressures from competition, it is important for the authorities to ensure that other barriers to competition be lowered as much as possible, starting with those arising from product market regulation.
Overall, the empirical estimates provided in the paper suggest that remote access to market and suppliers and low investment in innovation (as measured by R&D intensity) could together account for between 17 to 22 percentage points of the productivity gap vis-à-vis the average of 20 OECD countries. If one adds to this 3 percentage points that can be attributed to the labour market integration of low-skilled workers, this would put New Zealand 2 to 7 percentage points below the average of those advanced OECD countries in terms of productivity instead of nearly 30 percentage points.