Key denies house price inflation a "runaway train"; uses Roost reports to say affordability better now than under Labour; says migration controls won't work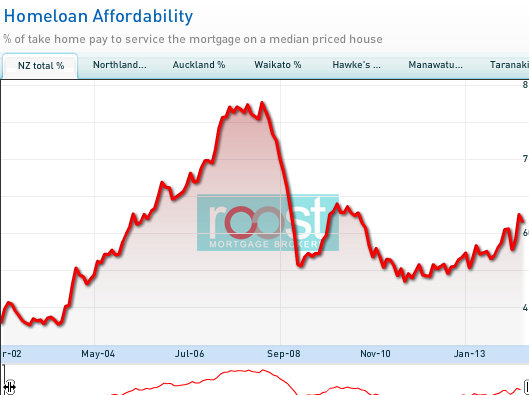 By Bernard Hickey
Prime Minister John Key has used his weekly post-cabinet news conference to defend his Government's record on housing affordability in the wake of an OECD report showing New Zealand housing was the most expensive in the OECD relative to rents.
Key said the housing market was not a "runaway train" and that National was moving to address the supply side issues underpinning house price inflation in Auckland and Christchurch.
He referred to the Roost Home Loan Affordability reports prepared by Interest.co.nz to argue that housing was more affordable under National in early 2014 than it was under Labour in 2008. See interactive chart below.
"The argument that this is somehow a crisis is wrong, and if it is a crisis, it was way bigger crisis under Labour," he said.
Key said he accepted that people were concerned about rising house prices.
He pointed to the Government's work in creating special housing areas in Auckland and Christchurch.
"This thing is complex. It's been on the rise for well over 15 years, but for 9 years Labour let those house prices double and did nothing," he said.
Asked about the OECD report showing house prices in New Zealand being 70% above long term averages relative to rents, Key said this was not the normal way to look at housing affordability.
"That's one way of cutting the data. You could say that rents relatively speaking are quite low. It's not the normal way of doing it. If you go and look at Roost index. That is measuring 80% mortgage on the average house in the area with someone on the average wage, and that is showing you we are not nearly as unaffordable today as we were when Labour left office in 2008," he said.
Migration
Key also rejected calls from Labour and New Zealand First for controls on migration to take pressure off house prices and interest rates.
He said National believed New Zealand should remain open and engaged internationally and such migration controls would not work, and he said skilled migration was needed to help keep the economy growing.
Key said Labour had not been "terribly successful" in targeting migration at between 5,000 to 15,000 -- as suggested by David Cunliffe on Sunday -- with net migration varying between minus 13,000 and +43,000 while in power.
"It's not that easy," he said, pointing to the volatility of New Zealanders leaving to live in Australia.
"Over half of all the people coming to New Zealand are skilled workers. Many of those people are adding to fixing those supply issues. They may be engineers or quantity surveyors or specialist IT people that the country needs," he said. 
"The people that come into New Zealand either bring in skills or capital or the right attitude and as a general rule I think it's been a positive thing for New Zealand," he said.
"We don't have some runaway train," he said of the migration inflow.
Key said bank economists had pointed to supply issues in Auckland and Christchurch, "but actually it's not true that house prices are some sort of runaway train around New Zealand."
RMA reforms
Key said Labour had opposed the Government's moves to increase housing supply, both through its Special Housing Areas and Housing Areas legislation, and through reforms to the Resource Management Act.
He said those RMA reforms were likely to remain stalled until after the election because the Maori Party and United Future remained opposed to the changes.
"I think it's very unlikely we will introduce the RMA bill before the election. I think we'll campaign on what we want to do and see what the makeup looks like after the election," he said.
Asked if he would continue negotiations with United Future and Maori before election, he said: "No. I've decided to park it up."
(Updated with more details, comments)