NZIER says Bank of England's new tool to manage financial stability is better than RBNZ's high LVR limits which don't take into account households' long-term ability to service debt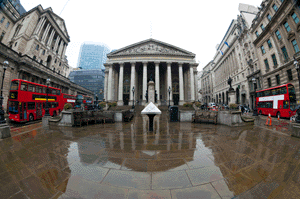 The New Zealand Institute of Economic Research (NZIER) says the Bank of England's move to restrict high loan-to-income (LTI) residential mortgages is a better way of managing financial stability risks than the Reserve Bank of New Zealand's restrictions on high loan-to-value ratio (LVR) lending.
The Bank of England recently said no more than 15% of banks' new mortgages should be loans of more than four-and-a-half times a borrower's income.
"We like the Bank of England's proposed restrictions on high LTI mortgages better than New Zealand's LVR restrictions." said Dr Kirdan Lees, Principal Economist at NZIER.
The Bank of England's approach to financial stability directly targets the risk of whether people can afford to pay back their mortgage, which the LVR restrictions only do indirectly, added Lees.
"Restrictions on high loan to income mortgages directly address the risk that the Bank of England is worried about: that very high household debt could cause a sharp economic correction in the future. High LVR mortgages only tell you that house purchases are made without much collateral. But LVR restrictions do not take into account households' long-term ability to service debt," said Lees.
He said the Bank of England has a policy solution for a well-defined problem being stopping soaring household debt that sits at the heart of financial stability risks.
"Controlling house prices is not part of the Bank of England's problem," said Lees.
In contrast LVR restrictions will constrain risky lending, but the gains look to be limited and the policy carries unintended consequences.
"We should look at LTI restrictions, as they are better targeted at the risk of financial instability created when many people cannot repay their debt," added Lees.
The Reserve Bank introduced restrictions on banks' high LVR residential mortgages from October 1 last year. This means banks must restrict lending at LVRs above 80% (where borrowers don't have a deposit or equity of at least 20%) to no more than 10% of total new mortgage lending. This 10% limit excludes high LVR loans made under Housing New Zealand's Welcome Home Loans scheme, the refinancing of existing high-LVR loans, bridging finance or the transfer of existing high-LVR loans between properties, and new residential construction loans.
Reserve Bank figures for the first six months of the LVR restrictions show banks' high-LVR commitments fell to just 5.6% of total commitments, including exemptions, and around 6.8% before exemptions versus 25.1% as recently as last September.
The Reserve Bank's May 2013 final policy position on its macro-prudential policies covered off LVR speed limits, sectoral capital requirements, adjustments to banks' Core Funding Ratio, and a Counter Cyclical Capital buffer. Areas of regulation that were "not in scope" for the "base framework", but "may form part of the bank's future work programme" included "the case for incorporating debt-servicing capacity into the macro-prudential framework."
BNZ CEO Anthony Healy last month told interest.co.nz he didn't want to see New Zealand follow the path Britain's taking to tackle similar issues LVR restrictions were introduced here to combat.
"I'm not sure that picking an arbitrary number of four or four and a half times salary and saying 'that's the highest you can lend to' is; A) a call that a government should make, or B) the right number. I think it's a bit arbitrary," said Healy.
"Our models are much more sophisticated than that. We look at house prices obviously, we look at leverage, we look at income levels. But also what people spend, what their other income sources are, what their likely increases in salary (are) over time. So I think you have got to be careful when you over regulate this stuff," Healy added.