RBNZ's McDermott says RBNZ has revised up its estimate of potential GDP growth over last six months to a peak of 2.8% in 2015 from 2.5%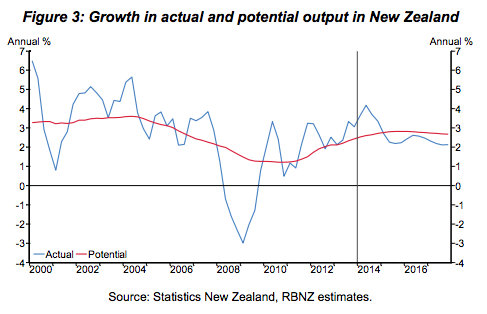 By Bernard Hickey
Reserve Bank Assistant Governor John McDermott has delivered a speech detailing the Reserve Bank's focus on measuring potential GDP output growth and how that fits into its monetary policy thinking, given any actual economic growth that was faster than potential output growth tended to generate inflation.
He said the Reserve Bank's estimate of potential output growth had been revised up over the last six months to a peak of 2.8% in 2015 from 2.5% previously because of more investment in productive capital than previously thought, higher forecast investment because of stronger business confidence, and higher labour supply due to stronger net migration.
However, McDermott reiterated that the bank remained wary of actual growth being stronger than potential growth, which generated inflationary pressures and meant the Reserve Bank needed to return interest rates to more neutral levels.
McDermott pointed to changes in output growth potential over the decades, ranging from a low of 2.1% in the 1980s to almost 4% in the 1960s, due to societal changes, different government policies and external conditions.
Inflationary pressures tended to rise then the economy was growing faster than potential output, and tended to moderate when growth was slower than potential output.
"The Reserve Bank will typically respond by increasing interest rates in order to moderate demand pressures in the first case, and by reducing rates to stimulate demand in the second," McDermott said in a speech to the Wellington Chamber of Commerce.
"Growth in actual output is expected to have peaked at around 4 percent in the year to June, driven by strong construction spending, increasing net immigration, high export prices, and low interest rates," he said.
"With the economy growing at a faster rate than potential output, inflationary pressures are expected to increase. In this environment, it is important that inflation expectations remain contained and that interest rates return to a more neutral level."
These comments were similar to those made by the Reserve Bank in June when it released its latest Monetary Policy Report and increased the Official Cash Rate to 3.25%. The New Zealand dollar was little changed after the release of the speech. The Reserve Bank's June quarter monetary policy statement included a growth potential forecast for a rise to 2.8% by 2016.
Longer term trends
McDermott pointed to an increase in New Zealand's workforce participation rate as a factor increasing potential output growth. He said the participation rate had increased over time as the female participation rate had increased and older age groups stayed in the workforce for longer.
"Assumed trends amongst labour market cohorts, combined with demographic projections, suggest that a structural upward trend in the participation rate will continue in New Zealand through the remainder of this decade," he said.
McDermott then looked at 'fundamental' factors determining output potential over the long term, including changes in technology such as the advent of refrigerated shipping in 1882 when the Dunedin sailed to England.
"In the modern era, further improvements in transport infrastructure and advances in information and communications technology, used effectively, have the ability to dramatically reduce distance to markets," he said.
'Monetary policy can't boost potential output in short term'
McDermott said the best contribution to sustainable long term growth the Reserve Bank could make was by keeping inflation low and stable.
Unduly easy monetary policy settings can boost economic growth for a time, but was unlikely to be long lasting.
"Past experiences suggest that reducing inflation materially usually involves a greater slowing in activity than the boost to growth enjoyed as inflation increased," he said.
"There is evidence to suggest that for advanced economies the threshold at which inflation becomes negative for long term growth may be as low as 3 percent."
Speech seen as confirming hawkishness
JP Morgan economist Ben Jarman said the speech was a natural follow-up to the hawkishness in the bank's June Monetary Policy Statement (MPS).
Jarman pointed to McDermott's comments about how high inflation -- even as low as 3% -- could harm long term growth prospects.
"In one sense this helps explain the RBNZ's hawkish stance, as they believe that while the economy is on a benign growth/inflation trade-off for now, any effort to 'bank' that by being more relaxed about inflation would eventually cause a move above target," Jarman said.
(Updated with more detail, including potential GDP in both short and long headlines, reaction)