Key leaves Craig to swing in the breeze under 5%; Key backs Smith, but says legal threat "silly"; Key says swimmable rivers would cost "billions"; Your view?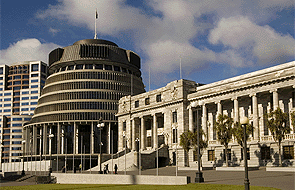 By Bernard Hickey
With 53 days left until the September 20 election, here's my daily round-up of political news from in and around Wellington on Tuesday July 29, including the details from John Key's decision to hang Colin Craig's Conservatives out to dry and Key's comments on Nick Smith's threats of legal action over claims he bullied Fish and Game over its 'dirty dairying' campaign.
Prime Minister John Key essentially hung Colin Craig's Conservative Party out to dry yesterday, confirming National would not offer an 'accommodation' in East Coast Bays for the Conservative candidate.
Without a leg up from National into an electorate seat, votes forConservative look like being wasted, given the party is still polling well below the 5% threshold.
Key told his post-cabinet news conference late on Monday afternoon he thought a year ago there was more of a chance of National offering Craig a leg up, but that Conservative's poll rating had not improved enough since then.
'Crazy' Colin's Chemtrails
TV3 reporter Paddy Gower asked Key if he decided against Craig because people thought he was "crazy".  Key nodded and smiled, but would only say Craig's personality was not a dominant factor in the decision.
Craig's views on the moon landings and chemtrails have not helped his poll ratings and his electioneering style has appeared tone deaf on occasion. His latest wide-eyed billboards have already spawned cat lookalikes, including this one. 
It was a bad day for Craig all around. The Electoral Commission also blocked his party's 'vote' logo, which combined with the Conservative name on the ballot paper would have said 'Vote Conservative'.
Key's decision, which some see risking a significant 'wasted' vote on the right, demonstrates he is more confident about the Government's recent polling and the relatively low polling of Labour and David Cunliffe .
Key also confirmed National would recommend its supporters vote forPeter Dunne in Ohariu, ACT's David Seymour in Epsom and the Maori Party candidates in the seven Maori seats.
Ministers outside cabinet preferred
He also fleshed out his thinking around post-election arrangements. He said he was open to discussions with Winston Peters and Colin Craig if they made it over the threshold, but reiterated he saw any ministerial roles being granted outside cabinet.
"I personally don't think having those support partners inside cabinet works very well. It's too much of a straitjacket in an environment where MMP demands that those political parties have some flexibility," Key said.
"It's more likely to blow the Government up because once they're inside cabinet then they're fully bound by each and every decision by the Government and that's very difficult," he said.
In a sign of his attack lines in the campaign, he pointed to the different policy positions of Labour and Green on offshore drilling as an example of the difficulties.
"It's Mickey Mouse-ville. These people can't agree with each other on anything, so how on earth could they govern the country in a formal coalition," he said.
Partners above 50%
Asked if he would provide a "hard and fast" ruling about not having Winston Peters inside cabinet, Key said it was very unlikely and added: "Maybe it's not fast, but it's pretty hard."
Key said he would again look to form support arrangements with the likes of ACT, United Future and Maori even if National could govern alone, saying that was the case in 2008 and 2011 with the Maori Party.
"We didn't technically need them to command a majority in the house, but I always felt it gave the Government more balance and better perspective, but also fundamentally larger numbers if there was a change in personnel, and realistically that's always going to be a useful insurance policy to have."
Nick Smith's 'silly' legal threat
Meanwhile, Nick Smith threatened to take legal action against Association of Freshwater Anglers president David Haynes over his claims in a Radio New Zealand interview that Smith threatened to 'tweak' Fish and Game's statutory obligations to stop its advocacy against dairying over water quality in a July 18 meeting. Other environmental advocates at the meeting also described Smith's behaviour as bullying.
Smith denied making the threats and released handwritten notes from a DOC official at the meeting, which showed Smith questioned Fish and Game's advocacy role, despite its status as a statutory monopoly, and showed Smith talked about amending the Fish and Game Act if National was re-elected to "tidy up a number of things around licenses etc."
Smith denied this was a threat and said he was only referring to the issue of internet payments for licenses.
Fish and Game called for Smith's resignation.
Key said he backed Smith, but that legal action would be a step too far and a "little bit silly."
"In the end, he obviously feels offended by the comments that have been made, but history tells you that it's not a very productive step to take. I'd be surprised if he took that step," Key said.
Smith told reporters in Parliament before National's caucus meeting that he would now not launch defamation action, but would send a letter of complaint to Haynes.
'Swimmable too expensive'
Elsewhere, Key said making all of New Zealand's rivers safe to swim in would be too expensive.
"I think swimmable 365 days of the year is a very lofty goal that's unlikely to be achieved and probably hasn't been achieved since European settlement," he said.
Key said the Government's National Policy Statement on water quality was now operational and councils had a lot of authority to work within that framework.
"Swimmable is a very, very high and expensive goal. If we were to make that the national standard it would have an enormous impact on the cost for rate payers -- billions I think," Key said.
I'll keep updating this through the day.
(Updated with Smith dropping his threat of legal action)
See all my previous election diaries here.
See the index for Interest.co.nz's special election policy comparison pages here.