National's Joyce dismisses Nicky Hager's 'Dirty Tricks' book as nothing new and wild conspiracy; Greens lay complaints alleging corruption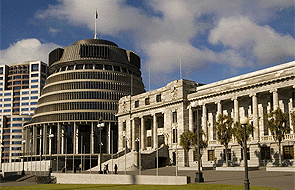 By Bernard Hickey
With 37 days to go until the September 20 election, here's my daily round-up of political news on Thursday August 14, including National's Campaign Chairman Steven Joyce rejecting Nick Hager's 'Dirty Tricks' book as nothing new and a wild conspiracy theory.
"It is exactly what it says on the cover. It is a dirty politics book. It's got a bunch of stolen emails, a bunch of allegations and some of them are breathless about things that are already well known, such as David Farrar is the member of the National Party, and others that are completely sort of '1 + 1 = 49 and apparently the Prime Minister's a devil beast," Joyce told TVNZ's Breakfast programme.
Joyce said he had not read the book, but his advisers had informed him of the books' contents. He did not directly address the allegations, although he was not directly asked.
"It's a book about how people on both sides of the house brief bloggers, in the same way they brief journalists actually, and I don't think that's news either," he said, adding there were rumours Labour Party staff wrote on left wing blogs.
Joyce said it was normal for press advisors to brief bloggers, just as they briefed journalists.
"The left are losing the battle of ideas at the moment, and they're trying to tear the Prime Minister down, and this is just another day of the week," he said.
Joyce said Hager never went to the people he wrote about in his books to ask for some sort of denial. "He just publishes and says 'that's the reality of it' and never bothers to check it with anybody, which is an unusual approach for someone who considers himself in that journalistic thing," Joyce said.
John Key told reporters in Dunedin he rejected allegations in Hager's book that he or his staff were involved in hacking Labour's website or releasing SIS information to Cameron Slater.
Key said he stood by Jason Ede, who was no longer a staffer in the PM's office but was working for the National Party. See more here on Radio NZ's site.
The Prime Minister also said he would look at claims in the book that Judith Collins arranged to move a prisoner to help a relative of Cameron Slater, but that he wasn't concerned by the book "at all."
He said he would be happy for any investigation to be held into matters raised in the book.
Slater vs Dotcom
Meanwhile, Cameron Slater, who is at the centre of Hager's allegations due to the leaking of his emails to Hager, has said on his Whaleoil blog that he believed Kim Dotcom was responsible for the Denial of Service (DDOS) attacks that took down Whaleoil earlier this year and coincided with the hacking of his email.
"At the time Whaleoil was under the DDOS attack (it shut us down for a few days), we have a fair idea that it was Dotcom behind it," Slater said.
"At the end of the period, I suddenly noticed something not right with my email.  I changed the password and went on a mad dash to change all other passwords," he said.
"I suspect they entered GMAIL through brute force attack — Kim might like to boast how it was done.  It doesn't  matter.  After about 15 minutes I shut them out.   Of about 80G of information, they were disconnected after getting only 8G of it."
Slater went on to say he had two independent witnesses who had seen Hager visit the Dotcom mansion on multiple occasions.
Dotcom denied any involvement via his twitter account.
"For the record: I haven't hacked Whaleoil. I have nothing to do with Hager's book. There will be legal action against Slater & co," Dotcom said.
Hager vs Collins
Meanwhile, Hager did various radio and television interviews detailing what's in the book.
"The chapter about Judith Collins will give people a shock because she's acted in many ways that you would not expect of a minister. She really looks bad," Hager said.
Collins told NewstalkZB she had no idea about the claims in the book.
"I think that's just bizarre. So I'm just not quite sure what he's talking about. But look, it's a smear campaign," she said.
Greens lay complaint
Meanwhile, the Green Party said it would lodge a series of complaints with the Police, Parliamentary Service, the Inspector-General of Intelligence and Security and the Privacy Commissioner after revelations in the book.
It said it would complain to the Parliamentary Service over John Key's senior advisor Jason Ede's alleged involvement in inappropriately supplying confidential information to blogger Cameron Slater.
It would complain to Police over the possibility that officials working for Key corruptly used or disclosed any information, acquired by him or her in his or her official capacity, to obtain, advantage.
It would complain to Police over allegations of blackmail involving former ACT leader Rodney Hide.
It would would complain to Police over allegations of unauthorised access to a computer system under Sections 249 and 252  of the Crimes Act.
It would complain to the Inspector-General of Intelligence and Security over allegations that sensitive documents were declassified in order to be used for political purposes.
It would complain to the Privacy Commissioner over allegations that Minister Judith Collins leaked private information.
"John Key has degraded our democracy," Green Party Co-leader Metiria Tūrei said.
"The National Government is up to its neck in dirty politics and may have broken the law while smearing opponents," she said.
"The Green Party is today promising to hold a Royal Commission of Inquiry when in Government to get to the bottom of what has gone on and to seek recommendations on how to rebuild a clean and fair political system in New Zealand. National is trying to dismiss dirty and dodgy behaviour as business as usual. It is not. New Zealanders expect and deserve far better standards of their governments and we will not sit by and allow our democracy to be dragged through the dirt by John Key."
Peters talks of Nixon and Watergate
New Zealand First Leader Winston Peters, who has been the subject of many of Slater's attacks, said the book exposed a "Nixonian element arising in New Zealand politics."
"Sadly for the Prime Minister it goes to his office in the same way it went to Nixon's office during the Watergate scandal," Peters said.
"In short, taxpayers resources have been used both publicly and privately to attack all manner of public figures with the objective of gaining political advantage," he said.
"Of course there will be denials ,but this story is about the communications between the accused and they cannot deny it."
Labour questions Key
Labour MP Grant Robertson said Key had serious questions to answer.
"Many people will be disturbed by the evidence in the book of John Key's team indulging in gutter politics and abusing their power," he said, posing the following questions:
What direction did he or his team give Jason Ede regarding his activities and involvement with Cameron Slater?
What involvement did he or his office have in the release of SIS material to Cameron Slater?
What involvement did he or his office have in the breach of the Labour Party's database?
"John Key must front up to New Zealanders about the behaviour of his team," Robertson said.
(Updated with Cameron Slater alleging Kim Dotcom hacked into his email, Slater alleging Hager visited Dotcom, Labour saying Key has questions to answer, John Key's defence of Jason Ede, Kim Dotcom's rejection of allegation he hacked Slater or was involved with the book)
I'll update this regularly through the day.
See all my previous election diaries here.
See the index for Interest.co.nz's special election policy comparison pages here.