Labour announces NZ Power plan with standardised bills, single state buyer and breakup of 'gentailers'; NZ First dumps Williams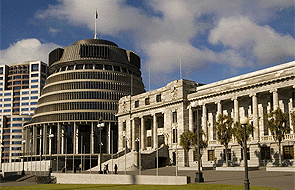 By Bernard Hickey
With 24 days to go until the September 20 election, here's my daily round-up of political news on Wednesday August 26, including Labour's formal announcement of its KiwiBuild policy and a poll result showing Colin Craig's Conservative Party nearing the 5% threshold.
National's support fell 2.5% to 45%, leaving it needing the support of New Zealand First to govern.
Conservative disclosed on its Facebook page that its support had risen to 4.6% in the 3News Reid Research poll due to be published early on Wednesday evening. The poll was conducted in the week following the release of 'Dirty Politics'. Conservative's support rose 2.1%.
The poll found support for National fell 2.5% to 45%, while support for Labour fell 2.6% to 26.4%. New Zealand First support rose 1.7% to 6.3%, suggesting the 'Dirty Politics' book helped the minor parties more than Labour.
The poll also asked whether Prime Minister John Key should stand down Justice Minister Judith Collins as Justice Minister. It found 63% said he should stand her down, while 28% said he should not. It found 43% of National supporters thought he should have stood her down.
"Tonight's 3News-Reid Research poll shows Dirty Politics has given the political landscape a real good shake.  Not only does it have the Conservatives nearly at five per cent – there are also significant results for some of the other parties," said 3News Political Editor Patrick Gower.
KiwiBuild policy released
Meanwhile, Labour formally released its Home Ownership Policy, which includes a plan to build 100,000 starter homes in 10 years.
The main elements of the policy included:
The Government building 100,000 new homes aimed at first home buyers in 10 years,
Reforming monetary policy to lower interest rates,
Introducing a15%  capital gains tax for rental property investors and banning sales of existing homes and land to non-residents,
Introducing a National Policy Statement on affordable housing under the Resource Management Act to speed up consenting and increasing land supply,
Homes would sell for between NZ$200,000 for apartments or terraced style housing outside Auckland, and NZ$460,000 for standalone dwellings in high demand areas
of Auckland. The nationwide average (mean) price would be about NZ$340,000,
Investing NZ$1.5 billion initially to kick-start the programme, with the programme becoming self-sustaining within three years as houses are sold
Houses will only be sold at cost to first home buyers, who must live in them for an undetermined time,
Houses would allocated by ballot in areas where demand exceeds supply
Labour would look to introduce longer term mortgages into the market, beyond 5 years.
Labour Leader David Cunliffe and Housing Spokesman Phil Twyford launched the policy at the Hobsonville development in Auckland.
Cunliffe said a couple earning NZ$75,000 a year would be NZ$200 a week better off under Labour if they bought a two bedroom terrace home built through KiwiBuild than if they bought a NZ$485,000 home under National's first home buyer subsidy scheme and interest rates rose to 8%, as the Reserve Bank has forecast.
"National's policy to give grants to first home buyers to buy new build homes does nothing to address supply and rein in runaway house prices. In fact it will likely push prices higher," Cunliffe said.
"In contrast, Labour's KiwiBuild policy will build 100,000 new affordable homes over ten years and sell them at cost to first home buyers. Using the purchasing power of the Government and off-site building techniques we will be able to lower the cost of building a home," he said.
National Housing Minister Nick Smith said Labour's policy was a "joke", a "shambles" and Labour's launch of its policy at Hobsonville only highlighted its failings while in Government from 1999 to 2008.
Launching the policy in Hobsonville only served to highlight Labour's previous failings.
"Labour in government announced a 1600-home development on this land in 2002, but by 2008 had no planning approved, no resource consents, no infrastructure built nor a single house constructed," Smith said.
"If they couldn't build 1600 houses in six years, how can they promise 10,000 a year now under KiwiBuild?," he said.
Internet Mana List
Meanwhile, Internet Mana released its list of 32 candidates for the election, including Hone Harawira, Laila Harre, Annette Sykes, John Minto and Chris Yong in the top 5.
It said Mana candidates Georgina Beyer (Te Tai Tonga), Jordan Winiata (Te Tai Hauāuru) and Kereama Pene (Tāmaki Makaurau) would contest electorate seats only.
The youngest candidate, Beverley Ballantine (23) was placed at number 10 on the list, while the oldest, Angeline Greensill (66) was placed at 11.
NZ Power policy and National's new NZ$150 million rural broadband plan.
David Cunliffe formally re-announced Labour's NZ Power policy in an event in Rotorua yesterday, including a plan to standardise electricity bills and an investigation into pre-pay electricity contracts.
Cunliffe said the electricity market was clearly broken.
"With falling demand for electricity, prices should be going down. Instead prices are going up and companies are extracting excess profit," he said.
"We are sick of hearing every time there is a power hike its everybody's fault but the power generators and retailers. It's either line companies or lake levels or something else," he said.
The policy of creating a single Government-owned buyer of wholesale power would reduce electricity charges by NZ$500 million to NZ$700 million, Labour said. It added generators and retailers would be structurally separated, with each generator paid a price set by the Government based on costs.
"The current pricing model will be dumped. Each generator will be paid a fair return for their actual costs. The fair return will be calculated by NZ Power on the basis of their historic capital costs, possibly adjusted by inflation, plus operating costs like fuel, depreciation and maintenance," the policy said.
Williams dumped
New Zealand First Leader Winston Peters surprised a few people (including a few of his own MPs) by belatedly releasing his Party List . Former North Shore Mayor Andrew Williams, who had been number 3 on the list,  was dumped completely and Asenati Lole-Taylor was demoted from seven to 16.
Telecommunications Minister Amy Adams announced a re-elected National Government would establish a new NZ$150 million fund to extend its Rural Broadband Initiative.
She said National would legislate a three-year extension of the current Telecommunications Development Levy of $50 million a year to create a new $150 million extension of the Rural Broadband Initiative
Housing Minister Nick Smith released MBIE estimates of the numbers of first home buyers who would take up the Government's expanded HomeStart subsidy package, including an uptake in provincial areas of 34,400 in the five years to 2019, out of a total uptake of 91,824. The provincial areas listed did not include Auckland, Wellington and Christchurch.
Darien Fenton released Labour's Tourism policy, which included little that was specific or new or different from Government policy. It did however take a dig at MBIE, saying the Tourism sector had lacked the top level support and recognition it needed since being wrapped into MBIE.
"Labour will look at how well MBIE is actually serving our tourism industry and work with stakeholders to ensure their needs are being met, and we'll collaborate with the industry to implement the Tourism 2025 strategy," Fenton said.
(Updated with Craig poll result, full 3News results, Labour KiwiBuild launch and Internet Mana list)
I'll update this regularly through the day.
See all my previous election diaries here.
See the index for Interest.co.nz's special election policy comparison pages here.