Cunliffe seen winning on points in first leaders debate with Key, who seemed flat and rattled; Your view?; Collins denies plot to roll Key and calls Winston a liar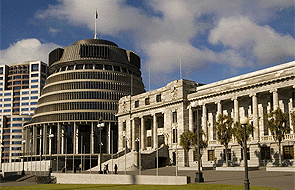 By Bernard Hickey
With three weeks to go until the September 20 election, here's my daily round-up of political news on Friday August 29, including the verdicts on the first leaders debate and the latest on Winston Peters' claim that a supporter of Judith Collins approached him to suggest he deal with a Collins-led National Party.
David Cunliffe surprised a few viewers and commentators in last night's TVNZ leaders debate by putting on a more polished and confident performance against a slightly subdued John Key .
The debate was not as dominated by 'Dirty Politics' as some might have expected or feared, focusing instead on foreign ownership, housing and economic management.
The verdicts were not unanimous and Cunliffe delivered no knock-out blows, but the Labour leader was viewed as keeping his hopes alive with a combative and assured display. Key was judged to have appeared as either too low key or too dismissive and uneasy.
In the NZ Herald , John Armstrong declared Cunliffe the narrow winner, saying he came across as genuine and did better than Key on the area of economic management. Audrey Young thought Key won, saying Cunliffe sounded like the vicar's son he is. Toby Manhire said Mike Hosking and Cunliffe were the winners, with the Labour leader curbing his tone and bossing the hour.
In Stuff, Vernon Small said Cunliffe grabbed the debate by the scruff of the neck and Key seemed out of sorts, lacking his usual humour and confidence. "With the possible exception of the "turn-off" factor of his interjecting, Cunliffe was the clear winner of the first debate," Small wrote.
Fairfax's Political Editor Tracy Watkins wrote in Stuff that Key was rattled and frustrated, while Cunliffe appeared composed.
TVNZ's Corin Dann said Cunliffe had probably won the debate on points and had at least showed he could match it with Key on the big issues. TVNZ's viewers' poll said Key won.
Radio Live's Duncan Garner said Cunliffe looked strong and won the debate, while Key was "too passive and slightly rattled."
Hosking said in his morning editorial on NewstalkZB the debate was a tie, but he criticised Cunliffe for having too many hangers-on behind the scene.
After the debate, Key himself described the debate as "scrappy" because of the interruptions from Cunliffe.
"I thought he'd be good, and I thought he'd be aggressive, and he was both of those things," Key said of Cunliffe, adding he had been better than Phil Goff , but not as good on the policy detail as Helen Clark .
Cunliffe, for his part, said Key had contributed to the "positive atmosphere". He also complimented Hosking's moderation as "very professional and fair."
Collins denies plan to roll Key
Judith Collins keeps returning to the headlines as an unwelcome distraction for the Government.
Last night Winston Peters claimed one of Collins' supporters had approached him to see if he would be more amenable to a Collins-led National Party than a Key-led one.
Peters was reported on Stuff as saying a Collins "bagman" had approached him out of the blue and asked him: "If you can't talk to John Key after the election, can you talk to her?".
Earlier in the evening Paddy Gower reported Peters describing the approach thus: "Well this might come as a surprise to you, but I'm going to put it to you and nobody else has heard this, but I had back-door approaches from the Collins camp."
Collins denied the approach this morning on NewstalkZB , accusing Peters of lying. Key described the idea as "nutty."
Peters stood by his comments, saying: "She would say that, wouldn't she?"
Fresh poll results
The New Zealand Herald's Digipoll published on Thursday afternoon showed Labour down 1.1% to 24.1%, while National rose 0.7% to 50.7%.
The Green Party fell 2.3% to 11.4%, while Internet Mana rose 1.3% to 3.4%. Conservative rose 0.7% to 3.3% and New Zealand First rose 0.7% to 5.0%.
A Stuff/Ipsos poll published this morning found support for National had fallen 4.3% to 50.8% in the last two weeks, while Labour had risen 3.6% to 26.1%. Green rose 0.5% to 11.8% and New Zealand First rose 0.6% to 4.0%. Conservative was the biggest winner among the minor parties, rising from 3.4% to 4%. Internet Mana firmed to 2.2% from 2.1%.
Meanwhile, a TVNZ Colmar Brunton poll published this morning found 61% of eligible voters thought Collins should be stood down or resign, while 26% thought she should stay, while 13% did not know.
National party supporters were evenly divided on whether Judith Collins should be stood down or resign, with 44% saying go and 43% saying stay.
I'll update this regularly through the day.
See all my previous election diaries here.
See the index for Interest.co.nz's special election policy comparison pages here.