National announces deals with ACT's Seymour and United Future's Dunne as Labour's Robertson bids for leadership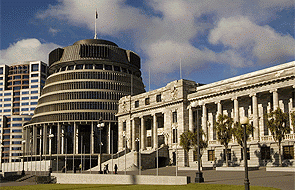 By Bernard Hickey
Prime Minister John Key has signed confidence and supply agreements with United Future and ACT that will see Peter Dunne stay on as Internal Affairs minister outside cabinet and new MP David Seymour become Parliamentary Under Secretary for Education and Regulatory Reform.
The agreement with United Future also provides for Dunne to also be Associate Minister of Health and Associate Minister of Conservation. Seymour's less-than-ministerial role does however give him three or four staffers to help him and the resources to act as the Parliamentary Leader of ACT.
Key described the arrangement for Seymour to be an under-secretary rather than an associate minister as an "elegant fit" because it allowed him to get some experience and still have the resources to represent the ACT party fully in Parliament. Key said it was likely Seymour would become a minister later in the term.
Seymour would focus on partnership schools and reducing the regulatory burden on businesses and consumers.
Key and Dunne signed the agreement in front of media in National's caucus room in Parliament late on Monday morning. Key and Seymour signed a similar agreement at an early afternoon news conference.
Key said National did not necessarily need the support of United Future, ACT or Maori to govern alone, but that he believed New Zealanders did not want National to swing to the hard right and believed it wanted it to work with other parties.
"I don't know, but nor do I care," Key said when asked if he thought Dunne had leaked the Kitteridge Report into the GCSB, which was the issue that saw Dunne resign as Inland Revenue Minister last year, before being reappointed this year as Internal Affairs Minister.
"In the end, we could either spend the next three years looking back, or the next three years looking forward. My sense of what happened on election night is New Zealanders said they wanted the return of a National-led Government. They wanted us ideally to work with other parties, which we're doing, " he said.
RMA reform?
Dunne, who opposed the Government's proposals last year for Resource Management Act reform, said he still opposed National's plan to prioritise economic development over environmental protection in the merger of sections 6 and 7 of the Act, but he would wait for its new legislative proposal.
"Let's see what the final iteration is. That's one of those areas where the positions are pretty clear and that may be one of those situations where the Government uses its majority," Dunne said.
Asked if he now supported reform, he said: "I opposed what was proposed. The question is -- and it's fair to say the Government hasn't had a chance yet to take it to the next step -- let's see what the legislation looks like at the time the government proposes it."
Key said he preferred to build a bigger majority for National's legislative agenda than the one seat majority, "and that's equally true for our RMA changes."
"In the end, we'll always reserve the right to pass 61-60. We've done that in the past by a bare majority, but my preference would be to build a bigger consensus with other political parties," Key said.
He said he would have to wait and see who the Environment Minister would be and "whether there are changes recommended or suggested and whether they find favour with other political parties."
Key and Dunne said the main sticking point was around the merger of sections 6 and 7 of the act.
"The vast majority of the changes, the process-driven changes, are ones that are unobjectionable as far as I'm concerned. The question does come down to the ordering of the priorities of the objectives under clauses 6 and 7, which is more at the principles level, but at the operational level, there's absolutely no opposition to those changes," Dunne said.
Asked if the Government would instead harden its RMA reforms to speed up land release and housing development in Auckland, Key pointed out the Special Housing Areas Act had a sunset clause. 
"Some people will want to have better flexibility and capacity for release of land, potentially for both industrial and urban. On the other side of the coin, we have to name a executive. If there is theoretically a new minister for the environment, which I can't rule out, the new minister might want to have a look and see whether he thinks, or she thinks, that legislation is set in exactly the right place and then work our way through that," Key said.
"As I said on election night, I don't see National veering off on some very hard right wing agenda. I don't think that would serve either the country's or National's interests in the best possible way," he said.
"Passing reformed RMA legislation is a top priority of the Government."
'We're not NIMBYs'
Seymour said he supported the Government's plans for RMA reform and rejected the proposition that RMA reform would encourage more dense development in his electorate of Epsom.
Seymour said the current RMA forced 90% of land development within Auckland to be within the Metropolitan Urban Limit, which forced up land prices and forced more dense development in Epsom.
He rejected the proposition that he supported sprawling developments elsewhere, but would not support more dense development in Epsom.
"That's your language. The truth is people accuse us in Epsom of being NIMBYs -- Not In My Back Yard. The truth is we've been filling in our back yards since the 1960s. It's already the densest and most intensified electorate in the entire country," he said.
Flex-Super and water quality
Dunne said the prospect of United Future's Flexi-Super proposal remained a live one, despite there being no mention of it in the supply and confidence agreement. He said the Government had received submissions and he had had discussions with Bill English earlier on Monday.
"I don't think the issue is dead and buried. This is an issue we will continue to discuss," Dunne said, adding he expected the issues raised during consultation to be addressed by the Government.
Dunne went on to point to the agreement's comments on improving water quality in lakes and streams. He pointed to clause 17 of the Overseas Investment Act, which relates to protection of fresh water and fisheries being taken into account when approval for foreign purchases is made.
"My advice is that there has been very little in the way of consultation to date by the OIO with groups like Fish and Game on the implications of those provisions when considering such applications, and I suspect a more rigorous enforcement of that provision might actually deal with a lot of the public concern about access and those sorts of issues that arises whenever a foreign land sale is being considerated," he said, adding rigorous enforcement of the existing act was needed.
Dunne said he would wait and see whether his income splitting bill was put before Parliament in the current term.
Key denied that United Future had not gained much from the deal.
"On the one hand, while there are no direct policy wins for the political parties, we are also not getting anything in return. Essentially, what we're doing is saying, we want to have a relationship where we work together with these political parties. Yes we get confidence and supply, and that builds a bit of a buffer for us in the house, we've never been one for stuffing lots of things into confidence and supply motions that we couldn't get past, beyond that we'll have to work with United Future on every piece of legislation we've got. That's a much stronger position for United Future and puts more onus on the Government to do that," Key said.
"Yes of course the Government could take the lazy option and just pass everything through with its absolute majority, but I don't think that's the approach that we want to take. I wouldn't see it so much as here's the policy win vs here's something that the Government's giving up. It's about building on six years of hard work and a good relationship and that means for three years we're going to be working very closely with Peter, as we have for the last six," he said.
Here is the key section in the agreement referring to policy:
In this parliamentary term, United Future has a number of priorities to progress with the government – the next iteration of the National Medicines Strategy – Medicines New Zealand - including the enhanced role of Pharmacists in patient medicines management and primary care; improving water quality in our lakes, rivers and streams; giving recreational fishers more opportunities as acknowledged in National's recently announced recreational fishing reserves policy; and re-affirming the use of public private partnerships for major roading projects where appropriate; among the key ones. National's moves to form a Government and build a new cabinet came as Labour began what is expected to be months of internal ructions to find a new leader and review its disastrous election result.
Labour fight rolls on
David Cunliffe triggered an already fractious fight for the Labour leadership on Saturday, announcing he would resign at Tuesday's caucus meeting and vowing to contest a vote by the wider party and union affiliates.
Grant Robertson almost immediately put his hand up for the job, giving interviews on Q+A and The Nation on Sunday morning. He argued he could unite the party and that Labour needed to re-connect with New Zealanders.
He declined to identify Jacinda Ardern as his running mate, saying the deputy was a decision for caucus. Asked about the perception that he and Ardern were inner-city 'Beltway Babes', he pointed out Ardern was from Morrinsville and he was from Dunedin.
Robertson told TV3 Labour had lost half a million voters in the last couple of elections and repeatedly used Labour's 24% vote in his argument for a change of leadership.
"We have to face the fact that we got 24% and that means change," he said.
"At 24% in the polls, we need generational change for the Labour Party. We simply can't go on doing the things we've done and expect to get a different result. A lot of New Zealanders did see us as not being relevant to their lives," he said.
However, Labour's policies were not at the top of the list for those changes.
"I think there's no shortage of policy in the Labour Party. What I think we've got to do is focus on New Zealanders and their lives and a little bit less on us and ourselves," he said, later adding he supported Labour's Capital Gains Tax policy.
Hipkins blocks comment
Pressed repeatedly on Cunliffe's failings, Robertson pointed to the apology for being a man and his failure to remember Capital Gains Tax detail in the Press leaders' debate.
He also deftly answered the question about whether New Zealanders were ready for the first openly gay Prime Minister, saying he enjoyed a game of rugby and a beer and not everyone liked those things.
David Shearer also spoke on both Q+A and The Nation from New York, but stopped short of formally bidding for the leadership. He said he would have preferred the review of the defeat be held before the leadership vote.
However, in an attempt to staunch at least some of the blood letting, Labour caucus whip Chris Hipkins said he had blocked supporters of the candidates from talking to the media. He confirmed he had blocked Sue Moroney, Andrew Little and Stuart Nash from talking on The Nation and that caucus members, apart from the candidates, would not be talking in future.
"It's not going to be useful for us to be having huge debates about this amongst ourselves in public," he said.
Labour review launched
Labour's Council announced the terms of reference for its post-election defeat review on Sunday, including a review of its political positioning in the last three elections, a review of the 2014 campaign and a recommendations for rebuilding and modernising Labour.
Moira Coatsworth, who has herself said she would stand down, said the names of the reviewers would be announced within the next week and most of the work would be completed by December. She acknowledged, however, that it was possible the leadership vote could be held before the review was completed. She told Guyon Espiner on Morning Report a decision on the timing of the leadership vote would be held on Thursday.
Debate also simmered over exactly how small Labour's membership was.Jim Anderton pointed out on Saturday's version of The Nation that Labour's membership base had fallen to below 10,000 from over 100,000 when he was party President in the early 1980s.
Only 5,392 voted in Labour's leadership election last year. Robertson said the membership was higher than 5,000, while former Labour PresidentMike Williams said membership had never been over 100,000 in the early 1980s.
New role for Paula Bennett?
Meanwhile, John Key got on with the business of building his new cabinet. Key told Morning Report Paula Bennett was likely to be move from Social Development into another ministry, possibly one with a financial role.
He also said there were opportunities to merge some portfolios, using ICT and broadcasting as an example.
Key told the afternoon news conference he expected to name his cabinet early next week, before they were sworn in later in the week.
(Updated with confidence and supply agreement with Peter Dunne, comments from news conference with Key and Dunne, news conference with Seymour and Key, more details on RMA, water reforms)
See all my previous election diaries here.
See the index for Interest.co.nz's special election policy comparison pages here.