Labour plans leadership vote through late October, early November; result on Nov 18; Full review due after vote; Meanwhile, caucus eats itself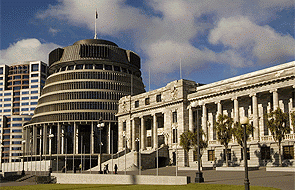 By Bernard Hickey
Labour Party General Secretary Tim Barnett has announced Labour's leadership candidates will campaign for support of party members and union affiliates through late October and early November before the result is announced on November 18.
The Party's review of its election defeat will be conducted at the same time, with an interim report published before the result, but the full report is not due to be published after the result.
Former leader David Cunliffe had pushed for an early vote.
Nominations for the leadership will close on October 14. So far, only Cunliffe and Grant Robertson have said they will bid for the leadership, while David Shearer is also thought to be considering a run.
Barnett said meetings with party members would be held from October 22 to November 11.
"Our leadership  election process is a wonderful expression of party democracy, involving all Party members, all 7 affiliates and all 32 Labour Members of Parliament," Barnett said.
"It is a rigorous test of leadership qualities.  Its' outcome will be crucial to our Party's single-minded determination to learn from our election result and regroup for victory in 2017," he said.
But bitter infighting goes on...
Meanwhile, Labour's caucus writhed through another round of self-inflicted disembowelling yesterday as David Cunliffe's wife, Karen Price, confirmed she sent tweets calling for the removal of 'ABC' (Anyone But Cunliffe) 'ringleaders' Trevor Mallard and Clayton Cosgrove.
Price apologised for the tweets and said David Cunliffe was not aware she had set up the account or sent the tweets.
"Our family has been under intense media pressure since the election. My actions were ill-judged and were the result of extreme frustration and trying to look after my husband and family," Price said in a statement.
Cunliffe also denied he was aware of the tweets, even though he was listed as the first follower. He said the account in his name had been set up to auto-follow those who followed him.
He pointed out he hadn't been able to access Twitter since the Christchurch East election when he used it to accidentally breach electoral laws and his staff then locked him out of the account.
"That account did follow us and then later unfollowed us, and it was followed when it first followed us," he told television reporters to much head shaking.
Mallard declined comment, but Cosgrove hit back, saying it was sad Cunliffe was using family members to carry out "gutter politics". He also said he would have known if his partner had done such a thing.
See all my previous election diaries here.
See the index for Interest.co.nz's special election policy comparison pages here.