Electoral Commission says National loses 1 seat to go to 60 after counting of special votes; Green up 1 to 14; Other parties unchanged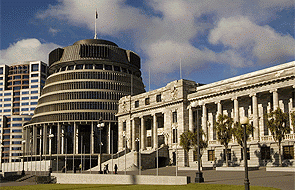 By Bernard Hickey
The Electoral Commission announced the final Election 2014 result on Saturday after the counting of special votes, including that National lost 1 seat from its 61 seat total on election night and the Green Party won an extra seat to add to its election night total of 13.
The result means National has lost its outright majority in the 121 seat Parliament, although it has already signed confidence and supply agreements with ACT MP (and now leader) David Seymour and United Future Leader and MP Peter Dunne.
Prime Minister John Key is expected to sign a supply and confidence agreement with Maori Party leader Te Ururoa Flavell on Sunday. The Maori Party has two MPs.
The result means National list MP Maureen Pugh drops off and Green MP Steffan Browning returns to Parliament.
The result may increase the leverage of Seymour in any Resource Management Act reforms, given National will need his support to pass reforms. Dunne opposed the Government's proposed changes over the last year, as did the Maori Party.
On supply and confidence issues, National will then be on 64 with the rest of Parliament on 57.
The Electoral Commission said there were no other changes to party standings, with Labour unchanged on 32 and New Zealand First unchanged on 11 MPs. There were no electorate seat changes.
It said the final turnout of enrolled voters was 77.9%, up from 74.2% in 2011.
However, the final enrolment rate was 92.6% of the eligible population, which was down from 93.7% in 2011.
Here are the full and final results.
National received 1.131501 million votes or 47.04% of the total, while Labour got 604,534 votes or 25.13% of the total. The Green vote rose to 257,356 or 10.70%, while New Zealand First got 208,300 or 8.66% of the total.
The next most popular was Conservative on 95,598 or 3.97% of the total. It did not get any MPs because it got less than the 5% threshold.
The Maori Party got 31,850 votes or 1.32% of the total, but got 2 MPs because Te Ururoa Flavell won the Waiariki seat and dragged in Marama Fox in as a list candidate on the coat-tailing rule.
The Internet Mana Party won 34,095 votes or 1.42% of the party vote, which was less than Maori, but it won no seats because it was below the 5% threshold and Hone Harawira lost his Te Tai Tokerau seat to Labour's Kelvin Davis.
See all my previous election diaries here.
See the index for Interest.co.nz's special election policy comparison pages here.