Key announces supply and confidence deal with Maori Party; says monitoring economic impact of Auckland blackout; Sub NZ$5/kg payout my hit budget surplus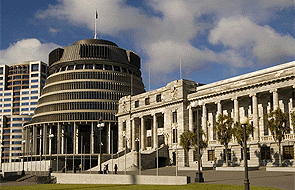 By Bernard Hickey
Prime Minister John Key has announced his third and final supply and confidence deal with the National-led Government's minor party partners and has cautioned the slump in the expected Fonterra payout below NZ$5/kg may make it harder for the Government to achieve a surplus in the 2014/15 year.
Speaking after signing a supply and confidence agreement with Maori Party Co-Leader Te Ururoa Flavell in Parliament's Maori Affairs select committee room, Key said on Sunday afternoon Treasury was providing advice for Finance Minister Bill English on how the lower payout would affect the budget and the wider economy.
Key said the expected reduction in dairy incomes of around NZ$5 billion could reduce tax revenues, but there were a variety of factors at play. He pointed to the larger impact being on the 'out' year of 2015/16.
Key also said there may be some short term economic impact from the power blackouts expected to be in place for days in central Auckland.
"There's bound to be some. It's a trading day for businesses in Newmarket and the likes," Key said of the blackouts after a fire in Vector's equipment in Transpower's sub station in Penrose. He said he had power at his own house in Parnell.
Key said he expected a debrief after the reconnection of customers, but he downplayed the idea that there was some sort of infrastructural deficit that may have caused the outrage. He described the fire as a "freak" event.
Sub NZ$5/kg payout
Asked about the financial implications for the economy and the budget from a sub NZ$5/kg payout from Fonterra  in 2014/15, Key said: "It can have some impact because if that's the final payout, the impact would be as large as NZ$5 billion for the economy overall, and you would expect that to flow through to the tax revenue, both for the 14/15 year and the 15/16 year. My understanding is Treasury is working on those numbers for the incoming Minister of Finance, which fortunately is the same as the outgoing Minister of Finance as well."
Treasury forecast in its Pre-Election Fiscal Update (PREFU) published on August 19 that the Government's Operating Balance before Operating Gains and Losses was for a NZ$297 million surplus in 2014/15, rising to an NZ$818 million surplus in 2015/16 (year to June 30). Since the PREFU was finalised on August 5, dairy prices have fallen 20% and Fonterra has cut its forecast from NZ$6/kg to NZ$5.30/kg and economists are now forecasting a payout of around $4.80/kg.
"They are giving him (English) a bit of an assessment of what impact that might have. There's a lot of different factors that go into that surplus. We expect it to have some impact and it's a very narrow surplus. That doesn't mean that we won't achieve surplus. It means the Government will have to think through all of the issues here. There may be other options we choose to take," he said.
Key pointed to Treasury's allocation of NZ$1.5 billion of new spending in 2014/15, of which the Government had undertaken only to spend NZ$1 billion.
Asked if the Government would take new actions to achieve its long-targeted surplus, he said: "That would depend on how large the hole is. We're not going to take silly actions and it depends on the timing. The early indications are that it might have more of an impact in the outer years than the earlier years."
New cabinet due tomorrow
Key also said he would announce the new cabinet and minsterial line-up at 11 am on Monday, before it was sworn in on Wednesday at Government House in Wellington.
He said there would be name changes for some ministries, including a change to the Ministry for Women from the Ministry for Womens' Affairs.
Earlier Key and Flavell announced their supply and confidence agreement, including that Flavell will be named Minister for Maori Development and Minister for Whanau Ora, and Associate Minister for Economic Development.
Flavell was also appointed a member of the Cabinet Appointments and Honours Committee, the Cabinet Committee on Treaty of Waitangi Negotiations; the Cabinet Committee on Social Policy and the Cabinet Economic Growth and Infrastructure Committee.
The agreement also specified areas where the Maori Party wanted to keep working with the Government, without detailing specific outcomes.
"The Maori Party wishes to continue to pursue its policy priorities with the government – ongoing investment in Whanau Ora; the continuation of the work by the Ministerial Committee on Poverty; a focus on Maori economic and regional development; encouraging greater Maori participation in the electoral process, among the key ones. These priorities will guide the work of Te Puni Kokiri and be reflected in the Statement of Intent to be agreed between the Minister and Chief Executive," the agreement said.
Meanwhile, Key said he was surprised and disappointed by the loss by National of one seat in the final election count announced on Saturday.
(Updated with more detail, background, quotes)
See all my previous election diaries here.
See the index for Interest.co.nz's special election policy comparison pages here.