Key details wider social housing reforms, including selling up to 2,000 state houses in coming year; more social housing subsidies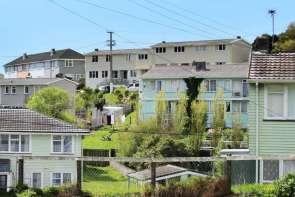 By Bernard Hickey
Prime Minister John Key has unveiled plans to sell 1,000 to 2,000 state houses in the next year to community housing groups and Iwi in an effort to expand the number of social houses without having to invest more taxpayer capital.
Key unveiled the extension of the Government's social housing reforms in his State of the Nation address, including plans for an extra 3,000 reviews of existing Housing New Zealand tenants already paying market rents to see if they can move into the private rental market or buy their own homes.
The Government has over the last two years reformed the way Housing New Zealand assesses tenants and created Income Related Rent subsidies that are open to community groups such as Salvation Army and Presbyterian Support Services to apply and help fund the building of new homes. Community housing groups currently own 5,000 homes and have talked up plans to build another 15,000 by 2020.
Key said the Government planned to increase the number of Income Related Rent subsidies by around 3,000 places to 65,000 places by 2017/18 at an extra cost of NZ$40 million a year. The Government also planned to reduce its number of Housing New Zealand properties to 60,000 by 2016/17, Key said. Housing New Zealand currently has about 68,000 homes, including 3,000 leased homes.
Key reiterated that Housing New Zealand would remain the largest provider of social housing, but that the Government aimed to increase the involvement of community groups, as had happened in Britain and Australia where up to 30% of homes were provided by the non-government sector.
"The experience of countries like Australia and the United Kingdom is that having non-government organisations involved in social housing, alongside the government, is a better way of doing things," Key said.
Key said the Government was taking a cautious approach and would review the sales in November this year. He compared the 1,000 to 2,000 sales with the current sales programme by Housing NZ of 600 to 700 a year to first home buyers, rental property owners and developers.
He said the Government would require community housing providers to keep any ex Housing NZ homes in social housing.
The Government would shortly offer an initial 300 income related rent subsidies to community housing providers, Key said.
It would also make a NZ$500,000 cash injection for emergency housing, alongside a wider review of funding and the creation of an Auckland emergency housing database.
The Government planned a strategic review of Housing New Zealand over the first half of the year, Key added.
Some of Housing NZ's homes and land could be transferred out into a special urban development authority.
Key cited the Tamaki Redevelopment Company, which is a partnership between the Government and Auckland Council. However, he noted in a later news conference development of the project had been slow.
"Again, we want to accelerate these processes, so small and large redevelopments of Housing New Zealand land and properties are undertaken with more urgency," Key said.
"The Government is still considering how and where that might happen. A large redevelopment could involve existing properties being transferred out of Housing New Zealand ownership and into a special urban development entity," he said.
Reaction cautious
However, the reaction from community housing groups was lukewarm.
Salvation Army Spokeswoman Sue Hay said community housing groups wanted more details about the state house sales.
"There's no detail on how the transfers would happen and at what price," Hay said.
She said the sector was also disappointed at the lack of an increase in the Government's fund for capital grants for social housing providers from the existing NZ$139 million.
Key gave no detail about the levels of discounts and Social Housing Minister Paula Bennett confirmed the Government had looked at increasing the capital fund, but had decided against it. Bennett also confirmed the Government was still working on the details of resolving the tax-free status of many social housing charities, despite the passsing of a law last year.
Hay said community housing groups were still waiting on the resolution of the tax-free status, which had been up in the air for nearly four years after a Charities Commission ruling against such housing groups and a High Court ruling confirming that ruling.
Community Housing Aotearoa Director Scott Figenshow welcomed the Government's announcements as a step in the right direction, but that it had not gone far enough. He said he was disappointed the Government had not earmarked all the proceeds for recycling into social housing and had not confirmed the length of contract period for community housing organisations, which he said was an essential detail for raising finance.
"What we want to see was some form of long-term contract arrangement which provides security for community housing organisations to go and borrow money to build that house for that tenant with the income-related rent subsidy," Figenshow said.
"This is a good start, but we need the government to be more ambitious. The government is clearly making social housing a priority but more action is needed."
'Window dressing for move to vouchers'
Labour Housing Spokesman Phil Twyford described the numbers detailed by Key as reasonably modest and the Prime Minister's rhetoric as cautious. Previous reports had suggested the Government could sell up to 20,000 homes.
"If Nick Smith had been running the policy you could have added a number with a factor of 10," Twyford said. "Key avoided all the language of the market," he said.
Twyford described the Government's moves to involve community housing groups as "window dressing" on an ideologically driven move to introduce vouchers that delivered taxpayer subsidies to private landlords while getting the state out of owning houses.
He doubted the community housing sector would be able to buy state houses and build new ones to the scale the Government wanted, given continued uncertainty about capital funding and the sector's tax status.
Twyford also challenged Key's characterisation of the larger moves towards non-Government owned social housing in Britain and Australia.
"The result has been longer waiting lists, higher rents and more squalor and poverty," he said.
New Zealand First leader Winston Peters said moving people from one state-owned landlord to a state subsidised landlord was not solving a housing crisis.
"The answer to the long waiting lists, high house prices and rents is to build homes. Mr Key continues to deliberately miss the point. Beloved of the National Party is the market. The market in New Zealand is a dramatic lack of supply against highly inflated demand," Peters said.
Green Party Co-Leader Metiria Turei described the plan as a fire sale that would line the pockets of landlords and developers, while driving up rents and reducing the security of vulnerable families.

"John Key's speech on the future of so called "social housing" today was a pie in the sky wish list of maybes, that didn't show a coherent plan for the building of a single new home, " Turei said.

"John Key is skirting around the simple truth - selling thousands of state homes will never lead to more people being housed unless more homes are being built to replace them - and I don't see a concrete plan to make that happen," she said.
See my preview of the speech here and the full speech is here.
(Updated with more details/reaction)