EQC at 70, a great asset for New Zealand or an aggressive muddler?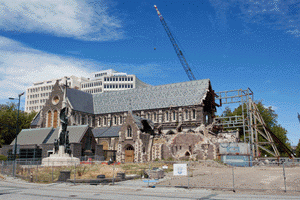 Gerry Brownlee, the Minister responsible for the Earthquake Commission (EQC), is trumpeting the organisation's seventieth birthday.
Unique internationally, it has proven its value to New Zealand and we are lucky our forebears had the foresight to create the scheme back in January 1945, Brownlee says.
EQC has faced its sternest test since the spate of major Canterbury earthquakes, highlighted by the devastating and tragic February 22, 2011 quake. And it'd be fair to say EQC has plenty of detractors.
Initially established as the Earthquake and War Damage Commission after quakes damaged properties in the Wairarapa and Wellington in 1942, EQC has handled 700,000 claims in its time – more than half of which are from the 2010-11 Canterbury quakes.
It has helped repair around 64,500 quake-damaged homes, and paid out over $8 billion in claims.
Yet with anther 4,000 properties to repair, and $4 billion of claims still to pay, the question remains; how prepared is EQC for another disaster?
EQC chief executive, Ian Simpson, told interest.co.nz it's ready.
EQC has $3.7 billion dollars in assets and $700 million cash in the bank.
Up to $1 bln taxpayer top up required
EQC's still paying for claims using its own resources, but Simpson expects it'll have to dip into the buffer provided by the Crown (taxpayers) for the first time, at the end of the year.
Under the Crown Entities Act 2004 the State has to meet the shortfall if EQC's assets are insufficient to meet its liabilities.
Simpson estimates the Crown will have to contribute between half a billion and $1 billion.
"Considering this is one of the largest losses in history, the scheme has performed remarkably well", Simpson says. 
He points out the Queensland floods, lead to Australia implementing a year-long tax in 2011, on those earning over A$50,000 a year.
"Because we have the crown guarantee, automatically, there's no risk of EQC ever not being able to pay its claims."
Yet to avoid too much of the burden falling on taxpayers, Simpson says EQC's nearly doubled the amount of international reinsurance it buys.
It spent $151 million on reinsurance premiums in the 2013/14 financial year, and currently has $3.9 billion of reinsurance protection per event.
It'll have to pay the first $1.75 billion dollars if there was another disaster.
Here's Brownlee again: "The scheme has managed the largest and most complex insurance claims project in New Zealand's history and the fourth largest in the world."
"EQC had also retained the confidence of global reinsurers to continue reinvesting in New Zealand. This enables New Zealand to cope with future natural disasters, with flow-on effects for commercial insurers."
"As the first-loss natural disaster insurer, EQC can still offer protection for people and property, with about 90% of the New Zealand housing market being insured compared to only 11 per cent of insured homeowners in quake-prone California," adds Brownlee.
'Aggressive approach wrong'
Yet insurance lawyer, Andrew Hooker, says EQC has got it all wrong.
Hooker says it has an "aggressive" approach and has failed to handle claims in the spirit it was set up in.
He comes across cases on a daily basis, where people believe EQC has failed to deliver what they're entitled to.
Hooker points out the Commission's top engineer, who's done over 2000 inspections, is before the Chartered Professional Engineers Council for alleged incompetence.
Graeme Robinson is appealing eight complaints upheld against him after a hearing in August.
Hooker says he's also working on a case where a claimant believes EQC repairers left their house in a worse state, after going in to fix it.
He says there are still a number of cases like this trickling through the courts, which could heavily impact EQC's bank balance.
Looking into the future, EQC says it's focused on rebuilding its Natural Disaster Fund.
It's also cutting staff, which grew from 22 people in 2010, to 1,800 in 2013, and dropped to 1,161 last year.