Key downplays survey showing first home buyers need parents' help; says always has been tough; Home Start will help; suggests Hamilton commute for Sth Auckland workers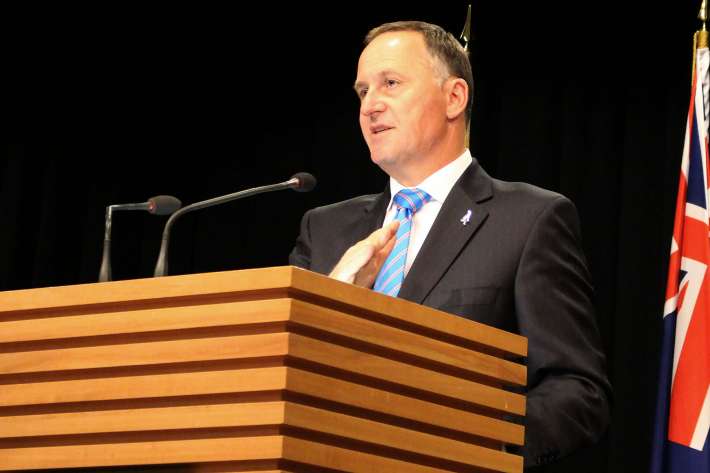 By Bernard Hickey
Prime Minister John Key has shrugged off suggestions in a survey that a two tier gap is opening up between first home buyers with rich parents who can help them get into the market and the rest without rich parents.
He said first home buyers needed to save hard and look for poorer quality homes away from the centre of Auckland. He even suggested they commute from Hamilton and said the Government was doing enough to fill a housing shortfall estimated by economists at 15,000 to 20,000 dwellings.
A Barfoot and Thompson survey released over the weekend to coincide with start of the 'Our First Home' reality TV series on TV One reported 47% of first home buyers now have to rely on a handout from their parents to get on the property ladder. Only four years ago fewer than a third of first home buyers had to rely on parents. Back in the 1970s that figure was just 13%.
Key said he thought this had been happening for some time and the Government's expanded Home Start subsidy programme for first home buyers of new homes was aimed at addressing that.
"For those that get it it's a a big advantage. For those that don't, it's a disadvantage, but the Government's Home Start programme is designed to allow people to build a nest egg," Key said.
"If you have two people in that programme and you put in the minimum contribution of three per cent and you do that for five years and they both earn the minimum wage, with an employee contribution and an employer contribution and a government contribution, as long as you buy a new home then your deposit from that programme would be NZ$50,000 and in Auckland, there's plenty of homes you could buy for NZ$500,00 or less," he said.
"They won't necessarily be in Grey Lynn or Ponsonby or Parnell. If you Google Auckland homes NZ$500,000 or less, there's quite a few that come up."
Earlier, Key told Radio Live there had always been divisions between the haves and have nots in New Zealand.
"The question is not how well off are your parents, but what opportunities do you have to make a big contribution and create your own resources. That opportunity is probably more alive than it's ever been given access to education, particularly further education," Key said.
"So I don't think that just because you were born into a poor household means you're going to be poor, because by definition, I was bought up in a state house by a single mother and it didn't turn out that way," he said.
Key rejected the suggestion that the increasing need to use parents' wealth to buy a first home had created a society of haves and have nots.
He again referred to the Government's Home Start programme as a way for two wage earners to save a deposit and buy a first home.
"It's not new. I can remember my friends getting help from their parents thirty odd years ago," he said.
Housing shortage
Key also downplayed an ANZ report showing a housing shortage of 18,000 dwellings in Auckland that was getting worse because of repeated under building. ASB has estimated the shortfall at 17,000 and Reserve Bank Governor Graeme Wheeler referred to an estimated shortage of 15,000 to 20,000 in a speech last week.
"In Auckland, much more needs to be done, especially in creating opportunities for residential construction in Auckland central," Wheeler said in the speech.
Key said a large number of housing consents were granted last year and the Government's Special Housing Areas would release land for 39,000 new homes over the next three to five years.
"There's plenty of capacity for people to catch that up," Key said.
'Commute from Hamilton'
Key denied in the press conference suggesting that workers in South Auckland who were unable to buy a house instead commute from Hamilton.
"I accept that people will commute further out, but I've never mentioned Hamilton," he said.
The Waikato Times reported over the weekend that Key said in an interview with the newspaper while visiting the region that those who could not afford in Auckland should head to the Waikato.
 He was reported as saying that moving south of New Zealand's biggest city ought to be a "serious consideration" for buyers struggling to find the cash for Auckland homes.
"They pay less for their home so obviously they're going to pay more to commute. It's a tradeoff that people decide all around the world and it will give them a far higher quality of home at a lower price," Key was quoted as saying.
Key said the option would be particularly attractive to those who could work from home, the Waikato Times reported.
He was reported as saying the Waikato Expressway made it a "really legitimate option, especially for people who work in the southern part of [Auckland] city".
(Updated with pic)