RBNZ's Wheeler calls for higher buildings in central Auckland and limits on NIMBYism stopping new housing developments'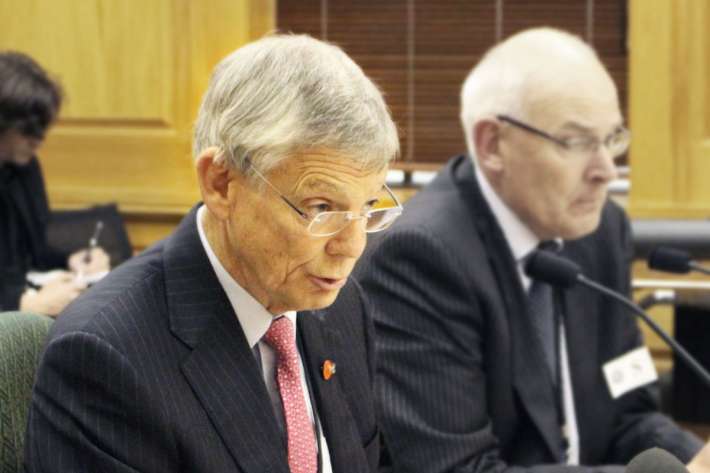 By Lynn Grieveson
Reserve Bank Governor Graeme Wheeler has called for more to be done to remove height restrictions on inner Auckland apartment buildings and has taken a swipe at 'Not In My Backyard' types in the inner suburbs that have blocked new developments.
Wheeler was talking at a Finance and Expenditure Select Committee hearing on the Reserve Bank's annual report and had been asked by Labour Finance Spokesman Grant Robertson about what more could be done to address Auckland's housing shortages.
Wheeler said the Reserve Bank estimated Auckland had a backlog of unbuilt houses of 15,000 to 20,000 and needed to build 10,000 houses a year for the next 30 years to keep up with demand.
"If you look at permits at this point they are running at an annual rate of around 7,500, which is a huge improvement on where they were 2 years ago, but still well short of the 10,000," Wheeler said.
"I think some very good work has been done on opening up new areas but a major challenge there is getting houses built quickly enough, and a lot of those areas are in the periphery of Auckland where people may decide that the transport costs are less attractive for them, or the infrastructure needs might be considerable," he said.
"I think work needs to be done in inner Auckland in addressing the height restrictions and the Not-In-My-Backyard syndrome that's there."
Wheeler said he welcomed the Government's commissoning of work by the Productivity Commission on how issues around zoning decisions, regulatory reform and approval processes.
"I am very interested to see the outcome of that sort of review. But we see it mainly as a supply side problem," he said.
Rents picking up
Wheeler was then asked about rents beginnning to rise in Auckland.
He said they had been picking up, but not as much as they had in Christchurch.
"It's been a little bit of a puzzle to us in a sense that, if there was an acute housing crisis, you might have expected to see rents increase more rapidly. But when you look at the analysis in terms of suburb by suburb, which we have taken a look at, you do see some very substantial increases in rent in some suburbs," he said.
'No mission creep'
ACT MP David Seymour then asked if the Reserve Bank's high LVR speed limit meant the Reserve Bank had become involved in 'mission creep' to influencing the housing market.
Wheeler denied the accusation and said the Reserve Bank had financial stability responsibilities. He defended the bank's high LVR policy and reiterated its determination to watch the exposure of banks to New Zealand's highly valued housing market.
He pointed out New Zealand house price inflation had been the fastest in the OECD from 2003 to 2007 and that Auckland's median house price was now 50% above the 2007 level, and was high relative to disposable incomes.
"And if you look at those ratios in respect to historical trends in NZ then we are significantly out of line with the historic trend and that's analysis that the OECD and the IMF have done," Wheeler said.
New Zealand's household debt to income ratio had risen from 60% in 1990 to 145% now, he said.
"So you put all those factors together and you start to worry about the potential damage that could happen to the financial system and to the broader economy if you were to see a significant adjustment in house prices," he said.
"And what was concerning us was the banks were competing very aggressively to lend to people with low deposits. So putting all those things together, and the fact the supply imbalance looked as if could take a long time to address, that's why we felt we had to move. So it was a combination of reasons," he said.
"We have a mandate in respect of financial stability and a major asset like housing, which is the biggest asset on banks' balance sheets and also on individual balance sheets, is one factor we need to think carefully about when considering risk to financial stability."
Wheeler was not asked directly about any new Macro-Prudential policy tools or the bank's current interest rate policy.
(Updated with fresh picture)