RBNZ holds OCR; forecasts 90 day bill rate unchanged at 3.7% until 2017; says strong downward correction needed for NZ$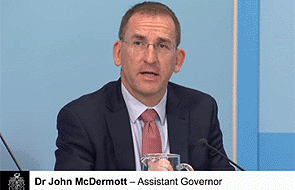 By Bernard Hickey
The Reserve Bank of New Zealand has completely removed any suggestion of higher interest rates in its March Quarter Monetary Policy Statement, forecasting the 90 day bill rate would remain unchanged at 3.7% until March 2017.
The contrasts with its December forecast that the 90 day rate would rise to 4.5% by the end of 2017.
The Reserve Bank left its Official Cash Rate on hold at 3.5% as expected and repeated its January 29 comment that future interest rate adjustments, "either up or down", would depend on the emerging flow of data.
The Reserve Bank also forecast that annual CPI inflation would fall in the March quarter to 0.0% and remain below the bottom of the Reserve Bank's target range of 1-3% until March 2016. That means annual CPI inflation will have been below 1% for five quarters and annual inflation will have been below the Governor's 2% mid-point target from December 2011 until at least the end of 2017.
Reserve Bank Governor Graeme Wheeler defended the bank's performance in meeting its Policy Targets Agreement, saying the bank still saw inflation over the medium term being consistent with that 2% target and that the bank could not offset the short term shock of lower oil prices.
Meanwhile, Wheeler said the domestic economy remained strong with lower petrol prices increasing purchasing power and lowering the cost of doing business.  Employment and construction activity was strong and net migration remained high.
"The housing market is showing signs of picking up, particularly in Auckland," Wheeler said. The bank made no further comment in its MPS about its proposal to increase capital requirements for rental property mortgages.
The bank forecast annual house price inflation nationally would increase to 8% by the September quarter from 6.5% in the three months to January.
Tougher NZ$ warning
"However, there are a number of factors weighing on domestic growth, including drought conditions in parts of the country, fiscal consolidation, reduced dairy incomes, and the high exchange rate," Wheeler said.
He then toughened the bank's warning about a high New Zealand dollar, saying a big fall was needed to make New Zealand's external accounts more sustainable. This was stronger than his warning in January that he expected significant depreciation.
"On a trade-weighted basis, the New Zealand dollar remains unjustifiably high and unsustainable in terms of New Zealand's long-term economic fundamentals.  A substantial downward correction in the real exchange rate is needed to put New Zealand's external accounts on a more sustainable footing," Wheeler said.
However, currency markets reacted to the statement with disappointment that it wasn't more dovish, pushing the New Zealand dollar up almost one cent to 72.8 USc.
Rates could be cut if inflation expectations fall further
Elsewhere, the bank included a discussion about a fall in inflation expectations and scenario that they fell further, which "would warrant more supportive monetary policy."
"Inflation expectations appear to have fallen recently, and we will be closely monitoring the impact of this trend on wage and price setting behaviour, especially in the non-traded sector," Wheeler said.
"Monetary policy remains focused on ensuring inflation settles at 2 percent over the medium term.  As the economy expands, inflation returns gradually towards the midpoint of the target range," he said.
"Our central projection is consistent with a period of stability in the OCR.  However, future interest rate adjustments, either up or down, will depend on the emerging flow of economic data."
Reaction
ASB Chief Economist Nick Tuffley said he saw a 25% chance of OCR cut, although the Reserve Bank was now comfortably on hold.
The RBNZ is keeping a watchful eye on inflation expectations (one potential catalyst for an OCR cut), though acknowledges that expectations are correlated to inflation and could fall further in the near term.  The RBNZ's focus on this risk was illustrated in a scenario: a fall in inflation expectations to around 1% that was sustained would be worth around 50bp off interest rates.  The NZD, another potential cut trigger, did not seem to attract heightened concern as yet.  These factors, as well as the potential for growth to undershoot the RBNZ's outlook or for global risks to become more serious, mean the risks to the OCR remain skewed down.

We continue to expect the RBNZ to be on hold for the foreseeable future i.e. over 2015 and 2016, and the RBNZ's statement today is very consistent with that view.  We put around a 25% chance on the RBNZ cutting the OCR over the next 6 months, but a lower OCR does need growth/inflation events to come in weaker than the RBNZ has built into its central outlook.  Key ones to watch will be inflation expectations, potential for the NZD to exceed the RBNZ's (already-high) outlook, and material weakness in the growth outlook compared to the RBNZ's robust outlook.
ANZ Chief Economist Cameron Bagrie described the statement as neutral, but noted that was not enough for currency markets expecting more of a dovish tone.
As widely expected, the Reserve Bank left the OCR on hold at 3.50%. The tone of the statement was neutral (next move for rates being "up or down"), although with a hint of a softer bias by including a rate cut scenario. However, the economic spirit is still upbeat. 

Despite the clear neutral tone, the currency response to today's decision and commentary (up) is telling. The market obviously needed a lot from the RBNZ to validate recent weakness.  The RBNZ went further than we expected by including a rate cut scenario. But that is being looked through – it's not enough for the market. Comments relating to the economy being "strong" are telling. Strong economies do not tend to experience currency weakness on a broad TWI basis. The RBNZ may have truncated their 90-day projections so a flat profile is shown, but the nuances in the forecasts were obvious: if their central scenario prevails rates will eventually move up, albeit that this is a long way off.

Like the RBNZ, our base case is that we are in for a considerable period of unchanged OCR settings (with an eventual resumption of hikes – but not for a very long time). We can envisage a rate cut scenario but the hurdle remains high. However, the market will continue to test a rate cut thesis for another 6 months.
BNZ head of reasearch Stephen Toplis
There is absolutely no reason to lower interest rates while the economy remains so robust and pressures remain on the housing market. There is absolutely no reason to raise rates when there is no inflation. The hurdle to shift rates, in either direction, is now very high such that the Bank will probably have to be convinced that it needs to move rates 50 basis points before it makes its first move.
Given that such convincing will take some time, any move will also be later rather than sooner.
Our own forecasts will continue to contain a tightening bias but we have removed the March 2016 hike that we had penciled in altogether. That being so the first rate increase we have is June 2016, with the cash rate then rising to a peak of 4.0% a quarter later. That said, we concede there is now more chance of a rate cut in the next twelve months than a hike. A chance made all the greater by today's currency response to the RBNZ statement. The NZD has climbed from a TWI of around 76.50 prior to the statement's release to a current level of 77.35.
The Bank goes so far as to say that if "inflation expectations settle near 1 percent over the coming year" then the cash rate might be as much as 50 basis points lower than its central projection. We believe this degree of specificity is unwise in this instance. It is almost certain that inflation expectations will keep falling because expectations are heavily influenced by published inflation which will decline to near zero, on an annual basis, right through calendar 2015.
Interest rate neutrality remains an open argument and the RBNZ, while sticking to its story that the neutral 90 day bank bill rate is around 4.5%, concedes that it is continuing to look at this assumption closely with a view to potentially lowering it.
Westpac Chief Economist Dominick Stephens:
Today's statement will have disappointed the sizeable portion of the market that is clamouring for interest rate cuts. Hence the subsequent market reaction: although interest rates were little changed, the NZ dollar initially spiked a cent higher after the statement. That will hardly please the RBNZ, given that today's statement if anything escalated the language around the strength of the exchange rate. However, we suspect the move reflects a clean-out of speculative positions rather than a change in the market's view on the currency. The RBNZ's overall assessment was similar to the one made in the January OCR review and Governor Wheeler's follow-up speech in January.

The RBNZ is still uncomfortable with the strength of the exchange rate – while the NZ dollar has fallen quite a bit against the US dollar, it remains at a very high level in trade-weighted terms. If anything, the language in today's statement escalated those concerns: the January statement noted that a further significant depreciation was "expected", today's statement said that it was "needed" in order to rebalance New Zealand's external accounts.

The chief risk of the RBNZ's mind surrounds inflation expectations. The MPS contained an alternative scenario in which recent falls in oil prices affect wage- and price-setting behaviour to a greater degree than expected, and inflation expectations fall from their current level of around 2% to 1%. In this case, the RBNZ indicated it would cut the OCR by around 50 basis points. While this is a plausible scenario, it would take a long time to play out; we don't think it offers any encouragement to those betting on interest rate cuts in the near future.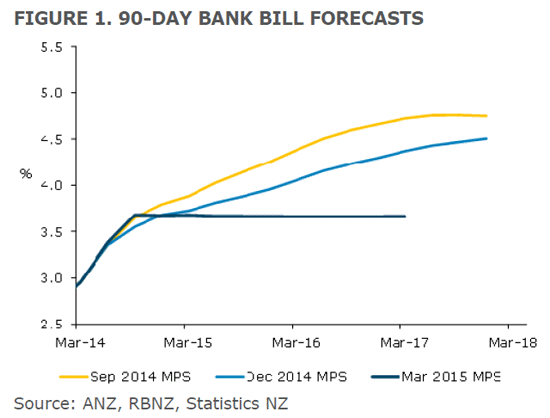 (Updated with currency, economist reaction, chart).