RBNZ's Bernard Hodgetts on the regulator's about face on Auckland specific LVR restrictions, and why the 70% landlord LVR limit was chosen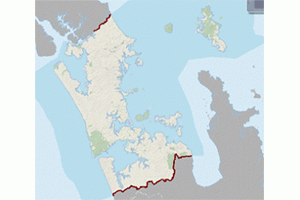 By Gareth Vaughan
The Reserve Bank settled on a 70% loan-to-value ratio restriction as the upper limit of how much residential property investors can borrow when buying a house in Auckland due to analysis of global investor markets.
So says Bernard Hodgetts, head of the Reserve Bank's macro financial department, who acknowledges the analysis has "no hard science" behind it. The new restriction, planned from October 1, is expected to cover about half of all lending to Auckland residential property investors from banks.
Hodgetts spoke to interest.co.nz yesterday after the Reserve Bank, among other things, unveiled plans to require residential property investors in the Auckland Council area using bank loans to have a deposit of at least 30%. From the perspective of bank lenders, it's proposed the "speed limit" on such lending will be set at "close to zero" of new lending flows.
Hodgetts said deciding to go with the 70% loan-to-value (LVR) figure reflects the Reserve Bank's analysis of investor markets internationally, and the relative risk characteristics of investors versus home owner-occupiers.
"I guess the broad message out of that analysis is in terms of investor risk, it tends to be greater for any given LVR relative to owner-occupiers. And so a 70% LVR for an investor, in broad terms, is probably closer to an 80% LVR for owner-occupiers given the relative level of risk between the two types of borrowers," Hodgetts said.
"There's no very hard science behind that. But that's the broad finding that one takes from the international work looking at relative risk characteristics of investors during a severe market downturn."
"Something in the order of about 50% of investor activity that involves borrowing from the banking system takes place at LVRs of greater than 70%. Most of that is concentrated at LVRs of between 70% and 80%. There's very little currently happening at LVRs greater than 80%," added Hodgetts.
The Reserve Bank says this data comes from its surveys of bank lending, gathered under its prudential regulatory powers, but not published.
Applying LVR restrictions regionally 'not necessarily an easy thing to do'
The Reserve Bank also announced yesterday it was increasing the existing speed limit for high LVR borrowing outside Auckland to 15% from 10% reflecting the more subdued housing market outside of Auckland. It's also retaining the existing 10% percent speed limit on bank lending to owner-occupiers in Auckland at LVRs of more than 80%.
Establishing geographical boundaries for LVR lending restrictions is something of an about face by the Reserve Bank.
When it introduced the initial LVR restrictions in 2013 the Reserve Bank said geographic targeting would be administratively complex, and would require difficult decisions to be made defining problem areas. Furthermore it would be more complex and costly for banks to implement, and difficult for the Reserve Bank to monitor and enforce.
Asked what has changed over the past two years Hodgetts said a number of things had, albeit that didn't mean applying LVR restrictions regionally was likely to be particularly easy.
"But I think a number of things have changed. The first is that the difference in housing market conditions between Auckland and the rest of the country is so much more stark now than it was back in 2013 when we originally brought in the LVR restrictions. I think at that stage we were seeing housing market pressures and house price inflation through a number of different parts of the country, not just Auckland. Now of course we're seeing much stronger house price inflation in Auckland than in the rest of the areas outside of Auckland, (which) by and large are pretty subdued," said Hodgetts.
 "We feel the banks have had a bit more experience in administering loan to value ratios through the fact we've actually operated them over the last 18 months or so, and also our data flows around LVRs are considerably better now than they were when we first brought in LVR restrictions. So we've been doing a lot of work to try and get better information on the composition of markets, who is driving them, where the strengths of the market are, and that kind of thing."
 "Not to say that applying LVR restrictions regionally is necessarily an easy thing, but we do feel our capability to do it has probably been improved," Hodgetts added.
----------------------------------
This is an abridged version of an article published in our email for paying subscribers early on Thursday morning. See here for more details and how to subscribe.