Latest Roy Morgan poll sees National suffer a sharp fall with their main rivals benefiting. First time since election National has trailed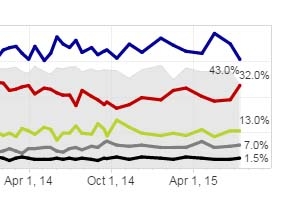 Content supplied by Roy Morgan Research
During July support for National fell 6.5% to 43% now trailing a potential Labour/Greens alliance 45% (up 6%) for the first time in over a year – since May 2014, according to the latest Roy Morgan New Zealand Poll.
If a NZ Election were held now the latest New Zealand Roy Morgan Poll shows that the centrist NZ First would be in a position to determine New Zealand's next Government.
Support for the National partners was little changed with the Maori Party up 0.5% to 1.5% while support for Act NZ is 0.5% (down 0.5%) and United Future 0% (unchanged).
Of the three Parliamentary Opposition parties - Labour's support is now at 32% (up 6% to the highest since March 2014), Greens 13% (unchanged) and NZ First 7% (up 0.5%). Of the parties outside Parliament the Conservative Party of NZ is 1.5% (up 0.5%) while the Internet-Mana Party alliance is at 0% (unchanged) and support for Independent/ Others is 1.5% (down 0.5%).
The latest NZ Roy Morgan Government Confidence Rating has plunged to 118pts (down 17.5pts) in July. A slim majority of NZ electors 51% (down 11.5%) now say NZ is 'heading in the right direction' compared to 33% (up 6%) that say NZ is 'heading in the wrong direction'. Despite this steep fall New Zealand Government Confidence is still substantially higher than in Australia – Australian Government Confidence last week was at only 90.5pts.
Gary Morgan, Executive Chairman, Roy Morgan Research, says:
"A potential Labour/Greens alliance 45% (up 6% since June) has overtaken National 43% (down 6.5%) for the first time since last year's New Zealand Election. Support for Labour is now 32% (up 6%) – the smallest gap between National and Labour for over a year since March 2014.

"Other indicators are also negative for Prime Minister John Key. The Roy Morgan Government Confidence Rating fell steeply in July – now at 118 (down 17.5pts) its lowest since September 2013 while ANZ-Roy Morgan New Zealand Consumer Confidence Rating fell to 113.9 in July – the lowest since October 2012. Consumer Confidence has now fallen for three straight months.

"A slowing New Zealand economy (New Zealand's GDP growth slowed to 0.2% in the March Quarter 2015 – the slowest New Zealand growth in two years) is presenting Prime Minister Key with his biggest challenge since coming to office in 2008. A special qualitative and quantitative survey conducted by Roy Morgan Research released last week found New Zealanders consider Economic issues (44%) the biggest problems facing New Zealand. Poverty/ The gap between the rich and the poor/ Imbalance of wealth (21%) and Housing shortage/ Housing affordability (14%) were the two single largest issues New Zealanders are facing in June 2015.

"The recent economic uncertainty from the Eurozone (Greece) and New Zealand's largest export destination – China – are providing challenges to New Zealand's economic strength of recent years. The uncertainty has contributed to the continuing fall in the New Zealand Dollar – now at a six-year low of 65.2 US cents today, down 12 cents (15.5%) since late April. In particular, the price of a tonne of whole milk powder has dropped to $US1,848 a tonne this week – down from $US 3,273 in February (a decline of $1,425 or a massive 43.5%). Incredibly, dairy exports account for around 30% of all New Zealand's merchandise exports."
Electors were asked: "If a New Zealand Election were held today which party would receive your party vote?" This latest New Zealand Roy Morgan Poll on voting intention was conducted by telephone – both landline and mobile telephone, with a NZ wide cross-section of 886 electors in July 2015. Of all electors surveyed 5.5% (up 0.5%) didn't name a party.