John Bolton's Squirrel Money to be 'authentic' person-to-person P2P marketplace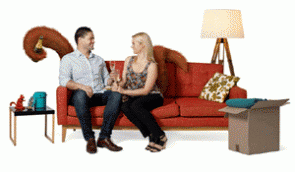 New Zealand has its third licensed peer-to-peer (P2P) lender with John Bolton's Squirrel Money aiming to launch next month targeting the middle-upper end of the consumer loan market.
Bolton says Squirrel Money has been licensed by the Financial Markets Authority (FMA) and will offer both secured and unsecured personal loans of up to $70,000. Bolton maintains Squirrel Money will be the first "authentic" person-to-person service offered in New Zealand by not sourcing funding from financial institutions such as banks or institutional investors. He's also aiming to launch a secondary market but still requires FMA approval for this.
"Squirrel Money will connect borrowers and lenders together. Unlike other P2P offerings in the market, we aren't funded by a bank to deliver a bank-style offering. All our loans will be genuine 'person to person' loans," says Bolton, who told interest.co.nz last November about his plans for Squirrel Money.
'Stable returns for investors'
He says borrowers will probably end up with interest rates as low as 7%, but between 9% and 12% on average. And investors will probably get between about 5% and 8%, after Squirrel Money takes out the credit risk spread. Squirrel Money will be run alongside Bolton's Squirrel Mortgages business.
In terms of fees, investors will pay a platform margin of 2%, and borrowers a flat fee rather than a Harmoney style percentage-based approach (2% to 6% of the loan amount). Squirrel Money' s unsecured loans will have $250 fees and secured loans $500 fees.
For investors the platform margin will be charged on the balance, not borrower's repayments, which means investors won't be penalised if borrowers repay quickly, Bolton says.
"We're very focused on trying to create stable returns for investors," Bolton says. 
Borrowing rates will be determined by a contestable, auction type bidding process, the more investors that join in an auction, the lower the rates on offer and vice versa.
Assuming fees are caught in the CCCFA net
Last week interest.co.nz revealed the Commerce Commission is considering whether fees charged by P2P lenders are covered by the fee provisions of the Credit Contracts & Consumer Finance Act (CCCFA).
"Our flat fee approach means our fees are well within what would be considered okay under the CCCFA. I'm not taking a view on whether we are covered under CCCFA, I'm assuming we are," says Bolton. "And I'm more than comfortable that with a simple flat fee structure, we can still make the economics of our platform work."
Bolton says Squirrel Money will protect investors' money through Loan Shield, its reserve fund. This is the same approach used by British P2P lenders RateSetter and Zopa.
Bolton says Squirrel Money will put aside part of a borrower's interest payment into Loan Shield to cover unexpected credit losses. He says this means investors don't have to spread their money over a number of loans and don't have to assess the credit risk of every loan they invest in.
"Essentially it's the way banks manage credit risk, they pool the credit risk and diversify the risk through that pooling process. A bank would call it dynamic provisioning, whereas we've created a process that does it for investors so that they get the same diversification of risk benefit that a bank would get if it was managing a personal loans portfolio," Bolton says.
No aggressive growth targets
The reason Squirrel Money won't be taking on institutional funding is because it doesn't have aggressive growth targets.
"We're not wanting to grow this business too rapidly," says Bolton. "We would be more than happy with about $50 million of lending over the first two years."
Harmoney, in contrast, aims to lend $100 million within its first 12 months of operating and is on track to do so having reached $86 million after 11 months. Harmoney, which launched as New Zealand's first P2P lender last September. The second licensed P2P lender, LendMe, received its licence in May but is yet to launch. When LendMe does it aims to launch up to $200 million in its first year.
Heartland Bank owns 11% of Harmoney and is lending money through its platform. And LendMe also plans to work with banks.
'A classic cherry pick'
Meanwhile, Squirrel Money will target the middle-upper end of the consumer finance market.
"I think there's a lot of pretty high quality borrowers out there that are mis-priced in the market, particularly around credit cards and stuff. So it's a big market. There's $15 billion of consumer finance lending out there," says Bolton.
"It's not all high risk lending, there's a lot of low hanging fruit, so to speak. I think it's important we take a conservative approach. We're not going to be mass marketing we'll be reasonably targeted in our approach."
"It's a classic cherry pick," Bolton says.
Squirrel Money is targeting an early September launch.
Bolton is managing director of mortgage broker Squirrel and an ex-general manager at ANZ. Squirrel Money's independent directors will be Stewart McRobie, CFO of the NZ Racing Board and a former CFO of both ASB and Westpac, and Vaughan Underwood, a former CEO of AXA NZ and Sentinel. McRobie will be chairman.