With the big banks lending more than they're taking in through deposits, is the current account deficit heading higher?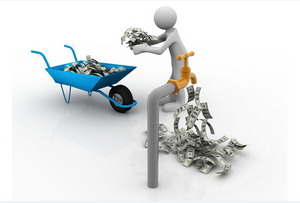 New Zealand's current account deficit could be heading north based on what may be an emerging trend outlined in PwC's latest bi-annual Banking Perspectives report.
Covering the country's big five banks - ANZ, ASB, BNZ, Kiwibank and Westpac - Banking Perspectives provides a thorough wrap up of a half-year period for the five. The latest one covers the first-half of their 2015 financial years.
One section I always find interesting is the funding one. The latest one confirms growth in customer deposits didn't keep pace with lending growth. This means funding outflows exceeded inflows by $678 million. As PwC's Figure 6 below shows, this makes it two halves in a row, for the first time since the height of the global financial crisis, where lending growth has outpaced deposit growth.
"With the second consecutive period of new lending outpacing new retail deposit funding, the banks will be required to rely on wholesale funding or retained earnings to fund further lending growth," PwC points out.
As credit rating agency Standard & Poor's noted earlier this week New Zealand still has a "material dependence" on net external borrowings, which make up about 30% of domestic customer loans and 25% of the banking system's total liabilities.
The most recent figures from Statistics New Zealand showed an annual current account deficit of $8.6 billion, or 3.6% of GDP, for the year to March. NZ's external debt position, showing the difference between overseas lending and borrowing, dropped $2 billion to $138.9 billion, or 58.1% of GDP, in the March quarter. Statistics NZ noted an increase in reserve assets held overseas was partly offset by overseas investors buying debt securities issued by banks during the March quarter.
If the big banks continue pushing more money out the lending door than they take in the deposit door, it'll be interesting to see what impact this has on the current account deficit in coming months.
PwC's figures show deposits from customers grew by $9.2 billion in the first-half to $237.3 billion. And, as of March 31, that represented 69.8% of total funding at the big five. Total funding stood at $340.2 billion, up $7.2 billion, or 2.2%, from the second-half of the banks' 2014 financial years.
Gross lending, meanwhile, rose $10 billion, or 3.2%, to $325.2 billion over the same time period.
PwC figures also demonstrate the impact of the Reserve Bank's core funding ratio and liquidity policies, with a deposit-to-loan ratio of 73% up significantly from 56.3% in the second-half of 2008.
To put a different spin on the $678 million funding outflow figure, that's equivalent to about three and a third days of residential mortgage lending based on last week's Reserve Bank new home loan approval figures. They showed $1.4 billion of loans were approved during the week.
And another factor to watch in terms of deficit contributors, is dividends paid by the four Australian owned banks. The Commonwealth Bank of Australia owned ASB's annual results last week showed ordinary dividends almost trebled to $1.14 billion in the June year from $400 million last year. That was equivalent to 135% of ASB's $846 million annual cash profit and ate into the bank's retained earnings.
For their 2014 financial years ANZ NZ, ASB, BNZ and Westpac NZ paid combined dividends of $2.561 billion.
*This story was first published in our email for paying subscribers. See here for more details and how to subscribe.