PM says record high net migration a "vote of confidence" in NZ; says housing issues "can take care of themselves"; effect on unemployment and wages "debateable."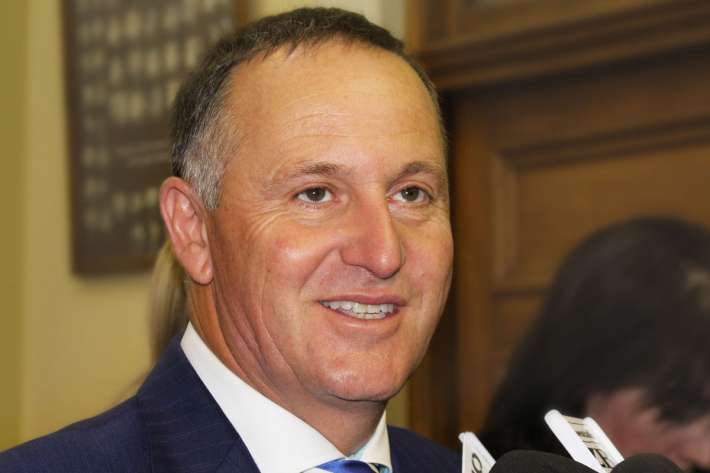 By Bernard Hickey
Prime Minister John Key has defended the Government's policy settings around migration, which have allowed record high net migration into Auckland, saying the figures represented a "vote of confidence in New Zealand."
He downplayed suggestions the high migration was a factor in rising unemployment and subdued wage growth, and said pressures on house prices and infrastructure in Auckland would not be a factor in the Government's policy-making on migration.
Critics have argued the jump in net migration has been a factor pushing up Auckland house prices more than 25% in the last year and have worsened financial risks that have forced the Reserve Bank to restrict high LVR lending to landlords. Opposition politicians have also argued the high migration of lower skilled workers, particularly hospitality and tourism sector workers, aged care nurses and dairy farm workers, was also depressing wage inflation and elevated unemployment.
"There's always pluses and minuses, but on balance I reckon it's been a vote of confidence in New Zealand," Key told his weekly post-cabinet news conference after being asked about figures for August showing another record high.
Statistics New Zealand reported net migration rose to a record high 60,300 in the year to August, including 27,900 to Auckland. See Greg Ninness' article here.
Given Auckland's population per dwelling ratio of around 3, that means the migration soaked up all 9,300 new houses consented over the last year. That means the current shortage of around 25,000 houses has not been reduced, and is likely to be worsened by natural population growth of around 15,000 per year.
Migrant arrivals rose 13% or 13,991 over the year to 117,900, driven largely by student and work visa migration from India (12,700), China (8,400) and the Philippines (4,500). Meanwhile, departures fell 5% or 2,726 to 57,600, driven largely by a fall of 16% or 4,110 in the number of New Zealand citizens leaving to live in Australia.
Key said the best way to look at the migration issue was whether the migrants were meeting skill shortages. 
"It's always important to manage it, and we do. We did that in 2009," Keys aid. "There's been plenty of times when we've said certain skills are no longer required. I still see it as a significant vote of confidence in New Zealand that migration is strong," he said.
"I think it's better to deal with the issue of migration on the basis of whether the economy needs the particular people that are coming in. The housing issues over time can take care of themselves."
Asked about rising unemployment and any depressing effect on wages, Key said unemployment had not risen much and it was debateble whether it had affected wages.
Asked whether migration should be restricted to reduce pressures on infrastructure such as housing and schools, Key said Auckland was in a growth phase for the next 20 years.
"It's simply in one of those phases where it's a desirable international city and the number of people who want to live there is likely to expand."
Economists see political and wage stresses
BNZ Economist Stephen Toplis said after the release of the August data said the migration figures were baking an already "hot political potato" over property prices into one around unemployment.
"With the underlying economic expansion beginning to slow (as a case in point GDP only increased a cumulative 0.7% over the first half of this year) the demand for labour will also soften (as evidenced in recent expectations surveys)," Toplis said.
"But with the migration-driven supply of labour continuing to increase there is an air of inevitability that the printed unemployment rate will continue to rise. Not only will this be a political headache, but a headache too for the RBNZ particularly if that unemployment rate is rising (alongside slowing GDP) at a time when tradables-driven CPI inflation is in the ascendancy," he said.
Westpac Senior Economist Felix Delbruck pointed out the surge in temporary migrant workers and student numbers may reverse.
 "The inflow of foreign migrants is now running well above residence approval targets (90,000 - 100,000 over two years) and we expect many recent migrants on temporary visas will return home over the next couple of years," he said.
ASB highlighted the pressure on wages.
"Strong net migration inflows are helping support robust levels of consumption, but are also adding workers to the labour market, and helping keep a lid on wage inflation," said ASB's Chris Tennent Brown.
NZ First, Greens critical
NZ First Deputy Leader Ron Mark said the combination of record high migration and the ability since 2013 for foreign students to work during term time was hitting New Zealand job hunters hard.
"The lower-skilled job market is highly competitive as can be seen by the number of foreign workers in supermarkets and service stations and in the hospitality industry," Mark said, adding the Government had always intended to use migration to keep wage inflation down.
"It is an age-old trick. It is exploiting foreign workers, particularly those from lower-waged economies, and unfair to Kiwis. Migrants will accept inferior working terms and conditions, and unscrupulous employers, both Kiwi and new employers from overseas, know this," he said.
"Many foreign students, particularly from China and India, intend seeking permanent residence, and their student visa is the pathway, which Immigration Minister Michael Woodhouse admitted recently. We are not doing them any favours by increasing the numbers each month as many will now be struggling to get work."
Green Finance Spokeswoman Julie Anne Genter said economic growth powered by migration and house price inflation was not sustainable.
"If we take away the economic activity caused by migration, Auckland's dangerous house price inflation, and the Christchurch rebuild, there's no real substance to National's economy," Genter said.
"GDP might still be growing, albeit slowly, but hundreds of thousands of New Zealanders aren't seeing any net positive effect on their lives – including the 148,000 people who are out of work," she said.