Auckland public 'unaware of significance of golf course subsidies' Auckland Council commissioned report says, noting potential use for housing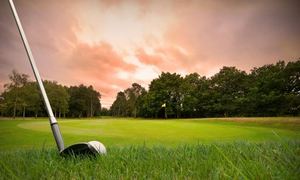 The 13 golf courses operated by Auckland Council mean private interests receive a significant ratepayer subsidy with the alternative use value of the courses topping $2.1 billion, council commissioned reports say.
Reports by Cameron Partners and EY have been released in a review of Auckland Council alternative financing sources.
The comments on golf courses come at a time when Auckland has an estimated housing shortage of about 25,000 based on interest.co.nz estimates, and, according to Reserve Bank Governor Graeme Wheeler, a house price to income ratio of 9.2, which is up from 6 in 2011 and compares to an average of 5 across the rest of New Zealand.
Cameron Partners notes the golf courses have a rateable land value of $61.2 million. However, just four of the courses - Remuera, Chamberlain Park, Pupuke and Takapuna - if made available for housing at the value of surrounding land with 30% reserved for the likes of public spaces, would be worth an estimated $1.4 billion.
"These valuations should encourage Council to review its obligations to providing inner city golf courses, especially those that have limited community access, or at least consider whether its current portfolio is optimised given changes to the city since they were built," Cameron Partners says.
'Many thousands of dollars per golf club member per annum'
EY points out that because the course operators don't pay market rent equivalent to the highest-value use, the opportunity cost of the sites to ratepayers equates to "many thousands of dollars per golf club member per annum."
The Remuera Golf Course, for example, is 41.2 hectares and has a rating value of $11 million, or $26.7 per square metre. However, EY puts its market value at $250 million to $300 million, or $675 per square metre. Assuming a hypothetical residential housing development, EY says Remuera would see finished sites range from $1,500 to $2,000 per square metre, the Waitemata Golf Course $1,200 to $1,400, and Northcote $1,000 to $1,500.
Rental from the Remuera Golf Course, which is a private club, for the land only is $130,000 a year.
"This represents a significant subsidisation to private interests and raises questions about whether at least parts of this asset, the land the golf course occupies, could be considered for higher value uses," says EY.
It suggests a fair market ground rental for the property would be in excess of $16 million a year, with renewals on a seven yearly cycle.
"We pass no judgment about whether this is the right use of this land. However, we assert the Auckland public is likely to be unaware of the significance of this subsidy. By making this subsidy and others like it transparent, Aucklanders can make their own minds up about whether this represents fair value and, ultimately, whether capital locked away in this investment could be put to uses that serve the wider vision for Auckland," EY says.
View shafts also highlighted
View shafts, or the protection of people's views of Auckland's volcanoes, is another area EY flags for investigation. The firm questions whether the opportunity costs of minor relaxations of these rules are well understood.
"For example, the Auckland Council recently noted the net cost of the Mt Eden view shaft to be potentially $440 million."
The full 269 page Auckland Council report, which combines the Cameron Partners and EY reports, is here. 
Released on Friday, the report comes after councillors agreed in May to undertake a review of the Council's mix of financing sources. Both EY and Cameron Partners highlight Auckland's growth challenges with Cameron Partners saying, "Under existing assumptions and constraints there appears to be virtually zero additional debt capacity." A broad range of financing options are canvassed.
Golf Courses - estimated values in alternative use and current lease arrangements
Club ($ millions)
Rates systems
Land Value
Alternative
Use Value
Current Lease
Period Expires
Number of 
further renewals
Latest final
renewals date
 
 
 
 
 
 

Remuera

18.5

517.1

2070

 
 

Chamberlain Park

Unavailable

315.8

Operated by
Council staff

N/A

N/A

Pupuke

10.8

307.2

31-Dec-22

Yes (subject to an
old renewal clause)

1-Dec-38

Takapuna

17.1

229.7

Public course
managed via
parks operation
 
 

Waitemata

Unavailable

212.2

 
 
2015
(correspondence)

Muriwai

1.7

173.1

31-Dec-28

Perpetual Renewal
subject to Reserves Act
Public use
considerations
 

Omaha Beach

5.5

146.6

30-Nov-21

No

n/a

Clarks Beach

2.8

98.7

1-Apr-17

None

n/a

Waiuku

2.8

36.1

 
 
 

Waiheke

1.5

34.5

5-Oct-17

1

5-Oct-22

Awhitu

0.2

34.0

Unknown

Unknown

Unknown

Waitakere

0

14.5

Unknown

Unknown

Unknown

Great Barrier Island

0.3

13.5

31-Aug-17

1

31-Aug-22

Total
$ 61.2
$ 2,132.9