Major NZ banks held $2.77 trillion of derivatives contracts as of Sep 30 last year, KPMG says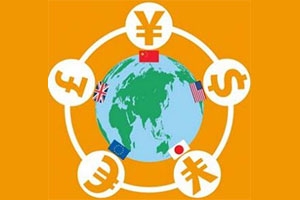 Derivatives contracts held by New Zealand's major banks surged in value by 38.5% in the year to September 30, 2015.
A chart in KPMG's annual Financial Institutions Performance Survey shows derivatives contracts held by the country's big five banks rose by $770.3 billion, or 38.5%, to to $2.77 trillion. Interest rate contracts comprised the lion's share, jumping 48% to $2.34 trillion.
At $1.2 trillion, ANZ holds just over half all the interest rate contracts with a big annual jump in interest rate swap contracts recorded year-on-year. ANZ also holds the biggest slice of the combined $430.9 billion of exchange rate contracts, although ANZ's share dropped 6% to $209.713 billion.
All up, ANZ NZ had $1.4 trillion worth of derivatives held for trading as of September 30 last year, which was the end of the bank's financial year.
An ANZ Bank New Zealand spokesman confirmed neither ANZ Australia nor ANZ Group derivatives are run out of New Zealand, thus the figures all relate to ANZ NZ.
"Our derivatives exposure reflects the size of our local balance sheet and the size of our customer businesses locally and offshore. Banks' exposures will also reflect the booking model each bank uses, particularly for large derivatives, and whether they book them offshore or through the NZ branch, and this varies from bank to bank," the ANZ NZ spokesman said.
ANZ NZ, the country's biggest bank with total assets of $155.8 billion, says its use of derivatives and their sale to customers as risk management products is an integral part of the bank's trading activities. Derivatives are also used to manage ANZ NZ's own exposure to fluctuations in exchange and interest rates as part of the bank's asset and liability management activities.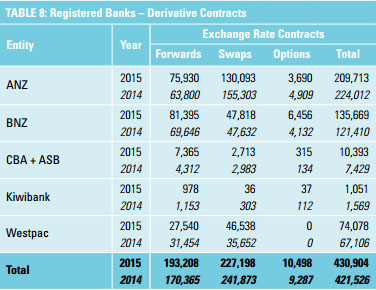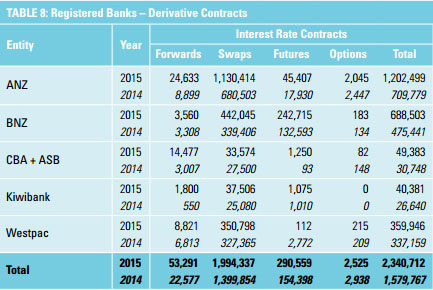 *This article was first published in our email for paying subscribers early on Wednesday morning. See here for more details and how to subscribe.