If you need to end a term deposit before its term is up, you might be up for a sizeable break fee. Or not. It depends on your banker, it seems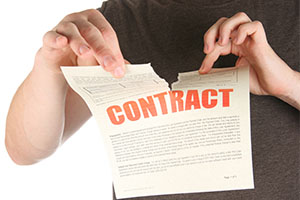 The relentless drive lower of wholesale interest rates is taking its toll on term deposit savers.
And low rates put the squeeze on bank 'net interest margins'.
Savers are getting the short end of these pressures.
One of the pressures can come from the imposition of 'break fees'.
'Break fees' you ask? Aren't they just for when you break a fixed term home loan contract?
No, actually. They can also apply to breaking a fixed term, term deposit.
But why would a bank impose a break fee when the rolled-over rate will be lower?
Well, actually, savers don't break term deposits to reinvest them. The need to break them is for other reasons.
To be fair to all banks, we have not heard of all of them imposing these fees.
A reader has sent us some interesting detail of a set of transactions involving three banks.
1)      RaboDirect, $120,000 on a 5 year term, interest paid monthly, rate = 5.03% p.a.
2)      ANZ,  $120,000 on a 5 year term, interest paid monthly, rate = 5.00% p.a.
3)      BNZ, $120,000 on a 5 year term, interest paid monthly, rate = 5.00% p.a.
"Due to an unpredicted change in circumstance we are trying to break these term deposits to buy property," he writes.
The break terms between these banks were all different, one significantly, as follows:
1)      RaboDirect: same day break, no reduction in principal, slight reduction in final monthly interest payment.
2)      ANZ: 31 Day notice required to break. Notice given 11th April for a 5 May Break. No reduction in principal but a small reduction in final months interest payment.
3)      BNZ: 31 Day notice given at branch on 11th April. "No notification at day of notification re significant break costs. Receive a call from branch 12th April that the break costs would be $10,397.29."
In this case, BNZ has moved to recover all interest paid at the contracted rate and applied the rate that would have been offered for the actual term. Deep inside their Standard Terms & Conditions (page 25) is the contracted basis for this.
However, they face others who apply a much more forgiving attitude. In this reader's case the only adjustment ANZ or RaboDirect imposed was for the rate in the final month. The saver kept all the higher rate for the earlier term, even though each has standard conditions allowing the same as the way BNZ applied.
Bank officers clearly have discretion to waive break fees but this varies between banks. Unfortunately you can't reliably research this in advance. You may find a bank official imposing the Standard terms, while others may take a more flexible approach.
Another issue this case raises is the Bank's ability to change the T&C's at their discretion. In this specific case, the T&C's that were in place when this term deposit was taken out did not impose the break-fee ability. That was added is a subsequent set of T&Cs imposed by the bank later. But the early BNZ T&Cs did give them the right to alter them after giving a "public notice". (S.4 in the 2012 T&Cs.) Maybe this is understandable given that the law changed in the intervening time imposing the 31 day notice requirement as part of the AML regulations.
We are interested in readers' experience about this. Have you had a similar experience? Who with?
It is only through revealing a series of actual experiences with each institution will others get to know how each bank deals with early breaks on term deposits.
You can either email me directly (david.chaston@interest.co.nz) or use the Comment facility below.