PM says wary of policy action that could cause catastrophic slump in housing market; points to Australia; says Govt must protect home owners' equity; also wary of 2nd round of Anti Money Laundering controls as may increase agent/lawyer costs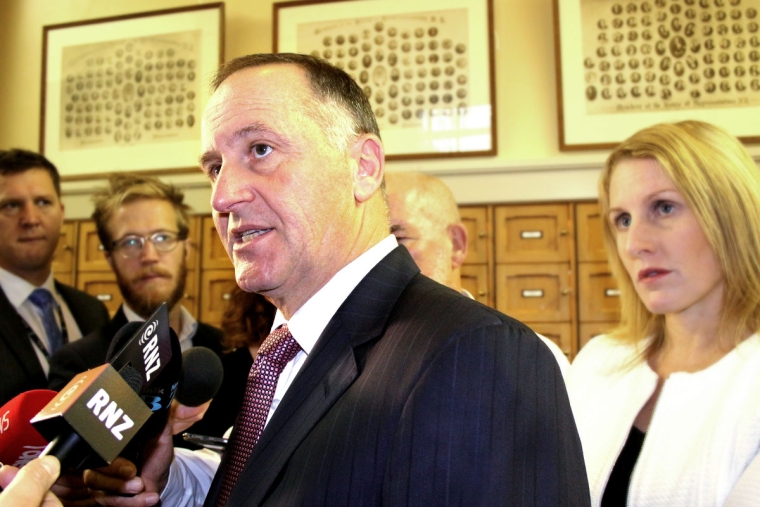 By Bernard Hickey
Prime Minister John Key has warned against any strong Government policy moves to restrict or tax foreign buyers, saying he did not want to cause a catastrophic slump in the market.
Referring to moves in Australia that some say have pushed the apartment market there to the brink of collapse, Key said Government's role was to protect the value of equity in home owners' homes.
He also talked down the prospect of urgent action to roll out a second round of Anti-Money-Laundering (AML) requirements to real estate agents, solicitors and accountants, saying it could significantly increase compliance costs and therefore increase costs for first home buyers.
Key was asked about reports out of Australia that changes by banks and state Governments there to lending rules and stamp duties had deterred foreign buyers, and could therefore be copied here.
News Corp's Frank Chung reported yesterday a US Defence think-tank said Australia has six weeks to prevent a housing market collapse brought on by local banks changing their lending policies to stop lending to non-residents. In an article titled "Australia Risks Strategic Setback From a Significant Foreign Direct Investment Drop Due to Changes in Bank Policies", the Washington-based International Strategic Studies Association warned of an economic downturn that would change Australian Government spending priorities. The downturn in foreign demand also followed increases in stamp duties and land taxes on foreign buyers in New South Wales and Victoria.
Australian apartment developer, Harry 'High Rise' Triguboff, also warned last week that large numbers of Chinese buyers were failing to settle their off-the-plan unit purchases and urgent action was needed to prevent a crisis. Triguboff was reported as saying a growing number of Chinese were desperately seeking local buyers to enter into third-party settlement arrangements so they could recover their deposits. Credit Lyonnais Securities Asia (CLSA) warned earlier in the week that a crash in Australian apartment prices would spread and cause a recession there as foreign capital withdrew from the market.
Asked about the Triguboff warning and Australia's new measures to reduce foreign capital inflows, Key said the Government had to be very careful not to take any policy steps that could trigger falls in prices and reduce leveraged home equity.
"Like any public policy in the area of housing, it's always a delicate balance between being effective in trying to slow prices going up, and making sure you don't have some catastrophic reaction you're not expecting," Key said.
"Years ago Australia bought in a vendor's tax in Australia and it had such a significant impact they actually cancelled it. There's always a happy medium," he said.
"Anyone in Government has to be a bit careful, because for most people their primary asset is their house and for most people, a significant amount of the home is borrowed from the bank, so you do have to protect their equity."
'AML reforms could be expensive'
Meanwhile, in response to a NZ Herald article on Saturday detailing police concerns about money laundering in real estate and delays in a long-mooted second round of anti-money laundering (AML) reforms to include real estate agents and solicitors, Key defended the pace of reforms, which Labour Leader Andrew Little has described as "chain dragging."
The report detailed how Justice Minister Amy Adams went against a recommendation last year from her officials for an immediate start to policy work on the reforms after a warning from police that up to NZ$1.6 billion a year of dirty money was being pumped into housing markets.
The Government has been criticised by banks in particular for not rolling out the 2013 AML reforms already applied to banks and fund managers to solicitors, accountants and real estate agents faster.
John Shewan also called in his report in June on foreign trusts for the inclusion of accountants and lawyers in the AML regime by the end of this year.
Instead, the Government rejected Shewan's recommendation and the Ministry of Justice only started formal consultation on August 16 for the second round of reforms, which it expects to take 'several years'. Legislation is expected next year. See more here from Gareth Vaughan on the issue, and in particular the risk that the Government allows industry bodies such as the Real Estate Agents Authority to oversee AML compliance.
So why not accelerate the reforms?
Key was asked if the Government should have accelerated the reforms.
Key said the costs of extending AML reforms on home owners had to be taken into account.
"It's not quite as simple as just bringing that legislation in. Depending on where you set the line, it's very broad and it's likely to have significant implications for a lot of different sectors," Key said.
"It's one thing to be looking at financial advisers, which is specialist trust advisors. Part Two will have quite significant implications on real estate agents, on banks, on a range of different interested parties, and that could add quite a lot of cost for potential home owners and purchasers," he said.
"So, yes we need to progress that legislation, but I don't think we've been terribly slow. It's a lot more challenging to put together than people think. We just need to make sure that we don't load the sector with huge costs that will be passed on fundamentally to first home buyers."
'Foreign buyers not an issue'
Key rejected suggestions that foreign buyers may be a factor in the money laundering issue.
He pointed to LINZ data showing 3% of buyers were non-residents for tax purposes. LINZ itself has cautioned against using the data, given a flawed question leading to uncertainty about the number of buyers who may be foreign students and temporary residents, but who are tax residents.
"That number still looks quite small. We're requiring people to give us their IRD numbers if they're a foreign purchaser. That doesn't to us seem to be slowing down the number of foreign purchasers. It's about the same. It's not moving a lot. If it really was money laundering you would assume it would have some impact on that, but it hasn't done from what I can see, on pretty limited data to be fair," he said.