Strewth mate! Why New Zealand should embark down the Australian anti-money laundering regulatory path rather than the British one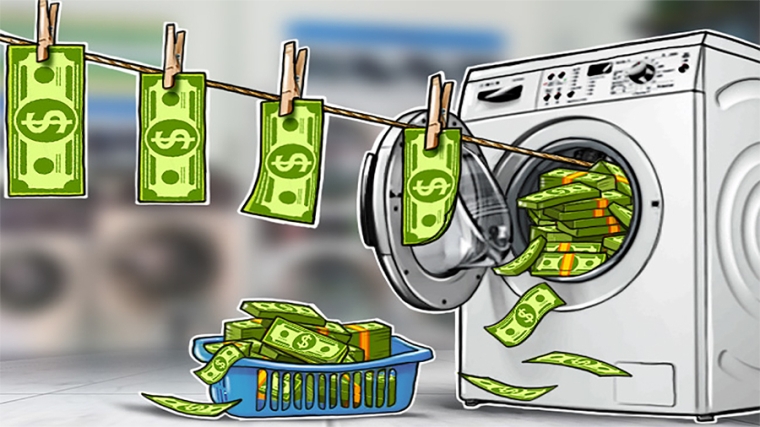 By Gareth Vaughan
If something's worth doing it's worth doing properly. So said my parents, ad nauseam, when I was a child and reluctantly doing household chores.
This saying came to mind on Friday when I was reading the Ministry of Justice's consultation paper on phase two of the Anti-Money Laundering and Countering Financing of Terrorism Act (AML/CFT Act). The so-called phase two of the AML/CFT Act means lawyers, accountants real estate agents, conveyancers and high-value goods dealers will have to comply. This is an important move both for the tackling of crime, and for New Zealand's international reputation.
Already AML/CFT laws touch the lives of many New Zealanders. For example, when opening a KiwiSaver account or changing provider, money remittance, and in some cases even taking money out of your own bank account. The impact of these laws on our lives is only going to grow as a wide range of professions are dragged into this particular regulatory net, as I outlined here.
One of the key issues, as detailed in the Ministry of Justice's consultation paper, is who will supervise compliance with the AML/CFT laws by the new entities and professions forced to comply. Currently New Zealand has three supervisors in the Reserve Bank (RBNZ), Financial Markets Authority (FMA) and Department of Internal Affairs (DIA). The Ministry of Justice is suggesting either retaining this model with broader oversight roles for one or more of the three, moving to a single supervisor model like Australia, or adopting what it terms a multiple agencies with self-regulatory bodies model like Britain has.
The issue that concerns me is the possibility of going down the British path, and adopting a smorgasbord of AML/CFT Act supervisors once Parliament passes phase two sometime next year. This smorgasbord could even include self regulation by some professions. 
The very suggestion the Government is even considering adding to our three current supervisors is worrying. In Britain they have a staggering 27 AML/CFT supervisors including 22 professional associations across the likes of the legal, conveyancing, accounting and real estate sectors. In New Zealand this could, for example, see the New Zealand Law Society overseeing compliance by lawyers, and the Real Estate Agents Authority overseeing compliance by real estate agents.
This does not sound like doing the job properly to me.
Rather, it sounds like a patchwork approach done on the cheap to try and fool international observers that you have your AML/CFT house in order. New Zealand must do better.
Heads in the sand
One look at the cover (see picture below) of a Transparency International UK report on the British approach paints a damning picture. The report, entitled Don't Look, won't find: Weaknesses in the supervision of the UK's Anti-Money Laundering Rules, concludes that the UK's current system is "inconsistent and generally failing to meet the standards of effective regulation."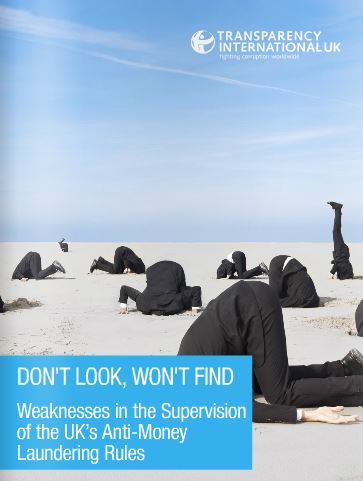 "Our findings show that the vast majority of sectors are performing very badly in terms of identifying and reporting money laundering. Major concerns have been identified by law enforcement authorities over the quality, as well as the quantity, of reports coming out of the legal, accountancy and [real] estate agency sectors," Transparency International UK says. 
"The UK Prime Minister has rightly said that dirty cash is not welcome in the UK. However, without tackling poor supervision and enforcement of anti-money laundering rules across the economy, a torrent of stolen money will continue to be allowed to find a safe haven in the UK," Transparency International UK adds.
It recommends the replacement of the existing "patchwork and inconsistent" structure with a single, well resourced "super" supervisor.
Transparency International UK is not alone with its concerns. Here's HM Treasury in a UK national risk assessment of money laundering and terrorist financing:
"The effectiveness of the supervisory regime in the UK is inconsistent. Some supervisors are highly effective in certain areas, but there is room for improvement across the board, including in understanding and applying a risk-based approach to supervision and in providing a credible deterrent. The large number of professional body supervisors in some sectors risks inconsistencies of approach. Data is not yet shared between supervisors freely or frequently enough, which exposes some supervised sectors where there are overlaps in supervision."
Conflicts of interest
In its consultation paper the Ministry of Justice does at least point out an obvious flaw in the British approach, noting the clear risk that conflicts of interest could compromise professional body supervision, given these bodies represent and are funded by the very firms they are supposed to supervise for AML/CFT compliance.
As things stand in New Zealand now the RBNZ supervises banks, life insurers, and non-bank deposit takers. The FMA supervises securities issuers, trustee corporations, futures dealers, collective investment schemes, brokers and financial advisers. And the DIA supervises casinos, money changers, trust and company service providers, and what are described as "reporting entities" not covered by the RBNZ and FMA.
This system already has scope for things to slip through the cracks, or for supervisors to abdicate their responsibilities claiming they thought one of their counterparts was doing it. This was highlighted last year in Justice Timothy Brewer's judgment in the Vivier and Company versus FMA High Court case. The judgment outlines that the compliance officer at the DIA's financial integrity unit had told Vivier's executive chairman if the company was subject to the AML/CFT Act, it was supervised by the Reserve Bank or the FMA rather than the DIA, when in fact if Vivier was to be supervised by anyone it could only be by the DIA. 
Following the Aussie path
Clearly a key question then as the Government moves to extend the AML/CFT Act regulatory net, is who will supervise the new professions being made to comply? It doesn't make sense for the RBNZ to do it given the newcomers aren't in the banking, insurance or finance company sectors. And the RBNZ has its hands full with monetary policy and financial stability issues. The FMA also has much on its plate, including enforcing the freshly minted Financial Markets Conduct Act, the cornerstone of its regulatory regime. 
So that leaves DIA, adding additional AML/CFT supervisors along the lines of the very flawed British model, or following the Australian example.
Australia has just just one supervisor of its AML/CFT laws, the Australian Transaction Reports and Analysis Centre or AUSTRAC. Thus everything is under one umbrella and it's clear where the buck stops.
AUSTRAC's latest annual report claims a contribution to tax assessment and debt collections of nearly A$2.5 billion over 10 years. AUSTRAC says it received A$54.940 million in annual taxpayer funding and has 262 staff. By way of comparison, annual AML/CFT Act supervisory budget figures provided to interest.co.nz by the RBNZ, FMA and DIA, combined, come in at just NZ$3.48 million. The DIA has nine AML/CFT staff, the RBNZ four plus one-third of a manager's time, and the FMA six part time AML/CFT staff plus others helping out as required.
Certainly not perfect
Of course no regulatory model is perfect or infallible. In a major report last year by the Financial Action Taskforce (FATF), the key global anti-money laundering oversight body, AUSTRAC certainly came in for some criticism, as did Australia's AML/CFT laws. FATF noted neither real estate agents nor lawyers, both having been identified to be of high money laundering risk in Australia's National Threat Assessment, are subject to AML/CFT requirements.
Transparency International Australia was not impressed, pointing out - among other things - that at no time has a corporation been prosecuted by AUSTRAC or any other authority for money laundering breaches in Australia. Over the past two years AUSTRAC has, however, embarked on a range of enforcement action including against gambling group Tabcorp and remittance service provider MoneyGram Payment Systems, which is detailed here. 
However, FATF also said AUSTRAC had done a good job in promoting compliance with the AML/CFT standards by the vast amount of entities under its supervision, describing AUSTRAC as "a well-functioning financial intelligence unit." Additionally the amount of financial transaction data in the AUSTRAC database, and the fact all relevant authorities have access to it and can use AUSTRAC's integrated analytical tool, is a strength of Australia's AML/CFT system, FATF said.
Incidentally, here's what FATF said about New Zealand last time it looked. It's next due to assess this country's AML/CFT regime in 2020.
A one stop shop
AML/CFT laws are complex and challenging for those tasked with complying with them, and those tasked with enforcing them. And they'll become an increasing frustration for the general public as they touch more parts of our lives. 
So surely having a one stop shop for all AML/CFT Act supervision makes much more sense than a whole series of half-hearted, poorly funded supervisors going about supervision in different ways. The Government would need to find a decent wad of taxpayer funding for a Kiwi AUSTRAC, but this is a serious issue and requires serious effort.
Because as the Ministry of Justice puts it; money laundering and terrorist financing are significant problems both here and worldwide, allowing criminals to hide the proceeds of their illegal activities and to fund serious crimes such as drug dealing, organised crime and tax evasion.
*This article was first published in our email for paying subscribers early on Tuesday morning. See here for more details and how to subscribe.