Bill English rules out 'radical' policy changes to shield money remitters from banks' blanket de-risking policies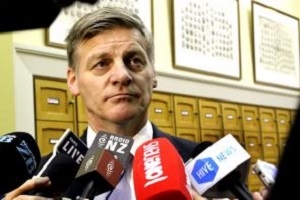 Finance Minister Bill English admits there are no "radical solutions" to keeping money remitters in business while banks want nothing to do with them.
English has told Interest.co.nz it would be difficult for the Government to prevent banks from ditching remitters to reduce their exposures to money laundering risks, as this would counter the crack-down regulators here and around the world are making on money launderers.
"The challenge here is that the direction of the Anti-Money Laundering / Countering Financing of Terrorism (AML/CFT) Act 2008, the automatic exchange of information – the transparency around the tax system – and phase 2 of the AML Act, are sending a pretty strong signal to all financial institutions and professional groups that they will be responsible for knowing who's paying what to who," English says.
"So that's creating a fairly careful, conservative environment and it would be difficult to put in place legislation that pushed against that tide. We don't really know the answer yet."
High Court judge: Government could intervene
The Minister makes these comments further to a High Court judge last week suggesting it's possible for the Government to help keep remitters afloat as banks use a blanket de-risking policy to systematically close their accounts.
In his landmark decision that ruled Kiwibank was lawful in trying to close the accounts of money remitter E-Trans International Finance, Justice Heath says:
"The policy choices to be made are ones for Government. It is conceivable that they could be given effect through exemptions, guidance from a supervisor, some other existing statutory mechanism or a specific amendment to the Anti-Money Laundering Act."
He suggests the Government could:
1. Exempt banks from meeting their usual reporting requirements when dealing with money remitters. In other words, take away the layer of responsibility banks have to ensure the transfer of funds they are soliciting through remitters, isn't being done to buy drugs, dodge tax or finance terrorism for example. 
Justice Heath suggests banks could be made to rely on the reporting money remitters already do to the Department of Internal Affairs, as a stamp of approval the funds have gone through all the necessary AML/CFT checks.
2. Give banks guidance around how they should assess remitters' risk profiles on a case by case basis. Justice Heath acknowledges this would be "consistent with views expressed internationally, and by the Reserve Bank and the Minister of Finance in this country".
The RBNZ for example in January last year issued a statement saying "banks' obligations under the AML/CFT Act require measured risk management and do not justify blanket de-risking".
English: Our hands are tied by the international AML model
English says the Government is still "well short of considering what – if any – legislative change" it could make to address these unintended consequences of the AML/CFT Act.  
"We haven't got to that stage," he says.
"We are essentially importing quite high levels of regulation around financial transactions with FATF [the Financial Action Task Force international governing entity] and AML, and it is bringing high compliance costs into our system. But this is all part of maintaining reputation.
"There's not a lot of scope for variation on the international model, without creating holes in the system."
These comments coincide with the advice an Official Information Act request reveals Treasury has provided English. Treasury officials say:
"We believe that a shift in the international AML-CFT system would be the area most likely to impact on banks' treatment of MTOs [money transfer operators] (which may in turn affect the cost of remittances).
"However, the speed and strength of change in the international system remains unclear and New Zealand has less leverage to shape the direction of that change, versus the ability to alter the domestic settings."
Yet Treasury notes the Ministry of Foreign Affairs and Trade is doing something to address international pressures on banks.
"The US Treasury has requested that New Zealand officials collate any evidence from New Zealand banks of pressure they have received from correspondent banks to retain or close MTO bank accounts," it says.
English: You have to be careful forcing institutions to take on risk
As for Justice Heath's suggestion around coercing banks to behave in a certain way when it comes to dealing with remitters, English says: "You have to be careful about forcing institutions to take on risk they don't want to take. We haven't found the solution to that yet."
English acknowledges the Government could be opening a can of worms, making AML exemptions for money remitters.
"There would also be the risk that people with ill intent would crowd into whatever exemption is available," he says.
"Government, the Pacific governments, the World Bank have an interest in finding a way of improving the current situation.
"That's why there's quite a bit of effort going into it because it would be pretty difficult – particularly for the Pacific Islands and some of the South East Asian countries – if the whole remittance system shut down. No one wants to see that happen."
The World Bank estimates the value of remittances to the Pacific to be around $470 million a year. Samoa and Tonga are among the top 10 global recipients of migrant remittances as a share of GDP.
"We've got a common interest in finding better solutions, although I don't think there are radical solutions," English says.
"Generally we've found banks are not that flexible. They have been keen to de-risk anything that might have reputational impact."
English has drawn this conclusion further to asking the chief executives of Kiwibank, ANZ, Westpac, ASB and BNZ for their feedback on the handling of remitters in December last year.
Justice Heath in his judgement acknowledges the magnitude of the reputational damage banks are concerned about, explaining how the AML Act provides for both criminal and civil sanctions.
"Examples of offences in respect of which criminal proceedings may be brought include a failure to report a suspicious transaction, providing false or misleading information in connection with a suspicious transaction report, and unlawful disclosure of a suspicious transaction report," he says.
"Any person, including a reporting entity [IE a bank], who commits any of those offences is liable to a term of imprisonment of not more than two years and to a fine not exceeding $300,000, if an individual. In the case of a body corporate, a fine of up to $5 million may be imposed. Those maximum penalties reflect the importance of the reporting requirements."
English aware the cost of remittances from NZ has increased
English acknowledged in his correspondence to bank CEOs that the average cost of sending money from New Zealand to Samoa for example via a money transfer operator is around 7.3% compared to the bank average of 17.5%.
Treasury has also advised him: "A 2014 World Bank assessment of the New Zealand remittance market points to recent increases in remittance costs, and notes that the only major market development in recent months has been the closure of MTOs."
Treasury says the small scale of remittances from New Zealand, relative to other parts of the world, coupled with the small number of banks in the New Zealand market, means remittance costs are already higher here than in other parts of the world.
"The global average cost of sending USD 200 is 8.91% vs 9.23% for New Zealand. Remitting money from New Zealand to the Pacific Islands is more expensive than to other destinations [Samoa (9.49%), Tonga (10.61%) and Vanuatu (12.09%)]," Treasury says.
"In developing states, including the Pacific, people outside main urban areas generally have limited access to banking services and therefore MTOs are often the only viable way of transferring money.
"In these circumstances most MTOs need to deal with their customers in cash, which also brings higher handling costs.
"Even in the case of those Pacific Islanders with bank accounts, most countries in the region do not have electronic payment systems or clearing systems. As a result interbank payments must be manually processed, which increases risks and transaction costs."
*This article first appeared in our email for paying subscribers early on Thursday morning. See here for more details and how to subscribe.