Government increases Budget surplus to NZ$1.8 bln in 2015/16 from NZ$414 mln in 2014/15; English says rising surpluses give Govt options for debt repayment and tax cuts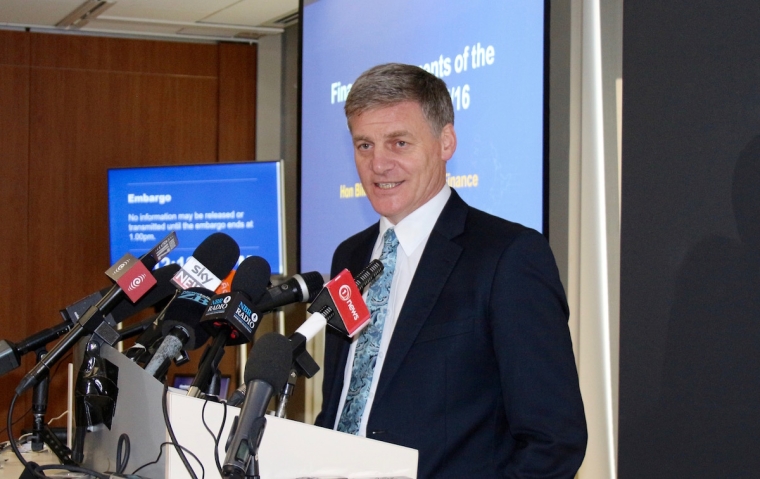 By Bernard Hickey
Treasury has unveiled a surplus of NZ$1.8 billion for the just completed financial year to June 30, which was up from NZ$414 million the previous year and up from a forecast of NZ$176 million in Budget 2015.
The result was also more than double the forecast from May 2016 Budget of NZ$668 million as nominal GDP grew by 4.2% in the year to NZ$251.8 billion, helping to power higher than expected income tax and solid GST revenues.
Finance Minister Bill English said the result gave the Government choices about repaying debt and cutting taxes.
"Government surpluses are rising and debt is falling as a percentage of GDP which puts us in a position to be able to make some real choices for New Zealanders," English says.
"The New Zealand economy has made significant progress over the past eight years. This delivers more jobs and higher incomes for New Zealanders, and also drives a greater tax take to help the Government's books," he said.
Core Crown tax revenue was NZ$1.6 billion higher than forecast in Budget 2015, while spending at NZ$73.9 billion was below the Budget forecast of NZ$74.5 billion.
"We've also been getting on top of our spending, exercising fiscal restraint while still investing responsibly in our growing economy and public services," he said.
"If there is any further fiscal headroom, we may have the opportunity to reduce debt faster and as we've always said, if economic and fiscal conditions allow, we will begin to reduce income taxes."
English said the outlook for the economy was positive, but there were risks internationally.
"We also need to bear in mind that there are a lot of risks globally and that is why it is important to get our debt levels down," he said.
Still borrowing for now
However, the Government still ran a residual cash deficit of NZ$1.3 billion for the 2015/16 year, albeit down from NZ$1.8 billion the previous year.
It was lower than the May Budget 2016 forecast for a cash deficit of NZ$2.1 billion, which meant net debt rose to NZ$61.9 billion from NZ$60.6 billion (but was less than the NZ$62.3 billion forecast just five months ago.)
"While operating cash flows were positive, capital payments of $4.6 billion resulted in a residual cash deficit of $1.3 billion," Treasury said.
Treasury emphasised the growth in the total economy for the better than expected Budget surplus in OBEGAL (Operating Balance Excluding Gains and Losses) terms.
"The robust GDP growth was reflected in private consumption growth of 3.5%, plus strong contributions to economic growth from residential construction and inbound tourist spending, up by 16% and 17% respectively," it said.
"The total population grew by 2%, boosted by a net influx of nearly 70,000 migrants in the year to June," it said.
Core Crown tax revenues fo NZ$70.5 billion for the year to June 30 were up from NZ$66.6 billion the previous year and above the NZ$69.7 billion forecast in May.
Core Crown revenues rose to 30.2% from 29.9% the previous year and was slightly above the May forecast for 30.1% as stronger growth lifted the effects of 'fiscal drag', whereby incomes rise into tax brackets with higher tax rates.
Total wages and salaries rose 5.0% for the year.
Political reaction
New Zealand First Leader Winston Peters said most Kiwis were saying they still struggling.
"If the money is there as the government states, why isn't some of it going to help the struggling hospitals around the country, the grossly under-resourced police, and to alleviate problems they have created with massive immigration and a lack of housing supply," Peters said.
"Where's the money for education and biosecurity? Why are DHBs being forced to cut costs? Why are our roads congested and struggling to cope? Police can't stop drugs and this government can't even roll out more frontline cops," he said.
(Updated with fresh photo and more details, reaction)