Shoppers splashed out more than ever before over the Christmas period, with 16% of electronic card spending going towards eating out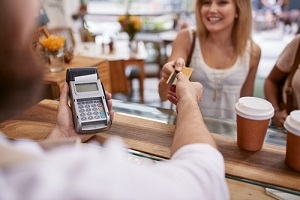 We were more swipe happy than ever before over the Christmas period, with winers and diners spending up particularly largely.
Total retail spending using electronic cards hit a record $6.5 billion last month - a 5.8% rise from December last year, according to Statistics New Zealand.
The largest industry increase came from hospitality, where spending was up 13.4% to $1.1 billion. In fact, a whopping 16% of retail spending in December went towards hospitality.
"This is the first month card spending in hospitality exceeded $1 billion," Stats NZ business indicators manager Tehseen Islam says.
"The higher hospitality spending coincides with a period of rising international tourism and residents enjoying Christmas and New Year holiday breaks."
Compared to November 2016, spending rose 24.5%.
Seasonally adjusted figures paint a more subdued picture
However, on a seasonally adjusted basis, electronic card spending was unchanged, falling 0.1% in December, following a 0.1% drop in November.
Using this measure, retail spending was also lower than market expectations.
ASB economist, Daniel Snowden, says: "We expect the recent weak headline results to be a blip and continue to expect spending growth to remain firm, supported by high net migration, dairy's recovery and low interest rates.
"Spending delivered a surprise in December, with another negative result when the market was looking for a bit of a bounce-back following November's disappointment.
"Durables was again the main culprit, down 1.4% month-on-month, and there has only been one positive month (September) in the last 6 months. Given firm construction, durables should be on the way up as those new builds need to be fitted out.
"However, it should be noted that at an absolute level, spending on durables remains around recent highs and that it is the growth in spending that has been slow.
"Consumables also took a backward step in December (seasonally-adjusted) but spending in this area remains only-just shy of its all-time high and a spot of consolidation is no bad thing.
"The tourism boom shows little sign of slowing, with hospitality spending rising 0.5% month-on-month to take the index to a new all-time record high. This despite the fallout from November's earthquake which at this stage looks to have displaced activity, rather than discouraged it.
"Apparel surprised to the upside, expanding 1.3% month-on-month although that does follow November's surprise 3.1% drop.
"As expected, fuel spending growth expanded, at 4.4%, in line with increased fuel costs."
Credit card usage on the rise
Digging into the details of the data, while people are spending more altogether, the size of the average transaction is lower.
In December, the average value per transaction was $54 - the same as December last year.
Yet in the December quarter, the average was $50 - a drop from the same period in 2015, 2014, 2013 and 2012.  
Furthermore, an increasing portion of transactions are being done using credit cards rather than debit cards.
Credit card transactions accounted for 48.1% of transactions in the December quarter - an increase from 46.1% in the same period in 2015, 44.4% in 2014 and 43.7% in 2013.