Govt to spend $500m on 10% Police expansion, PM announces; Talks trade deals, global economy in State of Nation speech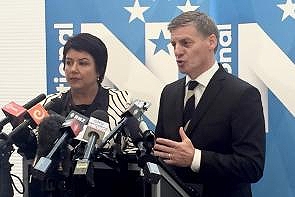 Prime Minister Bill English has used his State of the Nation address to announce the Government will boost police numbers in New Zealand by 10%, in a move that will cost half a billion dollars.
Total police staff numbers will rise to more than 13,000 from 11,925 by June 2021 and total sworn police numbers to nearly 9,800 from about 8,900, he announced. The first recruits will begin training in July and hit the beat in November.
The pledge was the only hard policy announcement contained in his speech to the Rotary Club of Auckland. English also said National would continue to focus on reaching global trade deals and commented on global economic developments:
A few weeks ago, I returned from meeting leaders of the European Union, Germany and the UK.

I wanted to lock in agreement with the EU to proceed with a free trade agreement and get a commitment from the UK to negotiate an FTA when the time is appropriate.

I'm pleased to say we received a positive hearing on both of those issues.

But these talks look pretty straightforward compared to the complexities and tensions building up in world politics – a newly assertive Russia and China, the ongoing refugee pressures around the Mediterranean, Brexit, a new US President and rising nationalism.

All the political leaders I met were focused on these developments, because their long-held assumptions about how the world works are being tested.

…

The global economy is looking a bit better than last year, with improving prospects in Europe and the US. However, the political instability I mentioned earlier means there is no room for complacency.

In this environment, I believe the biggest threat to New Zealand is disruption of the international system of open trade.

Under my leadership, New Zealand will continue to advocate for free trade and aim to execute high quality trade agreements.
English used part of his speech to detail his upbringing on a farm in Southland:
As some of you know, I was brought up in Southland, a place where hard work and farm skills were respected more than profit, and where no one could do it all on their own.

I got my politics around our large dining table growing up, and from my mother who ran a farm, raised 12 children and was a serial community activist.

By the early 1980s, I was a new, keen and highly indebted young farmer. Interest rates were around 17 per cent, but farm costs were held down by wage and price freezes.

That wasn't sustainable and just papered over the economic problems that had built up over a number of years.

The economy had to be restructured. My community was hit hard as farm subsidies were wiped.

I made lots of financial and farm management mistakes. But with the help of family and a lot of hard work, we stayed on our feet.

Many New Zealand families had similar experiences in other industries, as jobs were lost and they struggled to rethink where they fitted in a country that had suddenly changed.

We thought the world owed us a living. It didn't.

I learned then that business and families in a small trading country like ours needs to continuously adapt in small steps – and that government should back Kiwis to do just that, focusing on resilience and aspiration rather than fear and isolation.

Hiding from economic reality eventually requires drastic and damaging change.
In the lead-up to the extra police announcement, English said his government would also look at new ways to help people in need and break the cycle of welfare dependency. He claimed there are now over 50,000 fewer children living in benefit-dependent households than there were in 2011, and that the number of sole parents on a benefit is the lowest since 1988.
But the recent rise in New Zealand's prison population indicated the government needed to do better, he said.
Crime prevention often requires intervention from education or housing agencies rather than just the police, he said. The police frontline still needed more time to dedicate extra resources to crime prevention and being able to work closer with other agencies, he said:
So today I'm announcing a $503 million investment in Police and the wider justice sector to reduce crime and keep our communities safe.

This Safer Communities package has three parts:

First, targeting and catching offenders.

Second, preventing crime and reducing victimisation.

And third, delivering a more responsive Police service.

This significant taxpayer investment comes with a range of challenging performance targets for Police.

They include higher attendance at home burglaries, seizing more assets from organised crime, reducing deaths from family violence and reducing reoffending by Māori.

Meeting these targets won't be easy. But we're not here to shy away from the hard issues.

Safer Communities provides funding for over 1100 additional Police staff, of whom 880 will be sworn officers. This will increase the number of sworn officers to nearly 9800 by June 2021, and the number of non-sworn staff to over 3200.

That's a 10 per cent increase in the size of the police force over the next four years.

The package includes:

· A new national 24/7 phone number for non-emergencies.

· More staff for up to 20 rural and regional police stations so that 95 per cent of the population lives within 25 kilometres of a 24/7 police presence.

· More specialist investigators for child protection, sexual assault, family violence and other serious crime.

· Additional resources to deal with burglaries, youth offending and other community crimes.

· More officers to target organised crime.

· And around-the-clock capability for the Police Eagle helicopter.

All police districts will receive extra officers, with Police deciding how many will go where, based on need.
Economy central to election campaign
English's speech follows his announcement yesterday of 23 September as the general election date. Speaking to media Wednesday, the Prime Minister said the economy will be a central pillar of the election campaign.
Treasury forecast in December that New Zealand's economic growth rate, measured by Gross Domestic Product (GDP), would rise from 2.8% in the year to June 2016 to 3.6% in June 2017. However, forecasts then tailed off down to 2.3% annual growth by 2021.
New Zealand's current account deficit – effectively outflows to the rest of the world – was also forecast by Treasury to deteriorate from a deficit of 2.9% of GDP in June 2016 out to a 4.4% deficit by 2021.
The unemployment rate was expected to bottom out at 4.2% in 2019. Figures released yesterday showed a surprise jump in headline unemployment to 5.2% (economists had expected a slight fall to 4.8%) in the December quarter as more people joined the search for work.
In its December budget policy statement, Treasury said the government's operating balance before gains and losses in the year to 30 June 2017 is expected to be $473 million. This will be down from $1.8 billion the previous year but does incorporate about $1 billion of earthquake costs. That surplus is forecast to rise to $3.3 billion by June 2018 and $8.5 billion in 2021.
Government debt is forecast to start being paid back in the year to June 2019, with net government debt peaking at $66.4 billion at June 2018 (23.8% of GDP).
Surplus cash would be spent on infrastructure and debt repayment, and National would then look at any ways to use it to improve incomes, English said on Wednesday.