Beneficiaries and lower-income groups have been hit the hardest by typical cost rises over the past year as housing and other price increases make their mark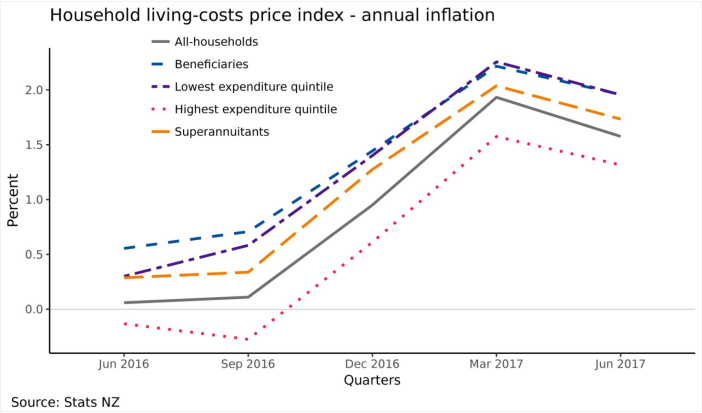 Beneficiaries and those on the bottom rungs of the income ladder have been hit hardest by price rises over the past year, thanks to cost increases for housing and other necessities like food and electricity.
Stats NZ's latest Household Living-Costs Price Index for the June quarter shows beneficiaries experienced the highest price inflation of 2% over the year, while the top earners in New Zealand only faced a 1.4% price increase.
The index is different from Stats NZ's Consumers Price Index (CPI) series in that it divides New Zealand up by income quintiles and applies different baskets of goods and services to the respective groups with different spending weightings.
For example, rents and basic food items are treated as greater relative costs to beneficiaries and those on lower incomes. As you go up the ladder, higher income groups are faced more with the costs of package holidays and mortgage interest rates. See an article on this in May. Mortgage costs aren't included in the CPI. Latest figures show the CPI rose 1.7% in the year to March. The Reserve Bank's preferred sectoral model rose 1.4%.
"Rising prices for the basics such as rent, electricity, and food had a greater impact on beneficiaries," Stats NZ prices senior manager Jason Attewell said. "Over half their spending was on these essentials, compared with about a quarter for the highest earners," he said. The highest income group was helped by falls in prices for high-tech items over the year.
Beneficiaries also faced the highest cost rises during the June quarter, with their overall costs rising 0.3% overall. In contrast, the highest earning group saw its cost of living fall 0.1% over the three months, Attewell said. In the June 2017 quarter, higher prices for vegetables and electricity had a large effect on all groups. This was countered by lower prices for petrol.
"Items such as tomatoes and petrol are commonly purchased by households of all income and expenditure levels, and the impact of large price rises for these goods can be seen across the board," Attewell said. "In contrast, domestic airfares fell 15% across HLPI groups. High spenders benefited the most from cheaper domestic airfares."
The regular quarterly release from Stats NZ follows on the heels of the MSD 'Perry report' which showed rising inequality in New Zealand driven primarily by housing costs, which hit the poorest parts of society the hardest as a greater proportion of their income is required to go towards housing.