Greens call for report on fuel pipeline vulnerabilities to be released; Judith Collins says Auckland Airport disruption will be over before school holidays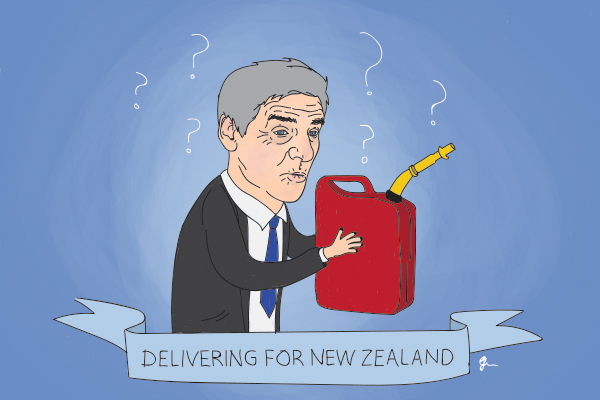 There are calls for a government report on vulnerabilities of a Marsden Point-Wiri fuel pipeline to be released before tomorrow's general election, after it was reported that the Ministry of Business, Innovation & Employment was due to release it this week.
Meanwhile, Energy and Resources Minister Judith Collins says disruptions should not flow through into the school holidays. Friday 29 September is the last day of the school term.
The Green Party on Friday issued the following press release on the MBIE report:
Judith Collins should release a new report, that had been due to come out this week, showing what the Government knew about the vulnerability of the fuel pipeline into Auckland, the Green Party said today.
RNZ reported this morning that a Ministry of Business Innovation and Employment report highlighting the fuel pipeline's vulnerability was due out this week, but has not been published because of the rupture. Collins said she hadn't seen the draft report.
"With the election looming, New Zealanders have a right to see any information detailing how much officials and ministers knew about the vulnerability of this pipeline before it ruptured and caused a fuel crisis," said Green party co-leader James Shaw.
"This report was due to come out this week and I can't see any reason why it shouldn't be released to the public now.
"Keeping this report in the dark before an election suggest that its contents are inconvenient to either government officials or Ministers. Right now we need transparency.
"National was warned back in 2011 about the vulnerability of this pipeline. National has waited for a crisis to hit before taking any action, just like with housing, and just like with our rivers. That's unacceptable," said Mr Shaw.
Judith Collins then issued an update on the situation:
Fuel allocations to airlines at Auckland Airport have been increased and flight schedules are returning to normal, as the fuel pipeline repair is on track to be completed well before school holidays begin, says Energy and Resources Minister Judith Collins.
"Auckland Airport is returning to business as usual, with the expected number of cancellations today dropping to seven – almost two thirds fewer than the number of cancellations yesterday and down from 37 cancellations on Wednesday. We are confident there will be no disruption to travel plans for the upcoming school holidays.
"Airlines have been effectively managing fuel consumption, and allocations have been relaxed from 30 per cent to a 50 per cent allocation.
"The easing of rationing shows the industry's confidence in the progress of the repair, as Refining NZ reports the welding of the new section of pipeline has been completed and has passed its first testing.
"To further increase supply, fuel companies expect to discharge jet fuel and diesel into Wynyard Wharf over the weekend which should be available to transport to the airport, mid next week, subject to quality tests.
"NZTA has plans in place to safely manage traffic in Wynyard and around the airport, however motorists travelling to the airport are advised to allow additional travel time.
Trucks are successfully moving jet fuel from Marsden Point to Auckland Airport. Two trucks have made deliveries this morning so far.
"Retail fuel supply in Auckland remains secure, though a small number of service stations in Auckland may be temporarily out of stock of 95 Octane today, as tankers prioritise delivery of 91 and diesel.
"Government and industry will continue cooperative efforts to ensure Auckland keeps moving, and disruption is minimised.
And here's the latest update from Air New Zealand
Following on from the update provided on Monday, I'm pleased to say that Air New Zealand's schedule is now operating largely as normal as we continue to manage our way through the impact of Refining New Zealand's temporary shut-down of its fuel supply pipeline to Auckland.
Air New Zealand has implemented a range of measures since Sunday in response to a reduction in fuel available at Auckland Airport. Fortunately we now believe the need for further disruption will ease.
If you are booked to travel into or out of Auckland in the coming days, please keep an eye on the Air New Zealand Travel Alerts page for the most up to date flight information – this page is continuing to be updated regularly. Should your flight be affected, we will be in touch with you directly about the options available to you.
I'd like to thank you for your ongoing patience. While this issue is beyond Air New Zealand's control, we are continuing to do everything possible to minimise the impact on our customers' travel plans. Again, if you are impacted, we appreciate your understanding and thank you in advance for your cooperation.