Labour leader Ardern opens up on common ground with NZ First; Cites shifting Ports of Auckland alongside tertiary education & forestry; Says Labour would stick to govt spending and debt track rules; Might shift on water tax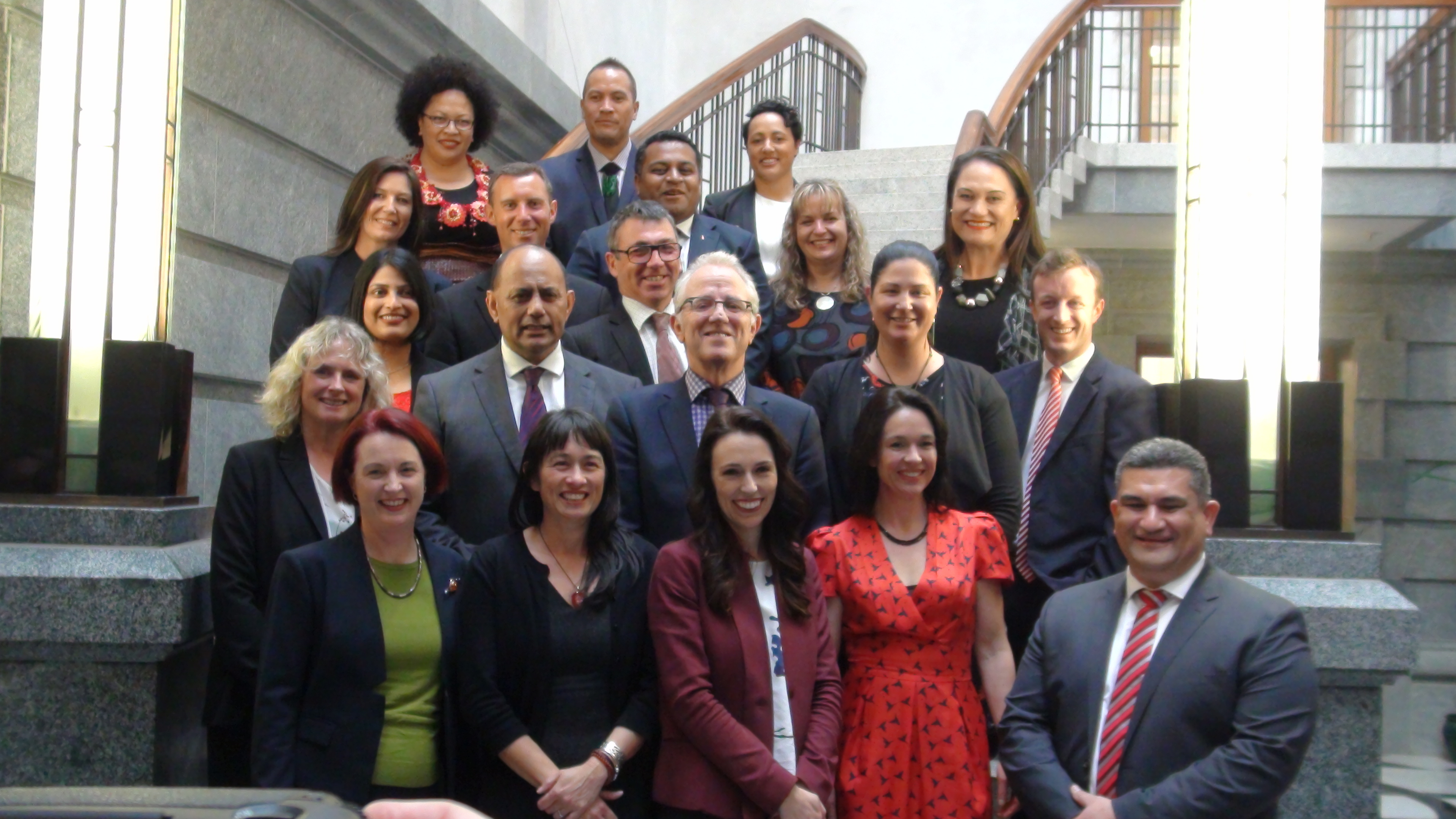 By Alex Tarrant
Jacinda Ardern has opened up further on what she views as common ground between Labour and New Zealand First, with relocating the Ports of Auckland joining earlier remarks on education and forestry, and Phil Twyford's comment that the two parties were fans of using "the levers of the State" in terms of more hands-on economic management.
Ardern also implied there is potential for Labour to shift from its controversial water tax policy – something Peters has vowed to not let Labour impose. Ardern indicated this would be considered if other options for improving water quality were put forward.
Speaking to media in Parliament Buildings in Wellington, Ardern said she believed Labour had more common policy ground with New Zealand First than National did. But she cautioned a lot was yet to go under the bridge in terms of policy negotiations.
Ardern said it appeared clear that party leaders were keen to take a little bit of time before negotiations hit full steam. The lay of land would need to be seen regarding the 15% of special votes due 7 October. Labour (45), New Zealand First (9) and the Greens (7) returned 61 seats together on election night – the exact number required for a majority, compared to National's 58 seats. The Greens' refusal to consider coalition with National puts NZ First in the 'Kingmaker' position.
The next two days will be used to set the ground-work for Labour's negotiating teams and for going over policies, to be ready for talks to take place. Ardern said Labour would look at how coalition negotiations had been conducted successfully in the past. Her expectation was that Labour's team would engage directly one on one with New Zealand First and the Greens, rather than the three parties initially being around the same table.
Those talks are still going to be set against the backdrop of relative fiscal constraint. Ardern said Labour would stick to its Budget Responsibility Rules, which stipulate government spending must not go above 30% of GDP, and that government debt must hit 20% of GDP within five years' time.
This leaves little room for additional costly policies, and indicates tough negotiations might need to take place, perhaps swapping existing Labour policies on big spending areas like education to accommodate the demands of New Zealand First and the Greens.
Labour's fiscal policy document, which includes costings for its entire manifesto, leaves less than $1 billion of 'spare cash' in each of 2017/18, 2018/19 and 2019/20, which rises to $1.5 billion in 2020/21 and $3.4 billion in 2021/22.
A back-of-the-envelope look indicates there is room for about $2.5-$3 billion extra a year on the government spending side, although this on its own would push out the debt track promise. This indicates Labour's fiscal team might have to consider policies that could be argued to either give GDP a near-term shot in the arm or increase the near-term tax take.
"We will stick to our Budget Responsibility Rules, which means that we will put constraints around ourselves to make sure that whatever happens in those negotiations to form stable government, we will have a stable economic basis for them as well," Ardern said.
Momentum
Ardern was speaking after presenting 13 new Labour MPs. "No one has expanded quite like Labour has," she said of the election result.
I asked Ardern whether the fact Labour had returned more MPs, while National has fewer than the previous Parliament, gives her confidence that Peters might choose to go with the major party with the momentum, rather the previous position of engaging initially with the party with the largest vote.
"It definitely demonstrates where the mood fell on election night. And that was to vote against the status quo," she said. "Only time will tell" on whether the momentum argument might trump 'biggest party'.
Common ground
Ardern began the press conference by saying she was "not answering any specific questions around individual items that may be part of negotiations between the parties that are potentially in a position to form a government."
That quickly changed, however.
Put to her that Labour and New Zealand First had common ground ("we do") including Pike River re-entry, she said: "We certainly have areas where there would be useful discussions".
"I certainly see shared values there, and certainly I saw New Zealand First campaigning hard for change. Now it's up to us to see if we're able to form a stable coalition government," Ardern said. "There is a lot of alignment between New Zealand First and Labour."
Water tax could be gone
Ardern was asked how key the water tax policy was to Labour. "I know that both parties share a desire to see our waterways cleaned up," was the response. While she wasn't going to carry negotiations out through the media, "there is a shared ambition and goal," in the area.
"But it's up to now, individual parties to see if we can make that work and form a stable government," she said. "When voters deliver us an outcome, it's up to us to see if we can then turn that around into a stable government, keeping in mind the things that we campaigned hard on."
Maori seats
On the Maori seats, there were questions left open on whether a referendum of Maori electorate roll voters could be allowed by Labour. Ardern said the party had very early on indicated a full, binding referendum on the Maori seats would not be entertained by Labour.
"Our strong view was, that it was always going to be up to Maori to decide what happened to the future of the Maori seats, rather than a binding referendum," she said. "Look, of course, we have just taken all of the Maori seats through hard working campaigning, and our policy on that has not changed and will not change.
"We, right from the beginning, took a very firm view on that. And it would be completely contradictory for us to work so hard in those Maori seats to earn the respect of those voters, to then work across them, to then undermine that."
Asked then whether there could be a Maori-only referendum, she said her position was to ensure that "people are very, very clear that it was Maori-only for the future of those seats." However, a Maori-only referendum was "not something I expect to be high on our agenda. Certainly, we've ruled it out," she said. Labour had a responsibility to Maori, she later said.
Health, housing, environment
Ardern was asked whether everything was on the table, or whether there were some untouchable policies. She replied that her speech on election night highlighted that "there are certain things that we're in politics to try and achieve".
"...Unless you're in a position to achieve them, then there's no point governing if you can't deliver for the people that you're here to represent.
"So, certainly, there are some real priorities for us, particularly across housing, across health, and across repairing our environment – we'll be sticking to those," she said.
Education
Ardern was asked about Labour's and New Zealand First's tertiary education policies. It was put to her that the ends were similar in terms of free education and tackling student debt, but that the means were different for reaching the end-goal.
"That does speak to the fact that we do have some shared values around making tertiary education more accessible," she said. Tertiary education could be a key tool to woo New Zealand First's Tracey Martin, who is number three on the party list and  whose mother was a previous party President who's still involved.
Auckland Port
Then to the Auckland port. Ardern said she was already on the record in terms of her views. And they're likely to resonate with Winston Peters.
"We take a view that we do have to make sure the future of the port for Auckland is sustainable," she said. "We don't see expansion at its existing site as being sustainable. That does mean we need to look at new locations. We've always said we'll do that with a view to making sure we do what's best for the rest of New Zealand."
Asked whether Labour would be quite happy to move the port, she said: "Yes. Yes, we've always been happy to move the port. That pre-dates any floating of that suggestion [by Peters]," she said. Later she added that she had "always opposed" expansion on the current site.
"I don't think there is an argument both from an economic and environmental perspective to continue to do that. You'll recall…I was not alone in that - there were certainly others that held that view – but that's been a long-held view for me, that I've taken for some, some time," she said.
"If you look at the economic value of the land that the port sits on, for instance, and the cost of that expansion, if that's not a viable position for them in the long term, why would we invest in that way to remain there?" This was well canvassed, with Ardern well over a year ago joining a protest around port expansion, she said, adding Labour's Auckland Mayor, Phil Goff, had come to that view as well.
Overlap
Ardern said it was subjective as to whether Labour had more policy overlap with New Zealand First than National did. "From where I'm sitting, yeah, I would take that view. But again, that's my own view. It'll be up to the team from New Zealand First to determine if they hold that view too."
Meanwhile, she said her chances of becoming Prime Minister were as good as they were on election night. She rejected a suggestion that her speech was more like a concession speech in tone, and said it was "fair and sporting" to acknowledge on a call to Bill English that National had taken a greater proportion of the vote than Labour. "But this is MMP," she added.
Asked whether there was a risk New Zealand had to go back to the polls in a situation where neither major party could form a majority, she replied: "I don't think anyone wants to see that outcome."