New Zealand is widely thought to have a "productivity problem".
Productivity is a difficult thing to measure. And difficult to understand.
Many people have the misunderstanding it is the same is 'production' and that calls for better productivity are the same for calls for people to "work harder".
But that is a mis-understanding.
Productivity is the relationship between outputs (production) and the inputs (labour effectiveness and capital employed).
Economists and statisticians measure this through their "multi factor productivity" series. In New Zealand, this is published annually by Statistics NZ.
Many other countries still report labour productivity regularly, the relationship between the economy's output (real GDP) and the number of hours workers spend producing that output. New Zealand no longer reports that metric but we are still calculating it here, and the USA still regards it as an important economic series for public policy makers.
The OECD has recently released some standardised data on hours worked and GDP per hour worked. This is another way to look at the issue and benchmark New Zealand against our usual comparators.
These benchmarks are important. They show whether our public policy settings are making gains or not, whether we are catching up or slipping behind some key reference countries.
Further, as our public policy switches between National Party and Labour Party-led governments over relatively long time frames (9 years) we can test how each policy framework (left or right) fared using the OECD data.
Hours worked
On average, Kiwis work 20 hour longer per year than the OECD average. But we work 83 more hours in a year on average than Aussies.
In 1999, we worked an average of 1845 hours annually which fell sharply to 1761 by 2008, a period that covers the Clark/Cullen Labour government. Since then, the number of hours worked on average has been stable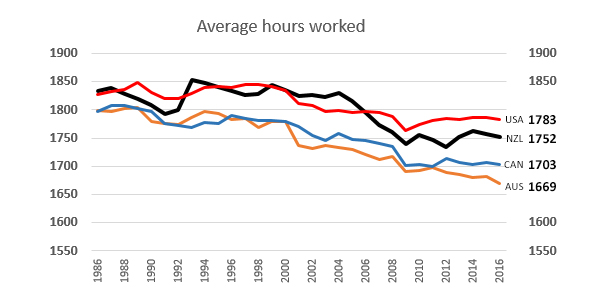 Some of the countries that have the highest productivity however work a lot less.
Famously, there is a general correlation between higher productivity and fewer hours worked, especially among developed countries.
Some people get excited about the relationship.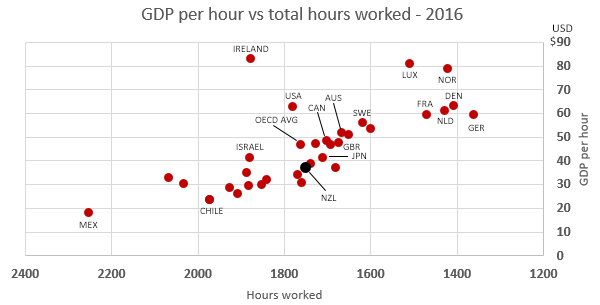 It is not a view that is particularly flattering to New Zealand. It implies that if we worked less hours, our GDP per hour worked would go up like the northern European Union countries.
In New Zealand GDP per hour worked has been rising relentlessly over a long period.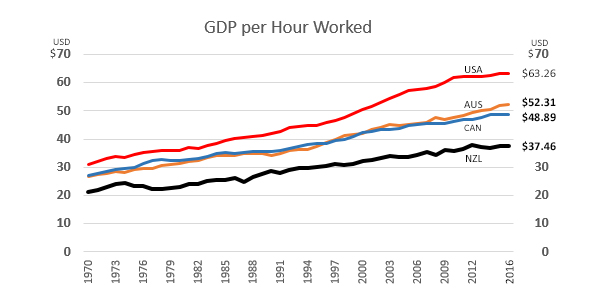 Our problem is that the rises haven't been as strong as for others, and in the last five years they seem to have stopped.
But we don't have that problem alone; it is not a uniquely New Zealand problem. It is a puzzle world-wide.
The nature of work is changing and the value of work is changing. Some work that used to have high value (in the eyes of customers) no longer does. No-one will pay more than they need to for goods and services. There is no sustainable market for over-pricing. Automation, mechanisation, advanced software and robotisation are undermining the "value" in much work that used to be done in the late 20th century. The ending of increases in GDP per hour worked just indicates we have been slower than others to adjust to the changing nature and value of work.
As you can see in the above long-run charts, the data shows we are slipping behind many countries and especially Australia, Canada and the USA.
In the period 1999-2008 (the Clark/Cullen government), hours worked dropped -4.6% and our GDP-per-hour-worked deteriorated by -4.7% compared to the USA. Over the same period be went backwards compared to Australia by -2.4%. The less we worked, the more our productivity slipped. We were worse off economically. The northern EU model didn't pay off for us at all.
In the next nine years (the Key/English government) we made a small gain against the USA (+0.4%) and had a further small deterioration against Australia (-0.9%). We may have stemmed the decline but we didn't make any progress either. And meanwhile, others did progress.
It seems that unless we change the nature of what we do and how we do it, a return to the public policy settings of the 1999-2008 era which featured a fast rise in the size of government relative to the size of the rest of the economy will accentuate the relative slippage down the international productivity rankings.
It is what we are doing and how we do it that needs to change.
The fastest way to undermine any productivity progress is to use a lower exchange rate to drive NZD income gains. (NZ First policy.) All that does is incentivise uncompetitive, unproductive work.
And paying more for the same work and the same outputs is also a false path.
There is no doubt we need to pay New Zealand workers more - it is unarguable that Kiwis are underpaid compared with workers in countries we like to benchmark ourselves with. But generally higher incomes are not justifiable without a rethink on what we are doing and how we are doing it. Only when the outputs rise faster than the inputs can sustainable real gains be afforded. Without that, workers seeking better compensation will be incentivised to move to countries where the work-output balance is structured more favourably. A shallow focus on a 'work-life' balance will always lose to a deeper focus on a 'work-output-life' balance. It is what you produce, and not the hours you expend, that will enable you to have a sustainable balance in your life.
The sudden arrival of new technologies that replaces some work as we know it can complicate the picture.
Technology, robots and AI all seem to capture the benefits for 'capital' rather than labour. When autonomous vehicles arrive [soon], and it will be services like Uber who launch them first, although trucking companies will be fast followers. The cost of delivering stuff will fall. (What consumer will pay extra just so cars or trucks have human drivers?)
It used to be that when a worker's income rose they could choose the number of hours they worked. They had a choice between work-and-higher-income and work-and-sufficient-income. That is what we see in those northern European countries.
But if new tech captures all the gains, where will that leave workers? And how will we then measure productivity? Overall productivity may rise, labour productivity may rise even faster for those in work. But for the country as a whole, labour productivity may fall. We won't notice at first because we won't be counting the hours of those not working.
New Zealand faces these challenges from a strong position, even if our GDP-per-hour-worked is not the highest. We have a very healthy participation rate; over 70% of Kiwis aged 15-65 years are employed in the labour force. Most other countries (the US, Canada, Australia included) can only dream of such comprehensive participation. But we won't be immune to technology changes.
And the main gainers from those changes will be investors and other already high income earners.
Our challenge will not be to hold technology at bay. To do that will make our economy uncompetitive. Our challenge is going to be how to shift more people into jobs the world will pay a premium for.
Technology will make many things cheaper. We will still need to produce more per hour so we can have a choice as to how many hours we want to work.
And we will need to measure our outputs better. We know with some precision how many hours we all work. But we don't really know what we are producing as measured by GDP. It is such an old-fashioned accounting of 'output' that it misses much new and valuable work-output being done.