Bernstein's Michael Parker probes cryptocurrencies and asks if you're paying for everything via your smartphone, why does the currency in which you are paying matter?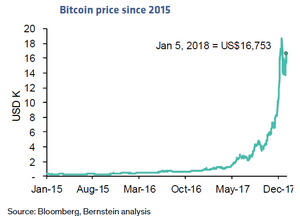 By Gareth Vaughan
In a world where you can pay for most things via your smartphone, does it matter which currency you are making payments in?
So asks Michael Parker, the ex-pat Kiwi who is the Hong Kong-based managing director, strategist and deputy director of research at Bernstein. In a research note published with colleague Jodie Huang, Parker looks at cryptocurrencies, acknowledging he has been a sceptic on the likes of bitcoin, ethereum and ripple.
His scepticism stems from three key reasons. Firstly, Parker says it seems to be impossible to assess demand for cryptocurrencies. Secondly, he says it seems almost as difficult to assess supply. And thirdly, Parker argues that for cryptocurrencies to make sense, a sufficiently large percentage of the population has to believe a global, widely adopted system of cryptocurrencies will be better than the current global, widely adopted system of fiat currencies.
Then there's the anti-establishment angle. Cryptocurrencies as a critique of the Quantitative Easing (QE) or money printing undertaken by major central banks in recent years, and the hold that the financial services industry is believed to have over the levers of political power globally, makes sense.
"[But] it would make a great deal more sense if we had spent the last 10 years in a global depression purchasing groceries with wheelbarrows full of fiat currencies. We did not. Yet the political events of 2016 hint at a rage consistent with a collapse in faith in the western financial system. Perhaps cryptocurrencies are best understood as the [financial] market equivalent of the Trump Presidency and Brexit. A percentage of the population (a surprising - to me - large one) in developed markets really does wish to burn it all down," says Parker.
"The one caveat to my initial scepticism is that, in 2018, cash is dumb and your phone is smart. When you can pay for everything on your phone, why does the currency in which you are making payment (dollar, pound, euro, renminbi, bitcoin) matter? And if it can be any widely-accepted medium of exchange, when you are buying coffee at Starbucks in Hong Kong with a French credit card, why does it have to be a fiat currency?"
"There are systemic risks that governments would have to address if cryptocurrencies become ubiquitous, - like the end of monetary policy. All that is for later. For now, the only thing that matters is that some percentage of the global formal economy (Exhibit 6 below) are staring at bitcoin and hearing the Call of the Wild. Revolutions have been built on less," says Parker.
Of the three reasons noted above as to why Parker has been sceptical about cryptocurrencies, he maintains the third reason is the most important. Delving into this in more detail Parker says the starting principle of cryptocurrencies and blockchain is that it's an unregulated system where the ledger, the blockchain, is maintained in multiple locations globally and updated continuously without the approval or control of any governmental body or authority.
"No government can seize cryptocurrency, or block a transaction, or act to depreciate its value. There is no reliance on a bank or banking system to transfer funds and therefore no ability of those banks to charge fees for transfers. The key question is whether you, and a large number of others, think all of that is a good thing," says Parker. 
"Yes, fiat currencies create havoc where the government issuing the currency expropriates value from those holding the currency. We have previously documented the 30-odd occasions over the last 40 years where governments have manufactured depreciations or devaluations and extracted value from their citizens in doing so (Exhibit 5 below)." 
"Obviously, anyone holding a large percentage of their net worth in Argentine pesos in 1982 or 2002, the Mexican peso in 1982 or the Russian ruble in 1998 would feel aggrieved and very sympathetic to the idea of a cryptocurrency that operates beyond the reach of any government. And it happens closer to home too. The British pound exited the Eurozone's Exchange Rate Mechanism in 1992 and depreciated under an attack on the Bank of England orchestrated by George Soros. The loss of value against the dollar was 29.2% at the most extreme and the currency did not fully recover until 2006," says Parker.
"Maybe this is the Rorschach test: to me, this fear of government action to expropriate value from citizens feels like aluminium-foil-on-the-head paranoid… although I have lived through two of them (New Zealand, 1984; QE). What is not theoretical is the fact that - according to The New York Times - the world's most successful cryptocurrency investors, Cameron and Tyler Winklevoss, secure their keys to their bitcoin wallets by cutting up print-outs of these numerical 'keys' and then leaving them in envelopes within safe deposit boxes around the US, ensuring a single thief would never have the entire key," writes Parker. 
"At least when I consider the likelihood of these two risks playing out - a libertarian fever dream of a mendacious government seizing assets from the citizenry versus a bad actor thwarting a Cluedo-level of security and stealing a billion-dollar fortune - it makes me want to continue throwing sticks at zebras and simply accept I will inevitably be eaten by a lion. But maybe that is just me."