RBNZ not giving much thought to how cryptocurrencies could impact financial stability, despite comments from the Bank for International Settlements urging caution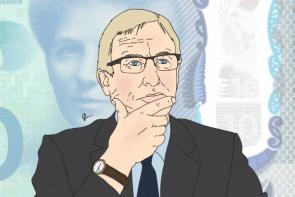 Acting Reserve Bank Governor Grant Spencer has dismissed the risk of cryptocurrencies to New Zealand's financial stability, saying bitcoin and other cryptocurrencies are just "a bit of a sideshow."
This comes just days after the Bank for International Settlements (the central banks' bank) general manager Agustin Carstens warned that authorities must be "prepared to act against the invasive spread of cryptocurrencies."
"The meteoric rise of cryptocurrencies should not make us forget the important role central banks play as stewards of public trust," Carstens said in the lecture. "Private digital tokens masquerading as currencies must not subvert this trust."
Overnight Reuters reported that officials from the world's biggest economies will discuss the impact of digital currencies at next month's G20 meeting in Argentina and are likely to signal a more coordinated approach to their regulation. And Bloomberg reported the European Union has agreed to bring virtual currencies under the jurisdiction of anti-money-laundering legislation, which will require marketplaces to verify the identity of their customers.
But Spencer did not appear concerned when fielding questions about cryptocurrencies' during Thursday's Monetary Policy Statement press conference.
"We're not worried that [cryptocurrencies] are a threat because at the end of the day it's a very small market."
He says the equity and bond markets, for example, are large and have impacts on the real economy. "But at least to date, the cryptocurrency markets are really quite small."
Spencer says cryptocurrencies receive a lot of media coverage but "are a bit of a sideshow."
He says the Reserve Bank is not monitoring for any impact from cryptocurrencies on financial stability in New Zealand – "we see what's happening, but it's really a side interest."
Hours later, the Acting Governor was making similar comments in the finance and expenditure select committee briefing.
"We couldn't finish this conversation without talking about cryptocurrency – what's your take?" asked National MP Andrew Bayly.
Spencer reiterated that the Reserve Bank did not see it as a systemic risk, but his Deputy Governor Geoff Bascand suggested the central bank was interested in the innovation side of the cryptocurrency market.
"We do think about it in a broader financial innovation [sense], with some of the technology behind it and some of the dynamics of the financial sector – blockchain, for example."
Late last year, Finance Minister Grant Robertson and Opposition leader Bill English were singing a similar tune.
English said the interesting thing about digital currency is how the technology works and how it is "going to change all our financial services – including the way currency works. That will be fascinating over the next five years."
Robertson agreed that blockchain could change how financial systems work.
"We want to see good healthy competition in our banking sector. That's part of the job of the [Reserve] Bank to help facilitate that, but also regulate it responsibly."
*This article was first published in our email for paying subscribers early on Friday morning. See here for more details and how to subscribe.