An MBIE report shows the projected infrastructure investment pipeline is lacking, and critics are pointing the finger at the Government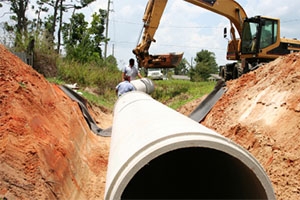 The Government needs to "move up a gear with urgency" after a new report revealed a lack of infrastructure investment raises "serious questions about the country's ability to service new housing."
The annual National Construction Pipeline report, commissioned by the Ministry of Business, Innovation and Employment (MBIE) shows infrastructure investment projections are down dramatically compared to last year's numbers.
National leader Simon Bridges says the report is concerning and shows a "lack of leadership" from the Government.
The MBIE report says infrastructure activity nationally is expected to grow by less than previously forecast.
Last year's report expected 6% infrastructure growth, where the actual recorded activity was a 3% decrease.
"[This report] highlights the problem of uncertainty in the infrastructure sector and raises serious questions about New Zealand's ability to service new housing," says Infrastructure New Zealand chief executive Stephen Selwood.
He adds that while the research indicates an increase in capital intentions in the near term, it also reveals a subsequent drop-off from the beginning of 2021.
"Putting the initial bump aside, overall infrastructure capital expenditure is forecast to flatline over the next five years."
ANZ has also recently expressed concern about the pipeline of infrastructure in New Zealand.
A report found that because of under-investment, "infrastructure spending needs to be urgently undertaken on a range of fronts."
It revealed that historically, infrastructure investment had not kept pace with population growth.
Selwood says more needs to be done and has a bleak warning.
"Auckland, a city buckling under the pressure of growth compounded by decades of infrastructure underinvestment, will, even with major government investments announced to date, fall in real terms over the next five years."
But the MBIE report is not all bad news.
"Over the next six years, the number of dwelling units consented is forecast to increase by 39% to a forecast high of 43,000 dwelling units in 2023."
The report says in 2018, dwelling unit consents are expected to go past the 2004 peak of 31,423 dwellings and grow year-on-year throughout the forecast period.
"This is considerably higher and longer-term dwelling growth than was forecast in the 2017 report."