Minister of Housing Phil Twyford eyes increase to tenancy termination notice periods, 'no cause tenancy terminations' and limiting rent increases in shakeup of the Residential Tenancies Act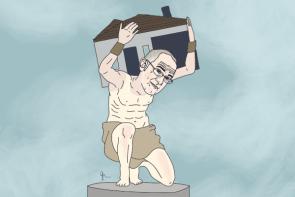 The Government is appealing to the public and asking for feedback on its plans to shake up the Residential Tenancies Act.
In a discussion document, Housing Minister Phil Twyford outlines a number of ways the Government is looking at updating the law.
These include ending "no cause tenancy terminations," increasing the notice period landlords must give in order to terminate a tenancy to 90 days (up from 42), and limiting rent increases to once a year.
"We want to strike a balance between providing tenants with security of tenure and allowing them to make their house a home while protecting the rights and interests of landlords."
The reform will not be looking at rules around bond or composition and jurisdiction of the Tenancy Tribunal.
National's Housing Spokeswoman Judith Collins says the proposal is a "knee-jerk and uninformed decision" that won't solve any problems.
"By limiting rent increases to once a year, landlords will be forced to raise rents higher and sooner, meaning tenants will actually be paying the same or more in the long run."
She says it is important to strike a good balance between landlords and tenants but so far "Twyford's decisions seem to result in both parties losing out."
Twyford says New Zealand's tenancy laws are outdated, given one-third of all Kiwis are now renting.
The current law came into effect more than 30 years ago, but Twyford says the housing market is a much different place today.
The proportion of households renting has increased from 23% in 1991 to 33% in 2017, while the rate of home ownership in New Zealand has dropped from a peak of 73% in 1991 to 63% of households in 2017, the lowest since 1951.
"Our tenancy laws are antiquated and don't reflect the fact that renting is now a long-term reality for many of our families."
Twyford is urging landlords, tenants and other interested people to have their say on the proposals to reform the law.
The Government has been talking about amending the law for most of its tenure in office.
In March, Twyford told media he would be looking at using the amendment to scrap letting fees.
"Letting fees are an unjustifiable tax on renters," he told media.
But Twyford says the new rules will benefit both renters and landlords.
"The reform is looking at both sides of the relationship. In addition to specific proposals on topics such as security of tenure, general questions are asked about the responsibilities that tenants and landlords have and whether these need to be reconfigured to give each party greater confidence in the relationship."
The Ministry of Business, Innovation and Employment (MBIE) seeks written submissions by 5pm on Sunday 21 October 2018.
Here is the full list of proposed changes to the law:
·         Ending no cause tenancy terminations while ensuring landlords can still get rid of rogue tenants
·         Increasing the amount of notice a landlord must generally give tenants to terminate a tenancy from 42 days to 90 days
·         Whether changes to fixed-term agreements are justified to improve security of tenure
·         Limiting rent increases to once a year
·         Whether there should be limitations on the practice of 'rent bidding' 
·         Whether the general obligations that tenants and landlords have remain fit for purpose
·         Better equipping tenants and landlords to reach agreement about pets and minor alternations to the home
·         Whether further controls for boarding houses are needed to provide adequate protection for boarding house tenants
·         Introducing new tools and processes into the compliance and enforcement system.