Wall Street flails around; US consumer sentiment drops; China industrial profits fall; yuan rejected as a global trade currency; NZ Boxing Day retail strong; UST 10yr 2.74%; oil down and gold up; NZ$1 = 67 USc; TWI-5 = 71.6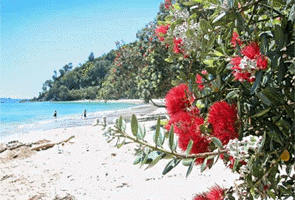 Here's our summary of key events over the holiday that affect New Zealand, with news market pricing seems lost and flailing around is the result. It's a good time to be on holiday.
The yo-yo continues on Wall Street. Recall on Monday the S&P500 was down -2.0%. Yesterday brought a spectacular recovery of +4.9% (although only taking it back to where it was on Thursday, December 20). But today it is down again and in mid-day trade is -2.4% lower, exactly where they were on Christmas Eve and a -12% fall for 2018. The volatility index is spiking on the tumult. Clearly markets are having trouble pricing immediate prospects. There is no progress on the US Federal Government shutdown. Actually, a lack of published public data could make for even more volatile market movements.
A key private sector report shows consumer sentiment is fading in the face of all this turmoil. The Conference Board's consumer confidence index for American households fell in December, weighed down by weaker expectations for economic growth and the heightened market volatility. It was a rather large fall.
The typical US 30yr mortgage rate is 4.55% (plus 0.5 points), and for a 15 year mortgage the rate is 4.01% (plus 0.4 points). These are their lowest rates since September 2018
In China, industrial profit growth a slipping fast. The latest year-on-year data shows a +11.8% rise, but that is down from +13.6% in October, and a hefty drop from +21.9% on November 2017. That all means that in November industrail profits actually fell -1.8% - and that is just according to official data which is likely to be sanitised in some way.
Mortgage rates offered to Chinese home buyers are slipping. But they are still paying more than 5% for fixed rates to 3 years. Specials of about 4.9% for five years are now appearing however in an effort to juice up their fading housing markets.
The Chinese yuan's share as an international payments currency continues to slip. A year ago it had a most unimpressive 1.41% global share and in September it was down to 1.26%. The latest data for November has seen it slip even further to 1.16% - and almost 80% of that with Hong Kong. The USD is still top dog, with the Euro gaining.
In Australia, the housing market is powered by variable rate mortgages. They are currently paying between 3.82% to 4.00% for this borrowing.
Kiwi spending on Boxing Day was up strongly this year, rising by +11% compared to Boxing Day 2017. The 2.5 mln transactions processed on Wednesday were valued at $140 mln with nearly half via debit cards/EFTPOS and slightly more than half on credit cards. Boxing Day is of growing significance to core retailers. Spending within the Core Retail sector excluding Food and liquor merchants and excluding Hospitality merchants totaled $73 mln making Boxing Day 2018 the fourth busiest day of the year, surpassed only in the Thursday to Saturday before Christmas and exceeding the $70 mln on Black Friday.
The UST 10yr yield is at 2.74%, and a lot lower from the spike higher yesterday when it reached 2.81%. But their 2-10 curve is holding up at +18 bps. The Australian Govt. 10yr is now lower at 2.37%, the China Govt. 10yr is sharply lower at 3.30%, while the New Zealand Govt. 10yr is at 2.43% and little changed.
Gold is still rising on the volatility and is now at US$1,277, another +US$7/oz gain making it +US$20 since Christmas. We haven't seen gold at this price since June 2018.
US oil prices are lower today at just over US$45/bbl while the Brent benchmark is just unber US$53/bbl.
The Kiwi dollar starts today lower again at 67 USc. On the cross rates we are at 95.4 AUc, and weaker at 58.5 euro cents. That puts the TWI-5 at down to 71.6.
Bitcoin is virtually unchanged at US$3,746. This rate is charted in the exchange rate set below.
The easiest place to stay up with event risk today is by following our Economic Calendar here ».