Wall Street rises strongly on China trade hopes; Fed more cautious; US consumers even more cautious; Fitch sees good 2019 growth; ATO warns on SMSF risks; UST 10yr 2.79%; oil rises and gold drops; NZ$1 = 67.5 USc; TWI-5 = 71.7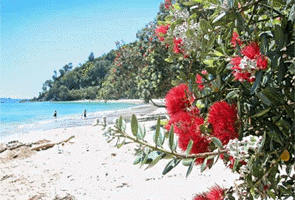 Here's our summary of key events overnight that affect New Zealand, with news the week is ending on an upbeat note.
In equity and financial markets risk sentiment has improved today, on the basis that the US and China are now expected by traders to patch things up soon. The S&P500 is up a strong +1.3% in mid-day trade on Wall Street and that follows European indexes that were up more, almost +2%. And yesterday, Tokyo, Hong Kong and Shanghai all gained more than +1.2%. Bond prices have fallen.
Helping somewhat were remarks by the head of the New York Fed who said now is the time for policymakers to show "prudence, patience, and good judgment" - interpreted to mean a slower policy neutralising track is in place (ie fewer rate hikes in 2019).
And perhaps supporting that is that American consumer sentiment has tumbled in early January to its lowest level in more than two years ago amid fears an ongoing partial shutdown of the federal government and financial market volatility would slow the economy. This survey came in at an index level of 90.7 and down sharply from the December reading of 98.3. Analysts had expected only a fall to 96.8, so this is a major miss and a sharper fall in sentiment than anyone expected.
In December American factory production surged amid broad-based gains in output. Industrial production was up an overall +4.0% year-on-year but it was led by 'mining' (+13.4% = oil and coal) and 'materials' (+6.1%).
The latest estimate for US Q4-2018 growth is +2.8% but a lack of data from the shutdown makes these forecasts more brittle. And there is no progress on resolving the shutdown and the head of the NY Fed says it is starting to hurt growth.
Canada's inflation rate rose to 2.0% in December, higher than expectations of +1.7%.
Analysts at Fitch Ratings say a series of recent weak data releases have dented their 2019 world trade growth forecasts, but not significantly. They are still forecasting that 2019 growth will be above trend based on the US (+3%) not slipping as far as some think, and China holding above +6% based on active policy-easing measures. They do see the EU much weaker early on, but expect them to recover soonish but still be below +1%.
In Australia, they have long allowed "self-managed superannuation" which has turned into a vehicle to put your retirement funds into residential investment property. The regulator (The ATO) is now worried about the effect of this because most of this is a leveraged investment - and the underlying security is declining in value. That risks the base retirement savings, especially if lenders find a loan breach and call in the loan via a mortgagee sale. The ATO says almost 6% of Aussie Super in SMSF structures is at risk, some compounded by the fact they involve personal guarantees. We are talking about more than $42 bln exposed of the AU$755 bln in SMSF plans (which more than a quarter of the AU$2.8 tln in Australian super schemes), and the ATO says this is now a systemic risk. Westpac is the most exposed.
Wholesale interest rates are off the canvas today. The UST 10yr yield is strongly higher today at just on 2.79% and a +10 bps gain for the week, most of it overnight. Their 2-10 curve is unchanged however at +18 bps. The Australian Govt. 10yr yield is however unchanged at 2.33%. The China Govt. 10yr yield is unchanged at 3.12%, and the New Zealand Govt. 10yr yield is at 2.35%. Local swap rates firmed quite noticeably yesterday and back to levels at the start of the week..
Gold is down -US$10 to US$1,282/oz.
The VIX volatility index has pulled back again this week and is now at 17. The average over the past year has been 17 however, so this level is now not that unusual given that 'uncertainty' was a feature of 2018. The average for 2017 was only 11. The Fear & Greed index we follow has moved sharply away from 'fear' and is now balanced at 'neutral'. This is a big move.
US oil prices have moved strongly higher are now just under US$53.50/bbl while the Brent benchmark is just under US$62.50/bbl. Both are gains of more than +US$1/bbl overnight. The US rig count fell by -2% last week. China is ramping up its demand for natural gas which is likely to have a major effect on that industry worldwide.
The Kiwi dollar starts today little changed from yesterday at 67.5 USc but which is almost a -¾c loss for the week. On the cross rates we are softer too, down to 94.1 AUc, but little-changed at 59.4 euro cents. That pulls the TWI-5 down to 71.7 and almost a -1% fall for the week.
Bitcoin has changed very little this week and is holding its recent lower level at US$3,605. This rate is charted in the exchange rate set below.
The easiest place to stay up with event risk today is by following our Economic Calendar here ».