Tax Working Group details how the Government should extend the taxation of capital gains and reduce income tax
The Tax Working Group (TWG) recommends the Government extends the taxation of capital gains and reduces income tax.
The 11-member group, chaired by former Labour Finance Minister Michael Cullen, has delivered its final report detailing a suite of ways the Government could do this. 
As a starting point, the TWG suggests gains and losses from all types of land and improvements, shares, intangible property and business assets be taxed.
It recommends the "family home" and personal use assets like cars, boats and other household durables be excluded.
Recognising that broadly taxing more income from capital gains would raise about $8.3 billion of tax revenue over five years, it has put four packages on the table suggesting ways to offset this. These packages (detailed below) are broadly revenue-neutral and include income tax cuts but focus on different themes.
Coming back to the extension of capital gains taxation, these are the characteristics the TWG suggests this has:
- Taxing gains and losses after a set implementation date or 'Valuation Day', so gains will only be considered from the time a law change comes in.
- Imposing the tax on a realisation basis in most cases. IE imposing the tax when an asset is sold.
- Having a rollover treatment for certain life events (IE death and relationship separations), business reorganisations and small business reinvestment.
- Taxing gains within the current income tax system at a person's marginal rate.
- Having no adjustments for inflation.
- Ringfencing capital losses for portfolio investments in listed shares (other than when they are trading stock), associated party transitions and losses from Valuation Day assets.
- Giving taxpayers five years from Valuation Day to value their assets.
Extending capital gains taxation is projected to generate between 1% and 4% of total yearly tax revenue in the first 10 years.
It is expected to hit residential property investors the hardest, followed by those invested in shares.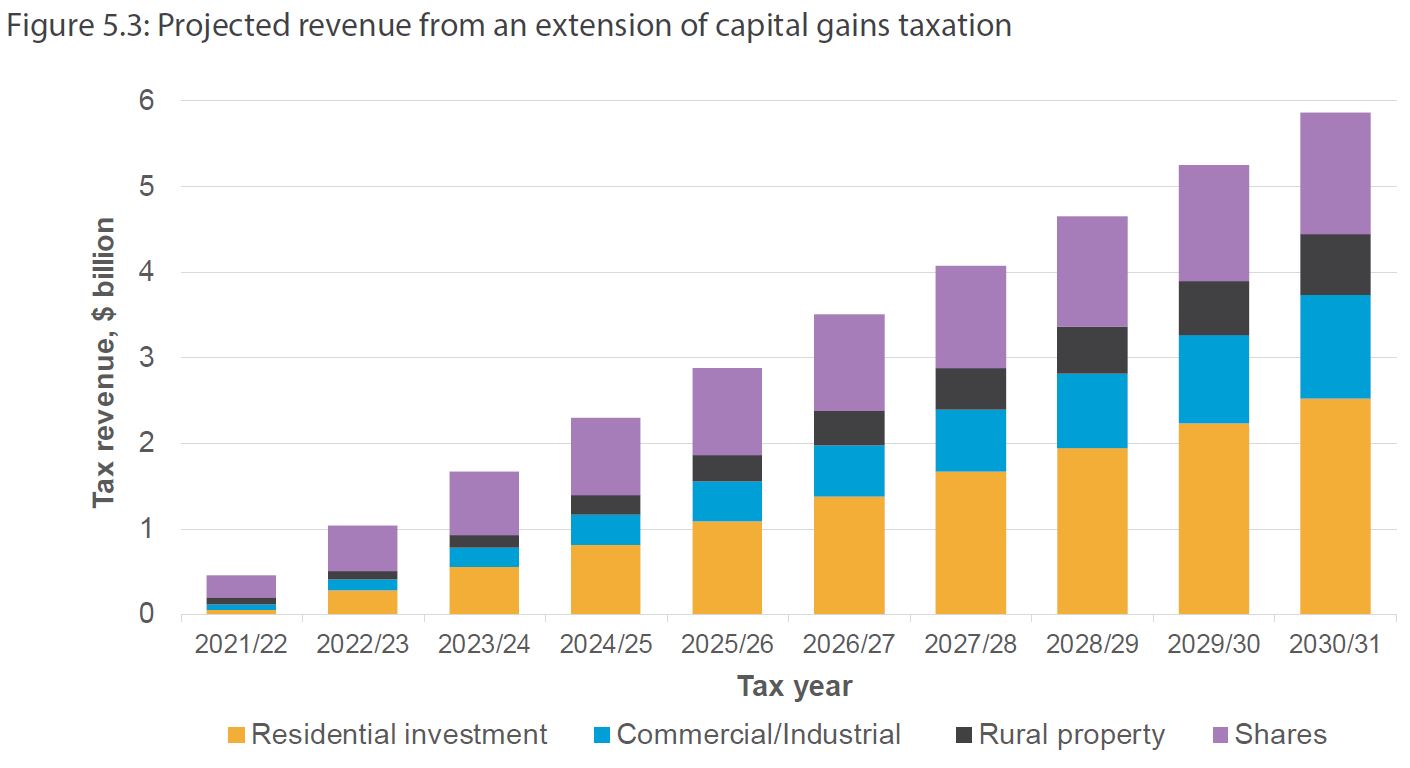 The TWG doesn't believe the extension of capital gains taxation would have a huge effect on housing affordability. 
It believes it would lead to some "small upward pressure on rents and downward pressure on house prices". See this story for more on this.
It's likely an extension of capital gains taxation would however be "highly progressive". The TWG expects that on average, households with higher net worth would pay a higher amount in tax as a percentage of disposable income than lower net-worth households.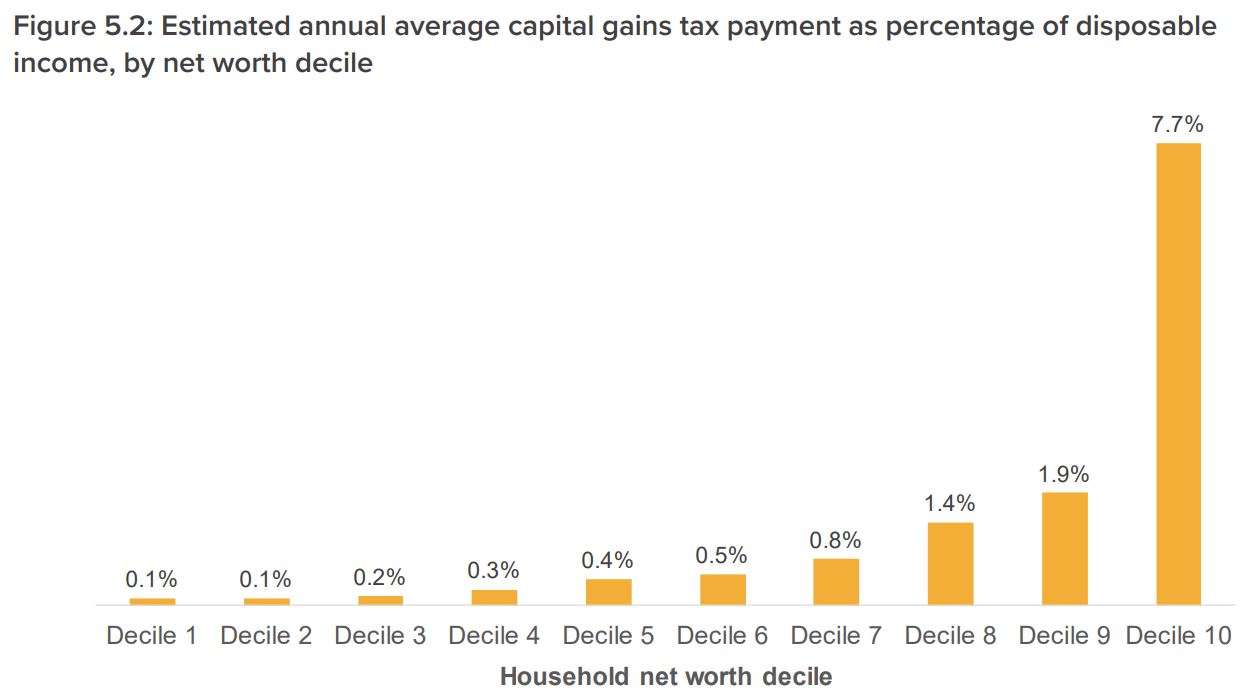 Cullen says: "There's a fear [extending the taxation of capital] may discourage investment, but if you look offshore at countries with capital gains taxes – for example Denmark with a rate of 42%, UK, US, Australia – in fact almost every developed economy, there is no relationship between capital gains taxation and their levels of investment and their levels of productivity. Indeed there is a relationship between their overall levels of taxation and their levels of productivity and incomes."
Cullen does however recognise it could be problematic in encouraging people not to sell their assets when they should, which would affect economic efficiency.
Importantly, the TWG says the Government could choose to extend the taxation of capital gains to some asset classes only.
"The Government also has options about how to stage the timing of introduction, whether to phase in asset classes, whether to grandparent some or all asset classes and whether to apply the deemed return method," the TWG says.
Here are some examples the TWG has provided of how it could work:
Property

Mary owns a few rental properties. She bought one for $500,000 in 2017 and sells it for $800,000 in 2023.

Let's say new tax rules come into force on 1 April 2021 and Mary decides to accept the next Council Valuation of $700,000 as the value of her house.

Mary won't be taxed on $200,000 gain that occurred before 2021. It's only the $100,000 gain after 1 April 2021 that matters.

Mary spent $70,000 on renovations after the date of the council valuation, but ahead of the sale so her net gain is $30,000. Mary doesn't earn any wages, but she receives $60,000 each year from her rental income.

So how much tax does Mary need to pay in 2023 when she sells the property?

Under the current rules, Mary is only taxed on her $60,000 of rental income and not the $30,000 she earns from selling the property, meaning she pays $11,020 in tax.

Under the new proposal, Mary would be taxed on $90,000 of income, because her net gain from selling her property is included. This means she pays $20,620 in tax – exactly the same as the amount of tax paid by someone who earns $90,000 in wages.

Shares

Wiremu bought some shares for $40,000 after the new rules had been introduced. A few years later, he sold them for $50,000. That's a capital gain of $10,000. Wiremu also earns $48,000 in wages, so his total income in the year he sold the shares is $58,000. Wiremu's employer would have already sorted the tax on his wages, paying $7,420 to Inland Revenue.

At today's rates, his extra $10,000 would be taxed at 30%. Wiremu will have $3,000 more tax to pay, because of the gain from the shares, for a total tax bill of $10,420.

That's exactly the same as someone who earned $58,000 just in wages.

Managed funds

Alex's KiwiSaver account increased by $5,000 during the year to $105,000. Her scheme provider took care of the tax she owed, according to the PIR tax rate she selected earlier.

Her tax depends on the kind of assets her fund is invested in.

Let's say the value of the parcel of Australian and New Zealand shares in her KiwiSaver increased by $1,000 over the year and her tax rate for KiwiSaver was 28%. Her scheme provider would pay $280 from her account to Inland Revenue. If those shares had a bad year and dropped in value by $1,000, then Alex would get $280 back from Inland Revenue.
Looking at the bigger picture, here is a summary of the four packages the TWG suggests complement the extension of a tax on capital: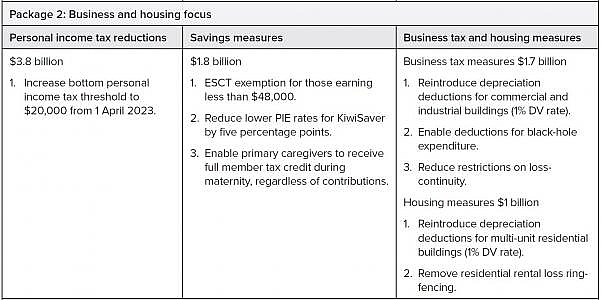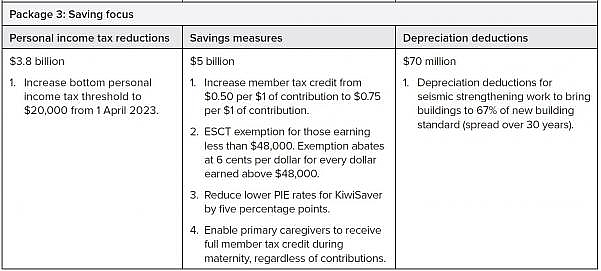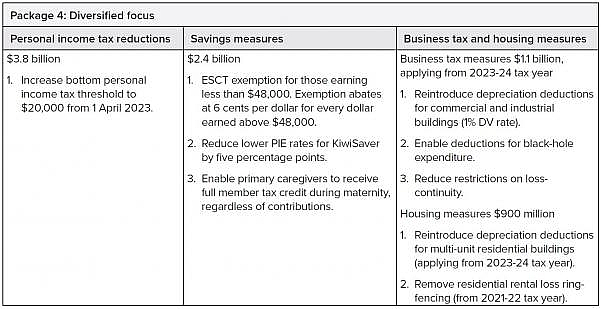 The Government, which has had the report for a few weeks, will release its full response in April.
The hurdle it's expected to face is getting NZ First to support a capital gains tax, as it has previously spoken out against it.  
The Government had committed to passing legislation to implement policy changes arising from the report before the end of the Parliamentary term. However no policy measures will come into force until April 1 2021, meaning people will be able to vote on any decisions the Government makes on tax. 
See the full media statement from the TWG here, and the Government's response here.