Construction of a major public transport project is set to start in East Auckland next month but some people remain unconvinced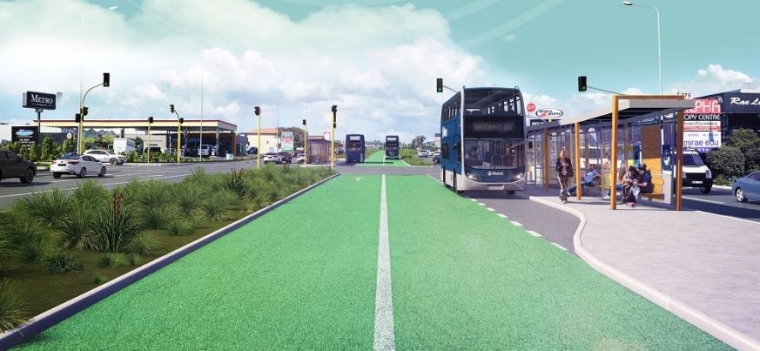 Construction of Auckland's $1.4 billion Eastern Busway from Panmure to Botany will start next month, and according to the Auckland Council it's the biggest public transport project in the region after the City Rail Link.
The Council says the Regional Fuel Tax will provide at least $700 million of the project's funding.
Transport Minister Phil Twyford and Auckland Mayor Phil Goff signed off a $100 million contract with Fulton Hogan in January for the first stage of the project which will be from Panmure to Pakuranga. It is projected to cost $275 million and is expected to take two years to complete.
The Eastern Busway will consist of the busway between Panmure and Botany, new stations at Pakuranga and Botany, a new bridge over the Tamaki estuary and a flyover at Pakuranga's Reeves Road. The first section of the project from Panmure to Botany is expected to be finished by 2025, but work on the new station at Botany isn't earmarked to start until 2026.
Auckland Council claims the Eastern Busway will generate around $680 million of additional GDP over a 40-year period due to reduced journey times and increased access for people to other parts of the Auckland region.
Phil Goff championed the project in January when he signed off the contract for the first stage of works.
"For too long we have under-invested in public transport for east Auckland. As the area has grown, the roads have become more congested without suitable alternative transport options. The $1.4 billion being invested in the Eastern Busway from Panmure to Botany helps rectify this. It will be transformational for the area."
But local councillor Sharon Stewart says she has some major reservations about the project.
"I'm actually quite concerned about it to be quite honest," Stewart says. "I think we need a new flyover before we start work on a busway."
She says from next month motorists will lose one lane of traffic on Pakuranga Road to make way for the construction of the busway.
Auckland Transport (AT) plans to introduce a T2/Bus Lane during peak hour on Pakuranga Road. This temporary westbound lane for buses and vehicles carrying two or more people will run between Highland Park's Dunrobin Place and Pakuranga's Gossamer Drive and is expected to be up and running by next month.
"They are taking a lane of traffic out of Pakuranga Road and it's one of the busiest roads in New Zealand. All the lanes are chocka at peak times and I know there is some concern about it."
She says a number of East Auckland residents have to drive to their places of work in different parts of the city and for them public transport isn't viable at this stage. Stewart says AT would need to provide express buses to set destinations to make things work.
"I think public transport is great, but it's only great if you've got transport to where you need to go at the right time. But if you have to take three or four modes of transport to get to work it's not going to work."
She says a number of people attended a public meeting a month ago where they aired their concerns.
"It's become a bit of a nightmare for people. They are doing it before they've got everything in motion and that's a big concern."
The temporary T2/Bus Lane will remain in place during the two year construction phase of the Eastern Busway. The lane is part of a wider traffic management plan which includes a Park and Ride from Lloyd Elsmore Park and express buses to Panmure Station.
AT says it investigated various options and introducing a T2/Bus Lane is the best way to deliver better journey times through the construction zone.
It says its traffic management options are designed to minimise the impact of construction by providing more choice, and they will be monitored throughout the work, with the appropriate changes made.