Forestry Minister Shane Jones talks up developing Gisborne as a hub for processing wood for both international and domestic markets as pre-Budget forestry announcement is unveiled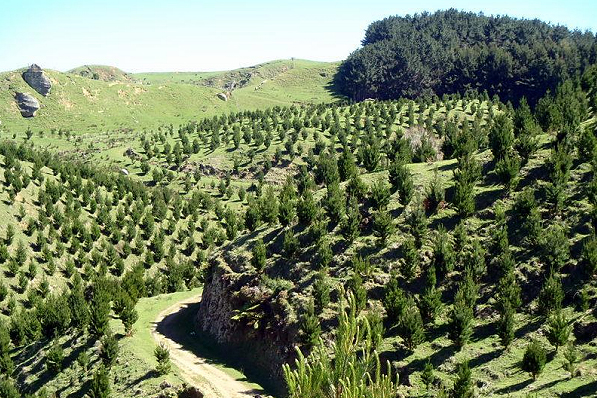 Forestry Minister Shane Jones says he's keen to see Gisborne developed as a hub for processing wood for both international and domestic markets.
It follows his announcement on Thursday of a $58 million funding boost in this month's Budget for Te Uru Rakau (Forestry New Zealand). The Crown entity was established last year and is leading the Government's programme to plant one billion trees in New Zealand by 2028.
According to Te Uru Rakau (Forestry New Zealand) wood products are now the country's third largest export earner – behind dairy and meat. And forestry is a major employer in regions and contributes around $6.4 billion a year to the economy in export earnings.
Jones says the new funding will allow Te Uru Rakau to increase its regional presence to ensure the industry and landowners have the support they need. It will also see the agency focus on developing a sustainable, domestic forestry workforce.
"A key part to achieving our vision for the sector will be delivering in the regions and we will see a new premises built in Rotorua – the heart of the forestry sector – showcasing the use of wood in construction and accommodating Te Uru Rakau's growth," Jones says.
"Along with this, we will see Te Uru Rakau lead important work to capture and add value to the sector. They have been tasked with strengthening the domestic market for wood products and working closely with the sector to support investment in forestry."
Jones says this will include increasing the amount of wood processed in Gisborne. He says some of the $58 million will be used to carry out analytical work and come up with an investment strategy for the proposal with New Zealand Trade and Enterprise (NZTE).
"But to incentivise the processing of wood there we need to enhance the transmission of electricity into the region, the port will need to be upgraded and so will the rail line from Gisborne to Wairoa. Because manufacturers are unwilling to move and invest millions in that region unless there's infrastructure there."
Jones admits it will take a lot of work to make Gisborne a viable hub for the industry, but says he plans to work with the affected stakeholders to see what funds can be accessed from the Provincial Growth Fund to help pay for it.
"I accept this is a medium to long term strategy," he says.
Jones says he's aware of the pressures the domestic wood processors are facing from overseas operators paying top dollar for New Zealand's forestry products. But it is important that local jobs are created in wood processing, instead of just shipping the raw logs overseas.
Of the 33 million tonnes of logs that are produced every year, 20 million tonnes ($3.3 billion) are shipped overseas as raw logs. And only 13 million tonnes is being processed here in New Zealand into finished timber and/or products.
Wood Processors and Manufacturers Association of NZ (WPMA) chief executive John Tanner says the amount of raw logs being shipped out of the country every day is a problem for the local industry.
"The issue we've had for a while is the very high prices for raw logs and they have been like that for four or five years now. That stimulates the demand for them and the domestic processors here then have to pay those high international prices."
Tanner says the agreement the Government signed this week with China is a step in the right direction.
"In the industry we've been arguing for more logs to be processed locally and I think the agreement signals this government's intent on doing just that," he says.
Jones signed an agreement on Monday with Zhang Jianlong from China's National Forestry and Grasslands Administration. He says the deal will pave the way for greater trade and co-operation between the New Zealand forestry sector and China.
"The updated arrangement supports and strengthens links between government, industry and research institutes in New Zealand and China. It provides a framework to address matters such as sustainability, wood processing and utilisation, and trade and investment," Jones says.
A report released last year by the Forestry Owners Association titled: Facts and Figures 2017/18: New Zealand Plantation Forest Industry says New Zealand is now the second largest log exporter in the world to China after Russia. In the year ending December 2017 we exported $2.8 billion in forestry products to the country.