Auckland Council approves annual budget with Mayor Phil Goff wanting to focus on the positive as Councillor Mike Lee suggests the financial reality will emerge after the election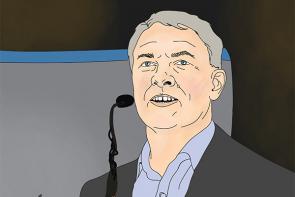 Auckland Council have voted to approve Mayor Phil Goff's 2019/2020 Annual Budget proposal.
Under the plan Aucklanders will see their rates go up by an average of 2.5% across the city. The budget also includes $12 million more for public transport costs and an additional $14 million for the refurbishment of the Aotea Centre. Councillors have also approved $5 million to go towards a new centre being built by the City Mission for the homeless.
The Auckland Council's Governing Body approved Goff's budget plan on Wednesday, while councillors Mike Lee, Christine Fletcher, Greg Sayers and Sharon Stewart all voted against it.
In his recommendations Goff said Auckland Council's finances will be tight over the next four years following the $1 billion City Rail Link (CRL) cost blow-out. And the council will have "limited capacity" to deal with "external shocks" that may occur.
The City Rail Link project is being jointly funded by the Government and Auckland Council and was originally expected to cost $3.4 billion. But last month City Rail Link Limited chief executive Sean Sweeney confirmed the new revised estimate for the project had ballooned out to $4.4 billion. Auckland Council has since approved a plan to make $500 million in cost savings to pay for its share of the cost overrun. 
But in a Finance and Performance Committee debate prior to the Governing Body's approval of the budget Lee said he couldn't vote for it.
"I can't support this particular budget. It isn't good enough, Aucklanders deserve better than this sort of mediocrity," Lee said.
"The trend we see here of unpredicted expenditure, increasing debt, a lower than predicted income is very troubling. Without getting into the politics of the situation it really does reflect on the structure of the super city itself and whether it is succeeding or not. And I believe in the opinion of most Aucklanders that the super city isn't succeeding, in fact it's failing.
"When it comes to the CRL which is a key project for this council, we've had a billion dollar blow out. I'm also terribly troubled that this won't be the end of it. Unless there's a major change in attitude, a major change in the attitude of the leadership of this council, both political and administrative, we're going to keep getting these blow outs."
And the former Auckland Regional Council chairman said he's concerned about the council's finances going forward.
"In terms of this particular budget, this particular annual plan I have to say that all I can see here is a trajectory towards failure. In other words if this was a private company, and a private company of this scale, the metrics we have the numbers we've been given, the trajectory we are on is a trajectory for going bankrupt," Lee said.
"I'll predict this, there's going to be a very different story in a few short months about the real financial crisis Auckland is in. Once the election is over the reality will be revealed and it won't be pretty and people of Auckland will not be happy about it."
Lee said while Goff is proud to say he has kept the average annual rates rise to 2.5%, Aucklanders also have to pay a regional fuel tax and targeted rates that other New Zealanders don't.
But Goff was optimistic despite the funding squeeze the council is facing over the next four years which he outlined in his budget proposal.
"I want to focus on what's positive about our city. As this is a city that's booming," Goff says. "Would I like more from central government? I would always like more from central government.
"But being a governor is about keeping your feet on the grounds when it comes to fiscal responsibility because the one thing our voters won't forgive us for is if we blow the budget. We know we've got to be fiscally responsible. We've kept our rates increases next to the lowest in the country.
"We'd all like to spend more, but never let us forget that the people who fund us, their rates come in four monthly instalments. They aren't wealthy people, they are struggling to meet their own budgets and they expect us to be reasonable and responsible in terms of rates increases."
"We have a transport network be built long after Robbie first proposed it, but we're finally getting there. I think today we should be celebrating what this city has achieved, we should be honest about the changes we're facing and they're the growing pains of a city that has never grown so fast before."
But in his budget proposal Goff said the council had received funding requests totalling $110.8 million over the next four years that it couldn't afford. 
"This cannot be accommodated within our 265% borrowing limit, where we have capacity for only $70 million," Goff said. "If the council were to agree to $70 million of additional spend this would reduce the available capacity entirely and leave the council unable to respond to any unexpected and urgent challenges that emerged in the near future."
Goff said, in addition to the council's commitment to the CRL project, some other major items have also come to light in the last year that have required additional funding from council. This includes over $100 million in additional capital expenditure for the America's Cup and the bailout package for the Eden Park Trust, which will cost $63.3 million dollars.