Even +20% growth by the challenger banks has failed to materially change the market dominance of the five main banks in 2017.
The strong are staying strong.
And their customers are sticking with them.
High levels of service, a fast shift to the convenience of online services, and a general inertia by customers has seen the big mortgage banks retain most of their mortgage share. Regulatory changes around LVR restrictions and speed limits have ensured the home loan landscape is restricted enough to allow no material threats to their market dominance.
Much of the challenger bank growth is on the back of 'investor' lending in the first part of the year, and that is something that was closed down in the second half.
Even among the majors, most were unable to grow outside the general market shifts. Perhaps the exception has been ANZ which has made meaningful 'progress' in its chase for larger mortgage market share. Their mortgage book grew by almost NZ$6 bln according to the latest RBNZ G1 data. Their lending for mortgages grew from 55.4% of all their lending to 57.5% in 2017, growth that far outpaced their main rivals.
Most New Zealand banks qualify to be labelled 'mortgage banks' - the exception being the BNZ. Most bank loans are mortgages, reflecting the dominance of residential property in the New Zealand economy. Here is the latest RBNZ data:
Proportion of mortgage lending of all lending
Mortgage
Market
 
as at June
  2017  
 2016 
Lending
Share
Growth
Main banks
%
%
$ bln
%
%
- ANZ
57.5
55.4
68.940
29.9
+9.4
- ASB
65.4
66.0
51.283
22.3
+7.3
- BNZ
46.4
46.2
36.618
15.9
+8.0
- Kiwibank
92.6
92.3
16.531
7.2
+7.0
- Westpac
60.1
59.7
46.576
20.2
+5.1
Weighted averages & totals, main banks
59.0
58.2
217.948
95.5
+7.6
 
 
 
 
 
 
Second tier banks
 
 
 
 
 
- Co-operative Bank
92.6
92.7
2.015
0.9
+15.7
- HSBC
37.7
36.4
1.491
0.6
+18.5
- SBS Bank
78.4
76.8
2.783
1.2
+21.6
- TSB Bank
82.4
80.9
3.970
1.7
+23.4
Weighted averages & totals, 2nd tier banks
65.1
69.2
10.259
4.5
+20.6

Source: RBNZ G1

 
 
 
 
 
This time last year we observed that mortgage interest rates were likely to rise in 2017. And they did. Most of the rise came early in the year and there was a slow and minor retreat in rate levels as the year wore on.
Market and regulatory conditions saw an unexpected trend however; the main bank rates were often very competitive with the challenger banks, and it has not been until December that the second tier banks have been able to restore their rate advantage.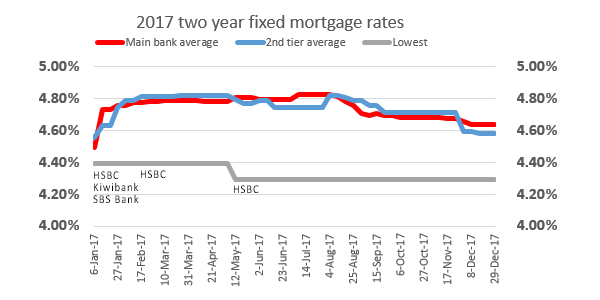 The market share pressure #1 ANZ has been able to exert on its main rivals has been intense. And it has been able to do this without compromising its carded offer rates. This pressure however has brought #2 ASB to the point where it has felt the need to open up an advertised rate advantage.
Just how different 2017 has been from 2016 can be seen from this chart.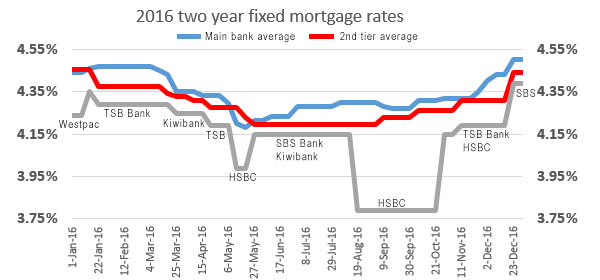 In terms of overall price competitiveness, here is how these banks positioned themselves on average over all of 2017, and at the end of the year.
Admitedly, this is for the popular two year fixed term, and not every bank chose to position its fighting rates at that duration (the Co-operative Bank as an example).
relative price competitiveness
2016 average
2017 average
year-end
year-end
two year fixed only
rate %
rate %
rate %
premium %
#9
Co-operative Bank
4.38
5.24
4.69
-0.55
#7=
ANZ
4.39
4.76
4.65
-0.11
#7=
Westpac
4.33
4.76
4.65
-0.11
#6
SBS Bank
4.25
4.75
4.69
-0.06
#5
BNZ
4.35
4.74
4.65
-0.09
#4
ASB
4.35
4.73
4.59
-0.14
#3
Kiwibank
4.30
4.71
4.65
-0.06
#2
TSB Bank
4.24
4.66
4.64
-0.02
#1
HSBC Premier
4.21
4.32
4.29
-0.03
The scale of the interest rate increase from 2016 is also evident in this table.
A mortgage may be a 'commodity' these days but price (as represented by carded rates) doesn't seem to change the borrower's choice of bank that much, certainly where the differences are very small.
But there has been one bank, HSBC Premier, that has offered up a substantial rate advantage - but only in return for customers with the very best financials. But given that this will be most borrowers who have had a mortgage for ten years or more, it is somewhat surprising their loan growth has only been +18.5% in 2017.
It seems very few of us will move even for a 0.35% benefit.