Chris Trotter asks whether Jacinda Ardern's government is a critical mass of talent, or a critical mess of failure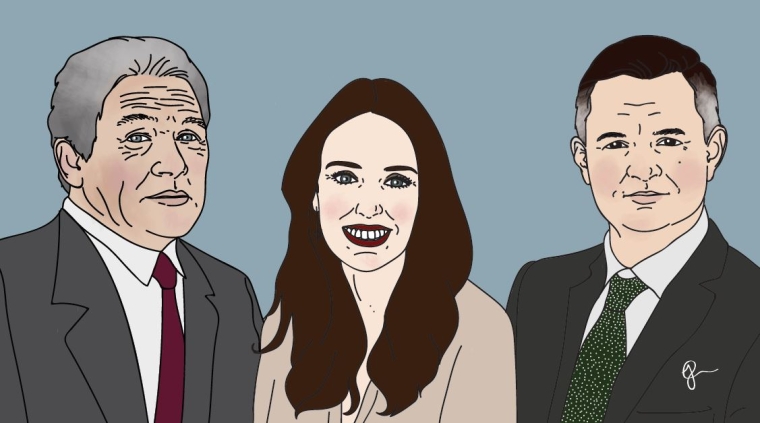 By Chris Trotter*
Sir Christopher Clark is one of Cambridge University's most arresting historians. The Sleepwalkers, his book about the outbreak of the First World War, belongs among those rare histories which set out to raise more questions than they can answer. I mention this Australian-born professor because I heard him say something recently, on a topic quite unrelated to the First World War, that provided me with the beginnings of an answer to a question more and more people are asking: "Why can't this government get anything done?"
In his History Channel series, The Story of Europe, Professor Clark discusses the Renaissance. What made it possible? He mentions the rediscovery of ancient texts, but considers that to be an insufficient explanation: "… another precondition was necessary, one which has always featured prominently in great cultural transformations; a critical mass of talented people among whom ideas … could fall on fertile ground and germinate."
It is Professor Clark's grasp of individual agency: on the importance of the right personalities being present at the right place, at the right (or wrong!) moment in time, that distinguishes his view of history from those historiographers who eschew the "great man theory" in favour of the relentless accumulation of economic and social indices. Though Clark is very far from being a Marxist historian, I suspect he would, nevertheless, concur with Marx the journalist, who, in 1852, wrote the following, oft-quoted, words:
"Men make their own history, but they do not make it as they please; they do not make it under self-selected circumstances, but under circumstances existing already, given and transmitted from the past. The tradition of all dead generations weighs like a nightmare on the brains of the living."
In the dark watches of the night, I suspect it is not the deeds of the dead generations that weigh upon the brain of Prime Minister Jacinda Ardern, but those of her colleagues in government who are still very much alive.
With every passing week, the combined effect of the Ardern Ministry's blunders, boasts and botch-ups makes the job of Simon Bridges and the National Opposition easier and easier. The legendary King Midas turned everything he touched into gold. The most common by-product of the present Coalition Government's hands-on exertions is considerably more malodorous and much less valuable.
The disaster that is KiwiBuild. The Capital Gains Tax debacle. Ms Julie Anne Genter's jihad against the private automobile. The persistence of child poverty. Rapidly fraying relationship with the tangata whenua – even with (or, perhaps, because of) the largest Maori Caucus in Labour's history. Mr Shane Jones' travelling circus of pomposity, pine trees, and provincial pork. The list goes on, each entry more demoralising than the last.
Small wonder that the Deputy-Prime Minister has taken to his bed, and angrily turned away the Deputy-Opposition Leader's offer of flowers.
Ms Ardern presides over a collection of parties, and individuals, that could not be further from Professor Clark's "critical mass of talented people". Crucially absent from the Coalition Cabinet is a fervent conviction that the realisation of their shared ideals is not only possible, but imminent. The mindset which allowed the men and women of the Renaissance to transform their world simply isn't there.
What makes this failure of the Coalition to coalesce even more devastating, politically, is that, at the time of its creation, 'transformation' – driven by a unifying commitment to progressive change – is precisely what Ardern and her colleagues were promising New Zealanders.
By under-promising and over-delivering, Helen Clark was able to lead New Zealand for nine years. By wildly over-promising and spectacularly under-delivering, Jacinda Ardern will be lucky to win a second term.
Paradoxically, for a government which entered office amidst a flurry of comments highly critical of neo-liberal capitalism, the model for an astonishingly successful transformational government is right there in the Labour Party's recent history.
Under the Fourth Labour Government (1984-1990) New Zealand underwent rapid, comprehensive and ruthless change. When, six years after it won the Treasury Benches, the government was defeated, New Zealand was nothing like the country David Lange had inherited from Rob Muldoon. The latter politician had once told a television journalist that he would consider his prime-ministership a success if he left the country no worse than he found it. David Lange, by contrast, had always insisted on offering the voters a very different country. He did not fail them.
What made this possible was the coming together of precisely the "critical mass of talented people" that Professor Clark describes. In Labour's parliamentary caucus there was not only Lange, but Geoffrey Palmer, Roger Douglas, Richard Prebble, David Caygill, Mike Moore, Trevor de Clene, and Stan Rodger.
Outside Parliament, at the Treasury and the Reserve Bank, and in parts of the business community and the news media, was another critical mass of individuals determined to break New Zealand free from Muldoon's sclerotic regime. The playwright, Tom Scott, pictured New Zealand as a little ship setting forth into unknown and dangerous seas, guided only by her people's faith in themselves.
Many are the New Zealanders who condemn the economic and social programme known as "Rogernomics", but only its most fanatical critics would deny the "Rogernomes" the praises due to a group of people who promised to transform their country – and transformed it.
There are, of course, supplementary explanations for the success of "Rogernomics". The most obvious being the FPP electoral system, which afforded a simple majority in the governing party's caucus what amounted to dictatorial powers over the entire nation for three years.
'Muldoonism' itself, similarly, goes a long way towards explaining the success of 'Rogernomics'. Under Lange's immediate predecessor, the New Zealand economy had come perilously close to collapse. An alternative strategy was required, and thanks to Treasury's little beige book, Economic Management, it was Roger Douglas who got there firstest with the mostest. That Douglas's opponents had no little book of their own to offer the country, lent credence to the Rogernomes' claim that "there is no alternative". Moreover, from the ramshackle and disaster-prone quality of the Ardern Ministry, it is clear that the (alleged) opponents of the neoliberal order within the present government have yet to produce one.
The sort of credible, costed and internally consistent programme which, thirty years ago, united people across generations, races, genders and political parties, and steeled them to drive through what they believed to be absolutely necessary reforms against any and all resistance, is most certainly not in evidence in the policies of the current Cabinet. An endless succession of working party reports is no substitute for a little beige book.
What New Zealanders have at present isn't so much a critical mass as a critical mess. Tragically, Ms Ardern's Government, born out of people's hunger for an alternative to neoliberalism's demonstrable failure to deliver prosperity and social justice for all, is turning out to be a great deal smaller than the sum of its parts.
---
*Chris Trotter has been writing and commenting professionally about New Zealand politics for more than 30 years. His work may be found at http://bowalleyroad.blogspot.com. He writes a fortnightly column for interest.co.nz.